Microsoft vs Google: Tale of the tape
As Microsoft and Google go toe-to-toe in more and more areas, we look at how the two tech giants line up today.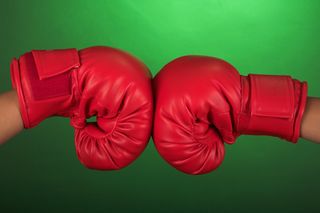 The battle for tech world supremacy is getting intense. Google has long been the web leader, while Microsoft owned the desktop and business market. But as the lines between those areas blur, the two giant firms are squaring off in more ways than ever.
Last year, Google lined its Chrome browser up against Microsoft's heavy-weight Internet Explorer. This year, the web giant stepped up its game and announced it will release an operating system.
Microsoft hasn't backed off, either. The software giant has made more and more moves into the online world, notably with its search engine refresh and deal with Yahoo.
So who's going to win? We lay out the tale of the tape between the dueling firms - it doesn't look like it'll be an easy knockout for either giant, but it'll definitely be an interesting fight.
Search
Microsoft has put a lot into search lately. Not only did it launch its own well-reviewed search engine Bing last month, but it finally managed to convince Yahoo to join forces. That deal will mean Microsoft has access to Yahoo's tech and free up investment funds, and also mean Yahoo sites are using Bing giving Microsoft the second place in market share it's long desired.
That said, in this market Google is hardly an easy target. Search is its strong point indeed, it's the rock the firm is built on. It commands between 60 to 80 per cent of market share, depending on where you are. In the US, it holds over 60 per cent. For comparison, even with Yahoo, Microsoft will struggle for 30 per cent. And while challengers such as Bing and Cuil and Yahoo like to complain that Google doesn't innovate, it has so far managed to keep well ahead of its rivals.
So can Microsoft catch up? This is an easy one no, not anytime soon. There's a reason Microsoft is gunning for second, as there's no chance it'll topple Google from its search dominance in the foreseeable future. Advantage: Google
Documents
Microsoft has pretty well cornered this market, with its Office suite being used by the vast majority of businesses. According to a Forrester report, just eight per cent use alternatives like Open Office.
The one area Microsoft is behind the curve is offering Word, Excel and PowerPoint online, but even that's set to change with the next generation Office 2010. Next year, free albeit cut-down versions of the lineup will be available online, ready to go head-to-head with web-based rivals like Adobe and Google.
Google really kicked off online document editing, with its Google Docs lineup. While the free, web-based systems are brilliant for sharing documents, they aren't as feature rich as Microsoft's offering. Indeed, they aren't as solid as free office productivity suites like Open Office. A survey last year suggested Google Docs had about one per cent of market share but even then, it's likely many people are using a desktop-based product too. Pair that with recent security breaches and bugs, and Google Docs needs a bit of work.
Microsoft doesn't look likely to give up its lead in document editing anytime soon it's the firm's bread and butter, after all. That said, Google Docs has forced Microsoft to invest in moving Office to the web, kicking a bit of innovation into the arena and making the software giant offer versions of its key products to the world for free and hurting Microsoft might be one way Google looks to win. Advantage: Microsoft
Enterprise
Microsoft is the enterprise software firm. That's what it does, and what it does best. And that's no small thing. Over a billion computers have Windows installed, and many of those are sitting on desks. Some 90 per cent of computers have Windows installed, and between 60 to 70 per cent of servers run Microsoft. Apple has chipped away at the desktop, while Linux is always chasing on servers, so Microsoft doesn't have it easy.
But the business challenge isn't from Google; it hasn't made much of a dent. It's Enterprise Apps has won some major fans, and the move to cloud computing will help it - it's one of the leaders in the area, which could help it be a serious player for SMBs, in fact.
That said, until Google manages to sign a major multinational, it'll remain a small business or niche alternative. Microsoft owns enterprise at the moment, while it has challengers, they aren't Google. Advantage: Microsoft
A daily dose of IT news, reviews, features and insights, straight to your inbox!
A daily dose of IT news, reviews, features and insights, straight to your inbox!
Thank you for signing up to ITPro. You will receive a verification email shortly.
There was a problem. Please refresh the page and try again.