Lib Dem calls for IBM boycott after pension scandal
A Hampshire MP is calling on the government to boycott IBM products as it allegedly plans to reduce pensions for some of its oldest employees.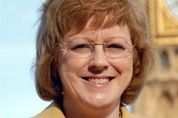 A Liberal Democrat MP has called for the government to boycott IBM products due to its threat of a reduced pension scheme for long-term employees.
Sandra Gidley, MP for Romsey in Hampshire, has said employees at IBM's Hursely site are concerned about changes that may be made to their pensions, even though bosses previously said such a move wouldn't happen.
In response, she has called on central government to review existing contracts and not to consider the company for any in the future.
After meeting with IBM chief executive Brendan Riley, Gidley said in a statement: "Many workers at the Hursley site who will be reaching retirement age within the next ten years are rightly furious that IBM bosses are going back on clear verbal commitments made by senior managers in 2006 that the pension scheme will not be reduced."
She added: "Many employees regard the situation as a backdoor to the constructive dismissal of the company's longest serving staff. It is simply disgraceful. I only hope the Government agrees, and takes the kind of action that may make IBM think again."
The Hursely research base and IBM's UK headquarters in Portsmouth together employ about 6,000 people from across Hampshire.
IT PRO contacted IBM for comment but it had not responded to our request at the time of publication. However, a spokesperson from the company told the Southern Daily Echo that the pension reduction would "enable it to maintain competitiveness in the marketplace."
A daily dose of IT news, reviews, features and insights, straight to your inbox!
A daily dose of IT news, reviews, features and insights, straight to your inbox!
Thank you for signing up to ITPro. You will receive a verification email shortly.
There was a problem. Please refresh the page and try again.