Week in Review: Cloud carnage and Twitter time
This week saw the launch of our Cloud Power channel, whilst Twitter was under the spotlight.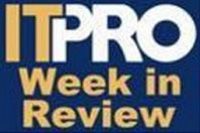 This week IT PRO, in association with Microsoft, launched launched Cloud Power a brand new resource for all your cloud needs.
The site has been launched at a time when it is impossible to deny the rise of cloud computing.
But it is still a topic for hot discussion, as highlighted by Gartner's claim that the cloud has been somewhat over-hyped, whilst Google's use of the cloud for Chrome OS user data was criticised due to security concerns.
In less contentious news, Gartner said the software-as-a-service sector would be worth $9.2 billion (5.8 billion) by the end of the year.
Twitter time
Twitter was under the spotlight once again this week. In good news for the micro-blogging service, it raised $200 million of financing, which meant the company is now valued at $3.7 billion.
Elsewhere, there were calls for a review into whether tweeting should be allowed from court an issue that came about due to use of Twitter during WikiLeaks founder Julian Assange's bail hearing.
Meanwhile, the Office of Fair Trading ruled it needs to be made clear when tweets or blogs are sponsored, so as not to mislead consumers.
The biggest social network in the world had a double dose of good news, as Facebook was named the best place to work in the US and Mark Zuckerberg was named Time's Person of the Year.
A daily dose of IT news, reviews, features and insights, straight to your inbox!
A daily dose of IT news, reviews, features and insights, straight to your inbox!
Thank you for signing up to ITPro. You will receive a verification email shortly.
There was a problem. Please refresh the page and try again.