Synergy 2011: Citrix opens GoToMeeting with HD Faces beta
Citrix is hoping to bring high-quality telepresence to SMBs as it announces the open beta for GoToMeeting with HD Faces.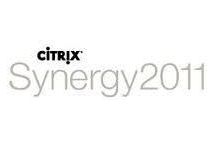 Citrix has announced the open beta of its GoToMeeting with HD Faces product, revealing general availability is expected from the end July.
The virtualisation and cloud player announced the collaboration service last year, claiming today at the Synergy 2011 conference it would "fundamentally change the way people communicate in the workplace."
"It really provides this really integrated collaborating experience you need to have ability to share on web, but you also want to be able to see," Paul Burrin, vice president of corporate communications for online services, told press during a conference this morning.
"There are no tools out there today that have that HD telepresence capability."
In today's world, the "visual connection is really critical," Burrin said.
Citrix wants to bring simple and high quality telepresence to everyone. It believes top level telepresence has been reserved for larger enterprises with serious financial clout.
"We've noticed many of our customers want telepresence, but can't afford these systems," Burrin added.
GoToMeeting with HD Faces offers up to six streams at a resolution of 640p x 480p each, for a maximum resolution of 1920p x 960p for one screen.
A free 30-day trial has been opened up for those who want to try the product. Head here to access the beta.
A video optimisation feature automatically adjusts the content to fit the standard hardware and network each participant is on when video, audio or screen sharing are in use.
In a bid to maintain its open outlook, no specific hardware is required. All users need is a PC or Mac, a webcam and HDFaces.
When HDFaces goes live, customers with GoToMeeting subscriptions will get the new service for free.
The development of HD Faces was hampered by delays, chief executive (CEO) Mark Templeton admitted to press today.
The product was due to come to market in the first quarter of 2011, yet only a select group of customers were able to use it.
He didn't go into detail on any specific bottlenecks, saying "you always find places to optimise and things you have to work on."
"I think we are a little bit behind," Templeton said.
"When you turn this HD on you have to go big. We're not far off track."
Citrix will be hoping HD Faces helps gain further market share from the various players in the collaboration and telepresence sphere, including troubled partner Cisco and cloud heavyweight Salesforce.com.
A daily dose of IT news, reviews, features and insights, straight to your inbox!
A daily dose of IT news, reviews, features and insights, straight to your inbox!
Thank you for signing up to ITPro. You will receive a verification email shortly.
There was a problem. Please refresh the page and try again.