HP shows how it's using big data to "save the planet"
Big data analysis is aiding researchers to mitigate the human impact on the planet, says HP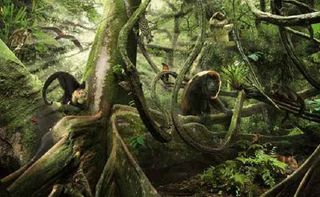 Using big data and analytics software, companies can track extinction patterns and prevent climate change before it occurs to "save the planet".
That's according to HP managing director Jonathon Dove, who heads the company's transformation services division. HP's Earth Insights, he told journalists at the company's Discover event in Las Vegas, is bringing the benefits of tech to tropical forests.
Using a "truly end-to-end integrated solution" combined with the HP Vertica analytical platform, HP analysed 16 tropical rainforests in 14 countries and four continents, raking in 1.4 million photos and three million climate measurements. It is, said Dove, "big data on the equivalent of analytical steroids."
That data, when crunched by HP's software, created the Earth Insights platform. The platform enables scientists to downsize the time it takes for them to create correlative conclusions.
Earth Insights also features an early warning system that warns researchers of trends that need to be investigated. For example, a species might begin to dwindle in a certain area due to human presence, which would be picked up on by the analysis software and passed on to scientists.
The results, said Dove, have been "spectacular". An 89 per cent improvement on compute time has reduced the time taken to understand environmental threats from weeks to hours, it is claimed.
"Before the scientists would have to send multiple teams out into the jungle in order to collect this data and analyse it," Dove continued. "Now it's possible for all of this to be done through the Earth Insights program."
Using the program, the company has discovered two previously unknown species of animal and is also working on adding facial recognition tech to track population migration through the rainforests. The big data platform recognised when 60 species were in decline and demonstrated the rate at which forests were being affected by humans.
"HP makes this data meaningful," added Dove. "You can only imagine what a platform like this could do for our enterprise customers."
A daily dose of IT news, reviews, features and insights, straight to your inbox!
A daily dose of IT news, reviews, features and insights, straight to your inbox!
Thank you for signing up to ITPro. You will receive a verification email shortly.
There was a problem. Please refresh the page and try again.