ICBF looks to make beef supply chain more sustainable and trackable using blockchain
Ireland's cattle breeding association is using high tech solutions for agricultural problems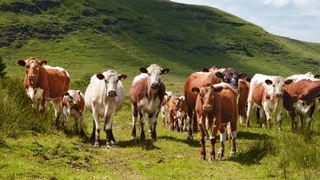 While the use of blockchain is generally associated with the rise of cryptocurrencies, the technology is actually being explored in a wide range of use cases, including the management of beef and dairy cows.
The Irish Cattle Breeding Federation (ICBF) has created a proof-of-concept based on Oracle's blockchain to provide greater insight into cattle DNA in a bid to boost sustainability and reduce carbon emissions.
The 12-week pilot was carried out earlier this year with partner Version 1 and now the federation is currently assessing how best to progress the use of blockchain, according to Karl O'Connell, integration manager at the ICBF, which is a non-profit organisation designed to support the Irish cattle industry through genetic improvement for a wide range of reasons.
One potential use case is via an app whereby consumers can feed back on meat quality - something ICBF has already trialled with its own staff.
"How do we get information to allow us to be able to predict that the steak you're going to get [is tender] or breed animals to be able to produce more tender or juicy steaks," O'Connell told IT Pro.
"How do we get the consumers to give us that feedback? This is where the thought for the blockchain project came from. The ICBF doesn't engage with the consumer - and it's not part of our remit per sae - but is there a way by which we could leverage technology to be able to engage with the consumer and get that feedback? That's really valuable data to help us make better decisions."
The Irish government scheme called the Beef, Data and Genomics Programme (BDGP), which is focused on reducing carbon emissions. So, while traceability and data-driven insights has been quite prevalent in the dairy industry for a while, it's now time to use the same approach for beef, according to O'Connell.
"We try to help farmers. We do a huge amount of data capture. So how can we use that to provide more accurate evaluations on animal breeding going forward. We also DNA test around 350,000 animals a year. That's about improving accuracy as siblings are not the same even though they will have the same mother and father. So how do we identify traits and make decisions based on those traits at an early age? It's much more efficient and makes much more economical sense for the farmer," O'Connell added.
"How do we improve genetics, therefore allowing the farmers to breed more profitable animals. Over time, that has evolved into sustainability. That's a big focus are people are interested in and the government has been pushing to reduce carbon emissions, greenhouse gases and so on."
The ICBF plans to DNA test cattle at birth going forward. That equates to some 2.4 billion animals a year. This data will be fed into the genomics database, which O'Connell said is already the largest in the world.
The ICBF also undertakes performance testing on cattle, whereby the amount they eat is measured, as is their health. They are also assessing how much methane is emitted as a result of what the cows are eating.
"Some will gain and some will eat the same amount and not gain weight. So it's about efficiency as feed costs money and it costs money to produce the feed, too," O'Connell said.
"There's a high group and a low group with methane emissions and it's about a 50 to 70% difference. There's actually a genetic correlation. You can actually breed animals to be less gassy. So it's about ensuring the next generation of animals are better than the last generation - that they are more sustainable and more carbon efficient."
Version 1 has worked with the ICBF for around 15 years now so this latest project is part of a series of tech-focused endeavours between the two companies, according toJohn Bulger, who heads up the firm's innovation labs.
"Our role is to give value-add to our customers by exploring cutting edge technology," he said.
"We engaged with Karl and co to see how we could help them and what tech we could use - it's an extremely technical organisation already and tech is in its DNA."
Get the ITPro. daily newsletter
Receive our latest news, industry updates, featured resources and more. Sign up today to receive our FREE report on AI cyber crime & security - newly updated for 2023.
Maggie has been a journalist since 1999, starting her career as an editorial assistant on then-weekly magazine Computing, before working her way up to senior reporter level. In 2006, just weeks before ITPro was launched, Maggie joined Dennis Publishing as a reporter. Having worked her way up to editor of ITPro, she was appointed group editor of CloudPro and ITPro in April 2012. She became the editorial director and took responsibility for ChannelPro, in 2016.
Her areas of particular interest, aside from cloud, include management and C-level issues, the business value of technology, green and environmental issues and careers to name but a few.