Connecting the supply chain data dots
As ecommerce and warehouses are squeezed by supply chain challenges, how can companies better manage their data?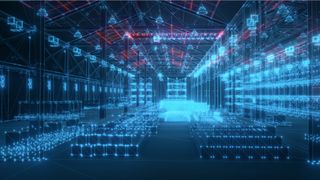 (Image credit: Shutterstock)
Supply chains produce a deluge of data and making sense of it all can be tricky. Improving visibility into operations is key if ecommerce companies are to be resilient at a time when it's far from business as usual. First, there was the pandemic, which forced factories to shut down, and now supply chains are being squeezed by bottlenecks, including an HGV driver shortage, which, in turn, has led to stock shortages.
Scaling up for peak festive season is always tough, as James Hyde, founder of James and James Fulfilment, which handles the warehousing for hundreds of small ecommerce businesses explains. This year, however, the challenge is even worse, with the current crisis meaning businesses are struggling to cover the spike in warehouse demand. As businesses race for space, ecommerce firms are asking how they can leverage artificial intelligence (AI) and the Internet of Things (IoT) to manage the pressure being placed on their operations and to mitigate supply chain risks in the future.
Bridging data silos
Many ecommerce companies already use cloud-based analytics and reporting software to track the movement of goods – or they rely on fulfilment companies when they don't have the technical capacity to do it themselves. This helps businesses to know exactly what's in stock and what's going out of stock, and ensure they have the inventory needed to meet customer orders. "When there's limited stock available, there's no leeway for losses, so efficiency is a priority," Hyde says.
The supply chain crisis has led to shortages across the UK economy
Software integration platforms can act as the connective tissue that bridges data silos that can often be present within companies between sales channels and back-office applications, such as enterprise resource planning (ERP) tools. Bridging silos and making data accessible across a company leads to smarter inventory planning. By having access to metrics such as stock levels, the sales department can prioritise which goods should be discounted. For example, popular items would typically be marked up, while items that aren't selling well might be reduced in price.
In theory, the benefits of bridging data silos in ecommerce mean companies minimise the risk of understocking or overstocking and incurring higher inventory holding costs. They can also maximise warehouse space – utilising space intelligently during peak festive season is critical, especially when a driver shortage means goods will be sitting in distribution centres for longer periods than usual.
Antony Francis, supply chain and logistics consultant at IT services company Endava, tells IT Pro that integration platforms drive real-time visibility. He describes them as "a substantial helping hand" that makes managing inventory planning and fulfilment easier.
Keeping pace with demand
No matter how well companies are bridging data silos within their business, however, it's AI and IoT that are critical to leveraging true value from the data. This is particularly the case if companies want to keep up with the constantly changing market demand facing ecommerce, Amit Prakash, CTO at business analytics firm ThoughtSpot, explains.
"The effectiveness of any logistics process depends on the quality and accessibility of the data that supports it," says Prakash. "AI maximises the ability to not only react quickly to unforeseen challenges but also predict them – as well as helps companies to pivot at rapid speed in order to keep pace."
With ecommerce continuing to boom thanks to the pandemic, businesses are being forced to re-evaluate how they can best meet customer demand while keeping disruption to a minimum. Francis expects plenty of companies to look to integrate AI into their operations, having learned lessons from the current crisis.
DHL has collaborated with Tetra Park to create the firm's first digital twin warehouse
RELATED RESOURCE
Explaining the UK's supply chain crisis
Sample our exclusive Business Briefing content
Beyond analytics being embedded into supply chain and logistics operations, digital twins are likely to feature heavily in the warehouses of the future. An example of this in action is in Singapore, where DHL has collaborated with Tetra Pak to implement the first digital twin warehouse for the food processing and packaging solutions company. The virtual representation of its warehouse monitors and simulates assets in real-time, providing better visibility of inventory management and improving productivity and safety. For example, when the digital twin is paired with AI, data collated by sensors and IoT can be used to predict potential defects with machinery. Engineers can address a problem before it occurs and results in downtime and delays to goods being shipped.
Although there appears to be universal optimism regarding what AI and related technologies can do for ecommerce, concerns about costs and training and upskilling staff stand in the way. That's according to a survey by Vanson Bourne, commissioned by Lucas Systems. Nine in ten respondents surveyed, which included 350 logistics executives and warehouse managers from the UK and US, said they will need expertise and support to implement AI successfully.
Addressing weak links
Even with best efforts to minimise delays for customers, ecommerce companies are still at the mercy of disruptions further upstream. As McKinsey points out, simply implementing smart analytics and AI-based technologies won't be the answer to easing supply chain woes.
"The supply chain ecosystem should be an end-to-end collaboration involving all stakeholders, from suppliers to consumers," the research, published in July, states. "Companies are only able to deliver on ever-changing consumer requirements if information is shared along the entire value chain, and if all network assets and capabilities are fully leveraged."
Knowledge sharing between stakeholders isn't straightforward and can prove problematic if there are conflicts of interest; there are also trust and privacy issues. One potential solution is establishing data trusts, in which defined rules between parties set out what data can and can't be shared.
"It only takes one break in the chain for customer shipments to be delayed or made defective," Prakash says, summing up the data problem and the need to improve supply chain visibility. "This will often result in customer dissatisfaction and hefty reverse logistics costs."
Get the ITPro. daily newsletter
Receive our latest news, industry updates, featured resources and more. Sign up today to receive our FREE report on AI cyber crime & security - newly updated for 2023.
Rich is a freelance journalist writing about business and technology for national, B2B and trade publications. While his specialist areas are digital transformation and leadership and workplace issues, he's also covered everything from how AI can be used to manage inventory levels during stock shortages to how digital twins can transform healthcare. You can follow Rich on LinkedIn.