Hyperautomation in action: The most exciting examples
Three case studies showcasing the potential for hyperautomation to radically transform business processes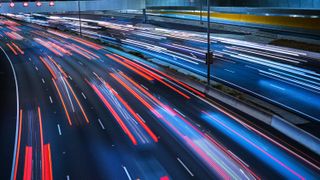 (Image credit: Getty Images)
First coined by Gartner, hyperautomation is used to describe the means of rapidly identifying, vetting and automating as many business processes as possible.
Many organisations mistakenly assume hyperautomation is limited to one technology, tool or platform, but it actually involves the orchestrated use of a variety in any given project.
"Examples include artificial intelligence (AI), machine learning, robotic process automation (RPA), integration platform as a service (iPaaS) and low-code or no-code tools," explains Gartner VP analyst Stephanie Stoudt-Hansen.
Different terms are used to describe this trend – for example, Accenture defines it as intelligent automation, while Forrester prefers the term automation fabric. The framework, however, is the same – to develop a hybrid workforce of human and digital workers that links automation components and encourages innovation.
What are the benefits of hyperautomation?
Hyperautomation initiatives come in many different shapes and sizes and are being seen across a wide range of industries, from banking and insurance to manufacturing and healthcare.
"Examples include automation of invoice validation, medical screening, order generation and predictive maintenance, which can result in significant time savings, reduced errors or downtime, quicker processes, and in the case of healthcare; earlier identification of health risks or problems," says Jaco Vermuelen, CTO at BML Digital.
As hyperautomation has matured, the drivers and levels of value, too, have shifted, as have the sources. Gartner reports that initiatives are now more likely to be driven by business units and fusion teams than IT departments, and while cost saving is a key aspect of 90% of hyperautomation strategies, faster cycle times and higher quality business processes are also key goals.
We've rounded up three of the most exciting examples of hyperautomation in action, showcasing how these initiatives are changing the way businesses approach their internal processes.
CVS Health: Lowering regulatory risk
US healthcare company CVS Health has taken advantage of hyperautomation, according to Gartner, to simplify its unwieldy benefits administration processes, improving efficiency, accuracy and customer service.
RELATED RESOURCE
The COO's pocket guide to enterprise-wide intelligent automation
Automating more cross-enterprise and expert work for a better value stream for customers
A new system was developed to streamline tasks from application receipts and payments to issue resolution. These were cross-functional, largely manual and time-consuming tasks beforehand, which involved analysing data in a wide range of formats and aligning with complex coding rules. However, using a combination of AI, RPA, machine learning, data analytics and natural language processes (NLP), the company was able to automate much of this work.
The system's dynamic workflow manages each step, dealing with errors and exceptions using a rule-based process that sends out alerts when human support is needed. This has sped up processes exponentially, but also lowered the risk of human error – a big concern in this highly regulated industry.
The system also improved CVS Health's agility by enabling it to introduce new programmes and products faster, as well as respond to requirements and coding practice changes more quickly.
"The initiative achieved classic automation goals, such as cutting administration time and costs as well as errors and risks, but also delivered a competitive differentiator," says Frances Karamouzis, distinguished VP analyst at Gartner. "It enabled the organisation to offer personalised benefits scenarios during the sales process, as well as onboard new accounts much more quickly."
Reckitt: Automating the IT department
Reckitt, a producer of health, hygiene and nutrition products, began to implement an automation-first approach last April to eliminate any repetition of processes within the business. This began with IT operations.
"Every department, in any business, has repetition in tasks or processes. We wanted to focus on areas where we saw that repetitive work was having a significant impact on both the team members and user experience," says Prashant Arora, head of service modernisation and automation, Reckitt.
The company started by analysing its IT suite to identify the tasks taking the longest to solve and consulting with internal stakeholders on what processes they would like to see automated. "It's important to engage with key stakeholders at every level of the automation journey," Arora says.
Working with UiPath, Reckitt has so far automated more than 20% of processes within every element of its IT operations, from service desk to end-user computing and application. The ninety-plus software robots it's implemented have saved the business over 10,000 hours a month.
The company has also used process mining tools to reveal the inner workings of its IT operations and as a result of the findings, set up a service modernisation and automation function called NextGen IT Ops.
"This owns the entire digital transformation of IT operations using a mix of long-term employees, automation experts, support and external partners. The team is responsible for scaling automation quickly and effectively, as well as up-skilling and cross-skilling. It serves as a group of evangelists to educate the wider employee base and garner support, but also to ensure staff acquire the skills needed to continuously innovate," says Arora.
This is essential, says Dan Farrell, Accenture's industry X engineering and manufacturing lead, as one of hyperautomation's biggest challenges is its skills shortage. "Technology continues to advance at a quicker rate than the pipeline of people available, and so investment in up-skilling will be crucial if businesses want to take advantage of intelligent automation."
Heathrow airport: Embracing low-code and no-code
A great example of how hyperautomation can be powered by employees comes from Heathrow Airport. After downsizing its IT department during the pandemic, it needed to reduce its dependency on IT to deliver solutions.
The answer was to pivot the department to the role of orchestrator, building a low-code/no-code community of practice that enabled employees across the wider business to build their own automations.
This trend is expected to grow in popularity, according to Gartner, with the analyst firm predicting that by 2025, 70% of new applications developed by enterprises will use low-code/no-code technology.
The key to this project's success was marketing its benefits to employees and IT guiding them on their journey. This created an engaged community empowered to develop solutions that would support their specific needs.
"We created a community that empowers employees to spot and deliver digital opportunities, but also equips them to avoid duplication, reduce manual processes improve productivity and enhance our overall digital experience," says Leanna Lynch, Director of Technology at Heathrow Airport, in a Gartner case study.
One system developed by the business was a health and safety app that streamlined the work involved in helping an employee return to work. This was built alongside a turnaround audit app that allows the business to perform audits in a live environment without the use of Excel, which has helped to phase out the use of paper in this task.
As of last August, Heathrow's hyperautomation efforts had garnered savings of approximately £1,980 in potential outsourcing costs, reduced paperwork by 120,000 pages and decreased manual data entry hours by more than 1,170.
Stay up to date with the latest news and analysis from the world of cloud computing with our twice-weekly newsletter
Keri Allan is a freelancer with 20 years of experience writing about technology and has written for publications including the Guardian, the Sunday Times, CIO, E&T and Arabian Computer News. She specialises in areas including the cloud, IoT, AI, machine learning and digital transformation.