Cloud computing could cut a billion tons of CO2 in four years
IDC expects 60% of data centers to adopt green technologies in the next four years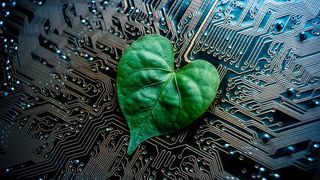 Cloud computing could save a billion tons of CO2 emissions by 2024, according to an analysis from IDC.
IDC made the predictions for four years covering 2021-2024, analyzing its data on server distribution and on-premises software use. It also looked at third-party data on data center power usage and emissions per kilowatt-hour, comparing this data across cloud and non-cloud data centers.
Cloud computing has an innate energy-saving capability, thanks to the aggregation of computing resources, the company said. Larger facilities can increase server usage rates more effectively, leaving fewer computing resources idle.
The kinds of hyperscale facilities common in cloud computing are also good at using the most power-efficient servers. Cloud datacenters also excel at shifting workloads to the most appropriate location. IDC said this also encourages greater use of renewable resources, such as wind and solar power.
The predictions depend heavily on green data centers, where owners take extra steps to reduce energy consumption. These steps include locating facilities in environments with relatively cold temperatures and using free air cooling. Cooling costs represent a significant chunk of data center energy consumption as companies try to keep tightly packed computing equipment cool.
Other emerging measures include using artificial intelligence (AI) to better control cooling. Google saved 40% in cooling energy costs by introducing its DeepMind AI into some data centers, and other companies are exploring the possibility commercially.
RELATED RESOURCE
Five reasons to move to the cloud
Join the enterprises moving their workloads to the cloud
The forecast assumes that 60% of data centers will adopt green technologies in the next four years. If there's no more green tech adoption, then simple cloud migration will save 629 million metric tons of CO2, it said. If all data centers in the cloud used sustainable designs, the savings could extend to 1.6 billion metric tons.
Microsoft recently reported progress on its pledge to become carbon neutral by 2030. Google has been carbon neutral since 2007, as it buys enough renewable energy to offset its energy use, but it committed to becoming carbon-free by 2030 after pressure from employees. Most recently, IBM also vowed to become carbon neutral by 2030.
Opportunities to save emissions depend on renewable power use in key areas. IDC pointed to areas that use more fossil fuels per kilowatt-hour as the biggest opportunities because using more efficient facilities will directly affect fossil fuel usage.
The Asia/Pacific region is a tremendous opportunity given its heavy reliance on coal, the company said, predicting that over half of the emissions savings would come from there. Conversely, the EMEA region could expect to see a 10% reduction in emissions by 2024.
A daily dose of IT news, reviews, features and insights, straight to your inbox!
Danny Bradbury has been a print journalist specialising in technology since 1989 and a freelance writer since 1994. He has written for national publications on both sides of the Atlantic and has won awards for his investigative cybersecurity journalism work and his arts and culture writing. Danny writes about many different technology issues for audiences ranging from consumers through to software developers and CIOs. He also ghostwrites articles for many C-suite business executives in the technology sector and has worked as a presenter for multiple webinars and podcasts.
A daily dose of IT news, reviews, features and insights, straight to your inbox!
Thank you for signing up to ITPro. You will receive a verification email shortly.
There was a problem. Please refresh the page and try again.