Why tech can't close the diversity gap
Despite an appetite for change, inequality in the tech sector persists. Why is there little practical action taken?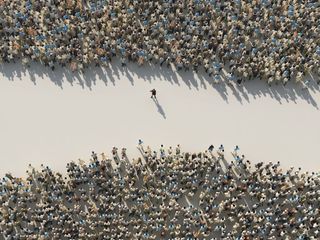 (Image credit: Shutterstock)
This article originally appeared in Issue 11 of IT Pro 20/20, available here. To receive each new issue in your inbox, click here.
Why does the tech sector have such a bad reputation when diversity is considered? The lack of women in tech has been in constant debate for decades, but diversity means much more than only gender. From disability to age and ethnic groups, diversity is multifaceted and by not acting to include all groups in their business, organisations in the tech sector are losing out on massive untapped potential that they should actively be embracing.
Businesses in the tech sector that want to innovate and thrive must pay close attention to the make-up of their workforces. In 2015, McKinsey stated that companies that have high levels of gender diversity outperform their competitors by 15% and companies with high levels of ethnic diversity, delivering 35% higher performance. Five years on, has the tech industry improved its record?
According to the latest survey from BIMA (British Interactive Media Association), which asked 3,000 people to explore their experience of diversity as members of the UK technology community, 35% of women feel their gender has negatively affected their career progression. Overall, 14% of all respondents believe their ethnicity has negatively affected their career progression, with nearly a third (32%) of people of Asian and South East Asian descent and 40% of people from an Afro-Caribbean and mixed heritage background saying they have experienced negative discrimination as a result of their ethnicity. 24% of neurodivergent people, meanwhile, feel their condition has negatively affected their career.
Speaking to IT Pro, Claire McCartney, senior resourcing and inclusion adviser at the CIPD (Chartered Institute of Personnel and Development) says: "Most employers need to do more to improve the diversity of their new hires. CIPD and Omni research conducted earlier on this year found that less than a quarter (23%) of employers are going beyond basic legislation relating to protected characteristics when it comes to recruitment and selection processes."
McCartney concludes: "We also found that a quarter (24%) of employers do nothing to improve diversity at board level, where the problem is the most acute. Overall, organisations need to be adding more rigour, consistency and challenge into every aspect of their recruitment and selection processes; they need to be taking a more strategic approach."
Nevertheless, some companies are making positive changes. Nimmi Patel, policy manager for skills, talent and diversity at techUK explains: "Companies in the industry that are doing great things include Accenture, Intel, Atos, BAE Systems, BT, Microsoft, FDM and Fujitsu. I think there is some really good work being done across the sector, both by the large multinationals but also by the smaller companies who are really looking inwardly at themselves and working out what they can do to improve their own diversity.
"The Tech Talent Charter released its second annual benchmarking report this January and found that gender representation was better in micro-organisations than in larger companies, with 42% female staff in technical roles in micro organisations compared to 24% in large companies within its signatories. There are lessons to be learned from the SMBs."
Often smaller businesses and organisations are more enlightened and able to move at speed to make the changes necessary to become more inclusive and diverse. Larger businesses are making positive moves, but clearly need to accelerate this process to deliver real tangible change.
Levelling the playing field
Businesses that realise a diverse workforce is the key to commercial success will be the leaders in their sectors. In tech, however, it seems that message is still struggling to get through; according to the September 2020 CIO report from KPMG/Harvey Nash, only 10% of tech leaders in the UK are female. "The scarcity of female technology leaders is a symptom of wider problems with how leaders are selected, promoted and mentored," the report states.
Bev White, CEO of Harvey Nash Group, tells IT Pro: "Crucially we need to make the sector more attractive to women, as there are few industries that offer a more creative, better paid, and interesting career path, yet the message isn't getting out there. Part of the problem is that there are so few women studying technology-related degrees. For instance, UCAS (the admissions body for higher education) reports that women make up just 13% of students studying computer science and gaming related courses in the UK. In stark contrast, around half of people studying for accountancy qualifications are women."
Pay has often been a key metric when illustrating the disparity between men and women, which the latest research from Hired concludes is 4% in the tech industry, averaging out at a disparity of £3,000. Looking at LGBTQIA+ women specifically, they are twice as likely to feel discriminated against as LGBTQIA+ men.
Tech businesses often state they want to do more to improve the level of diversity across their organisations. What are the practical changes that need to take place for those ambitions to become a reality?
"Make diversity a part of your corporate culture," says Perrine Farque, a multi-award-winning diversity and inclusion expert and judge at the Diversity in Tech Awards. "Hiring diverse talents starts before searching for candidates and collecting CVs. If you don't have the fundamentals in place in your organisation, your efforts will fail. Take a moment to revisit your company culture before starting a new candidate search."
How the tech sector is perceived as a career choice is also a significant factor when diversity is considered. Simeon Quarrie, founder and CEO at VIVIDA, which creates immersive training experience for cybersecurity, explains: "At the moment, the tech industry doesn't reflect the society it was built to serve. Most people are drawn to industries where they can see people like them excelling in them. You see someone like you doing well in an industry and are inspired to follow in their footsteps. My hope is that initiatives like Women in Tech are showing young girls that a career in tech is viable."
Quarrie adds: "At the moment, the tech industry is struggling to find its voice and show off how broad a career in 'tech' can be, which is a big problem as talented people from a range of disciplines aren't even considering tech to be a viable option. However, there is space for all in the industry – whether you are a female black graphic designer or a white male computer engineer – but at the moment that message isn't getting through."
The future of change
Is the tech sector about to make revolutionary changes to improve its diversity record? Perhaps not, but certainly it's adopting a higher level of awareness, hopefully backed by practical actions and initiatives, to tap into what is clearly a hugely underused resource.
Amy Brachio, EY global business consulting leader, says: "There are certainly opportunities for women, ethnic groups and [neurodiverse people] to join the tech sector, but I think the main thing that might make people think twice about joining is the lack of visible role models. Not seeing someone from your own diversity group could be a barrier, but it's certainly one that can be overcome. Technology companies need to get better at shining a spotlight on the professionals who are diverse and successful.
"Businesses should be purposeful in bringing in diverse candidates. Don't shy away from having those conversations and be honest. If there is a lack of diversity in the workforce, challenge yourself and those around you to address the problem. Ultimately the goal for any successful company is to create an environment where people from any background can feel a sense of belonging. That is only achieved in being purposeful with diversity."
Making the required changes within your business is also the advice the Harvey Nash Group's Bev White gives: "At the core of inclusion lies creating the right culture throughout tech businesses. I like to ask people 'Do you have a daughter, a niece, a granddaughter? How do you want the workplace to be for them?' This usually gets people thinking and looking at it through a different lens.
"For leaders and managers in tech, our role is to do everything we can to facilitate the creation of inclusive and open workplaces. It's about supporting, mentoring and sometimes nudging people in our teams to advance, develop and progress. People usually have far more potential than they think they do – it's about helping them unlock that, whoever they are."
Get the ITPro. daily newsletter
Receive our latest news, industry updates, featured resources and more. Sign up today to receive our FREE report on AI cyber crime & security - newly updated for 2023.
David Howell is a freelance writer, journalist, broadcaster and content creator helping enterprises communicate.
Focussing on business and technology, he has a particular interest in how enterprises are using technology to connect with their customers using AI, VR and mobile innovation.
His work over the past 30 years has appeared in the national press and a diverse range of business and technology publications. You can follow David on LinkedIn.