Google Allo and Duo to take on WhatsApp with AI
Both apps cloud-powered by Google Assistant artificial intelligence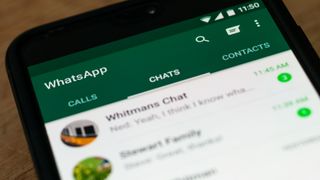 Google has announced Google Assistant, a cloud-powered artificially intelligent personal assistant. Unlike Google Now, you interact with it in the form of a conversation - either in Google's new mobile chat apps or at home using an Amazon Echo-like mic-equipped speaker.
Allo is a competitor to WhatsApp and Facebook Messenger, with the benefit of Google Assistant. It can automatically suggest replies to messages in your conversations, even if it takes the form of a photo. So, if someone sends you a photo of a cat then Allo will suggest a reply of 'that's a cute British short hair' using its image recognition algorithms.
Allo will link your conversations to the wider web too. If you're chatting with your colleagues about having a curry for lunch, then Allo will suggest nearby Indian restaurants and even book a table for you if the restaurant participates in an Allo-participating online booking system such as OpenTable. You can, of course, call upon Google Assistant's help directly by typing '@google' in a message and then engaging in a typed conversation with your AI butler.
Allo has security benefits too - it's encrypted, with the optional Incognito Mode going further with end-to-end encryption, discrete notifications (to hide sensitive content on your lock screen from prying eyes) and Snapchat-style messages that automatically disappear after a set period. Allo will be available for iOS and Android later this summer.
Allo will be joined by an accompanying video chat app. Duo is a one-to-one video chat app that compliments rather than replacing the existing Hangouts app. It allegedly degrades gracefully when faced with poor bandwidth and apparently switches gracefully between WiFi and 4G. It doesn't seem to have any Google Assistant smarts, but tries to be more intimate by showing you a live video preview of a caller when someone calls you. It too will be available this summer for iOS as well as Android for free.
The image and pattern recognition algorithms underpinning Google Assistant will apparently be fed back into the machine learning platform and vision APIs that are available to all as part of the Google Cloud Platform.
Stay up to date with the latest news and analysis from the world of cloud computing with our twice-weekly newsletter