UK's largest fire service adopts Microsoft 365 and Teams
Microsoft will fuel digital transformation at the Mid and West Wales Fire and Rescue Service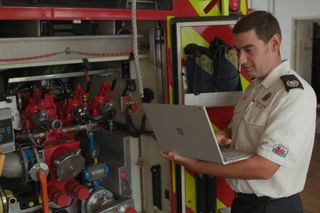 (Image credit: A Welsh firefighter working on a Microsoft laptop while standing)
Microsoft has announced that it is powering the digital transformation of the largest fire and rescue service in the UK.
The Mid and West Wales Fire and Rescue Service, which patrols approximately 12,000 square kilometres of Wales, will use Microsoft Surface tablets as well as Microsoft 365 and Teams software to respond to emergencies and train new recruits.
Microsoft's technology will be used alongside the mobile data terminals which are used by firefighters to communicate with their control centre while in the field. However, the devices can't be removed from their fire appliance vehicles.
In order to solve this problem, officers will be provided with Microsoft's Surface Go devices, which will provide them with additional insight and live information as they are travelling to incidents such as road traffic collisions. By the time they get to the scene of the accident, the firefighter will already have enough details to know the best places to cut vehicles to free trapped passengers and how to disable undeployed airbags to avoid injury.
The chief fire officer at Mid and West Wales Fire and Rescue Service, Chris Davies, said that "by using Surface Go, our officers can now see all the safety features of a vehicle involved in an accident, wherever they are".
"This gives firefighters more information about the situation as they safely extricate casualties," he added.
However, Microsoft technology will also be used for more "straightforward" tasks.
With the help of Microsoft Teams, the Mid and West Wales Fire and Rescue Service will be able to organise and hold training sessions for its 1,400 staff employed in 58 fire stations across Carmarthenshire, Ceredigion, Neath Port Talbot, Pembrokeshire, Powys, and Swansea.
"I've been encouraging more staff to conduct remote meetings, because we don't need to ask all the officers to travel to headquarters, for example," Davies said.
"We can run meetings on Teams and it's far more effective. People are much more engaged. There's also less risk to our staff when they're on the road because they haven't had to get up very early to travel somewhere."
Commenting on the announcement, general manager of Public Sector at Microsoft UK, Chris Perkins, said "there has never been a more important time for companies and organisations to use technology that helps staff collaborate, communicate and gain insight into the world around them".
"This is even more critical when those people are employed by our vital public services, which work tirelessly to keep us all safe and well. Mid and West Wales Fire and Rescue Service is adopting technology at scale, allowing firefighters and officers to create a network of information that can be shared and acted upon.
"It is a fantastic example of how placing cutting-edge technology in the hands of skilled people can lead to groundbreaking solutions," he added.
A daily dose of IT news, reviews, features and insights, straight to your inbox!
A daily dose of IT news, reviews, features and insights, straight to your inbox!
Thank you for signing up to ITPro. You will receive a verification email shortly.
There was a problem. Please refresh the page and try again.