Every Microsoft Teams update from Ignite 2020
UI improvements, feature updates, new functionality, and a glimpse at Teams' future on Android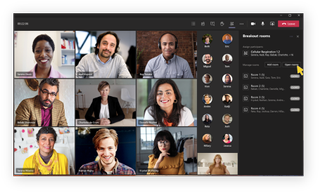 Microsoft always uses its annual Ignite conference to show off all the latest tools and features it has planned for its Microsoft Teams platform, and this year the company hasn't disappointed.
The company has taken steps to address a few of the more inconvenient aspects of Teams, whether that's through UI changes, better admin controls, or with wider integration options. Although the update list is pretty comprehensive, we've picked out some of the more important updates that are either available now, or coming soon.
UI improvements
New Together mode scenes - before end of 2020
Teams' Together mode, first announced in July, is that somewhat unsettling feature that pulls each user together into a virtual space, such as an empty auditorium, which is said to make participants feel less like they're on a video call and more part of a cohesive group. Microsoft plans to expand on the number of scenes available to users by the end of the year, although it's not clear what precisely these will be.
Custom layouts – before the end of 2020
Also due to arrive over the coming months is the ability to customise the layouts of video meetings and how information is shared with other participants. An example given is the option to have a presenter's video feed transposed on top of their PowerPoint slides.
Teams Panels – early 2021
Provided we have all returned to the office by early 2021, Microsoft will be rolling out its own range of door tablets that sit outside of a meeting room and give information on its availability. These new devices will provide another way for users to reserve space, view upcoming meetings, and identify free slots. These will be largely supplied by electronics firms Creston and Yealink.
Channel information pane – available now
A channel info pane has been added to give a quick activity summary of things like users, posts, and pinned files, which can be used by new users to get a sense of what the channel is about, or by existing members to catch up on recent activity.
Better search results – before end of 2020
Search is also getting an overhaul, so that finding messages, people, or files should soon be far more intuitive. The results page has been redesigned to surface more appropriate results that are based on content or individuals that you interact with most.
Alternate meeting types
Breakout rooms – October 2020
Microsoft is also adding what it calls 'breakout rooms', a feature that meeting organisers can use to split up participants into smaller groups – something which could prove especially useful for training sessions. Presenters will also be able to jump between rooms, make announcements to the team as a whole, and end the individual sessions on the fly.
Meeting recap – before end of 2020
One of the more sorely needed updates will arrive in October in the form of Meeting Recaps. This new tool will collate a meeting's recording, associated transcripts, its chat history, and any shared files into a single window that is then automatically shared in the meeting chat tab. It can also be configured to automatically add this info to the meeting event entry in an Outlook calendar, as well as the meeting details tab inside Teams.
Better support for webinars – before end of 2020.
Microsoft is also adding more sophisticated tools for supporting webinar sessions. These include the option to use event registration with automated emails and make use of a post-session dashboard that details viewer engagement – although it's not clear how comprehensive this data will be.
Better calling tools
Improved calling features – before end of 2020
Over the next few months Teams will be getting a handful of new calling features, including an alternate view that shows contacts, voicemail, and a user's calling history in a single window.
Users will also soon be able to connect a call queue with a channel in Teams, the idea being that users can then collaborate inside the channel while taking calls in the queue. This should be particularly useful for those handling, for example, an IT help desk, where they can transfer the queues to relevant channels on the fly.
New calling plans – available October
Microsoft Calling Plan countries are set to expand, bringing calling services to Austria, Denmark, Italy, Portugal, Sweden, and Switzerland.
Team management tools
Teams templates – available now
New templates are generally available today that let Teams admins quickly deploy Teams environments with predefined channels and suggested apps, each tailored to specific industries, such as banks or hospitals. Admins are also able to construct their own templates if they want to standardise how Teams is deployed across an organisation.
Member limit increase – before end of 2020
Microsoft is increasing the number of allowed members on any given Team from 5,000 to 25,000.
Better app integrations
Wellbeing and productivity – available October
Better analytics tools for monitoring wellbeing and productivity will soon be added that offer managers a more informed way of making changes to how they and their staff access Teams.
Microsoft has also partnered with meditation app Headspace to create built-in tools that help to improve employee wellbeing and reduce stress. Teams will also be getting a 'virtual commute' feature that allows employees to decompress after a long day and gives them time to disconnect from work. Both of these will be coming in the first half of 2021.
SharePoint Home – before end of 2020
Users will soon be able to download the new SharePoint home site app that allows admins to build a portal to a company's intranet from within Teams. This comes with all the customisable options you might expect, including the option to change naming schemes, branding, and navigation to specific resources.
Approvals – available in October
Microsoft is overhauling the process for completing approvals in Teams, allowing users to create, manage, share, and act on approvals within the Teams environment. An approval process can trigger from a single chat window, or from a dedicated Approvals App.
Microsoft is also adding new integrations with Adobe Sign and DocuSign before the end of 2020.
Security improvements
Customer Keys – before end of 2020
Microsoft is adding a tool that lets customers add an additional layer of encryption to their data using their own keys, on top of existing Teams encryption. The same function already exists in SharePoint Online and OneDrive.
Microsoft Graph API for Teams Data Loss Prevention – available now
Leaving public preview is the Microsoft Graph Change Notification API for Teams messages, which allows developers to build apps that are able to monitor messages in near-real-time and trigger actions that prevent potential data loss.
Teams Export – available in preview
A new API is available in preview for developers that allows the exporting of either 1:1 or group chat messages, along with any associated files, images, or user mentions.
More powerful admin tools
More options for company branding – before end of 2020
Teams admins will soon be able to customise their custom line-of-business application catalog using their organisation's branding – which should make it much easier for end-users to discover these apps organically.
Bulk policies – available now
Admins can now assign policies in batches of up to 50,000 users, allowing for better control over how Teams features are utilised.
Delegate device management – available now
Allows global admins to set controls that only allow lower-level admins to view and manage the devices section in the Teams Admin Center – effectively allows global admins to control the permissions of other admin functions.
Smarter analytics and automation
Improved power BI app – before end of 2020
Changes to the way Power BI interacts with Teams should make it easier to discover data from across the organisation, as well as speed up the process of creating visualisation from Excel. Power BI is now designed to be a centralised place for users to analyse data, as well as enhancing how users engage with Excel inside chat windows and channels.
New Power Automate app – before end of 2020
The new Power Automate app will bring with it a new set of templates that make it easier to automate processes within Teams, as well as a much friendlier UI. New options for automation will also be added, such as automated meeting creation and automated message actions.
Resource-specific consent (RSC) – available now
Teams now supports the option to install RSC-enabled apps that let admins control how much data is accessed by individual teams, without having to change global permissions. Other app functions can include creating, renaming, or deleting channels, reading messages, creating tabs, and reading settings.
Single sign-on – available now
Thanks to an integration with Azure Active Directory, Teams now supports single sign on (SSO), allowing developers to build apps that allow users to sign in using the same account used for Microsoft Teams.
Streamlined support for Android
Earlier this year, Microsoft launched a new product called 'Collaboration Bars', essentially video conferencing hardware that's powered by Android and plugged into Teams. Unlike its Microsoft Teams Rooms hardware, this Android range is meant for smaller teams, focus groups, or instances where a budget version would do just fine.
This week the company announced two things in relation to this hardware. Firstly, the company is simplifying things somewhat by bringing this Android version under the same branding as the main Teams Rooms. However, what's more interesting is that Microsoft is working with partners to develop new form factors beyond the simple integrated media bar, so we could soon see a new range of Android devices built for Teams.
A daily dose of IT news, reviews, features and insights, straight to your inbox!
A daily dose of IT news, reviews, features and insights, straight to your inbox!
Thank you for signing up to ITPro. You will receive a verification email shortly.
There was a problem. Please refresh the page and try again.