Mid-sized firms must lean on partners to resolve data storage woes
With most digital transformation projects ending up in failure, choosing to partner up can be a make or break decision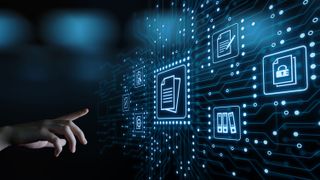 Small and medium-sized businesses (SMBs) stand to benefit the most from monetising their data, given it's their best shot at turning the tables on larger, more lethargic, competitors. SMBs are thought to be more agile than large corporations and seem well-positioned to adapt quickly and gain the upper hand in the digital transformation race, but this isn't always the case.
Midsized enterprises sit in an especially difficult middle ground, facing many of the same challenges as large organisations when trying to get value from their data, but often lack the same resources, budgets and in-house expertise to tackle them. That can really clip the wings of a company's digital transformation endeavours.
According to McKinsey research, around $900 billion of the $1.3 trillion businesses invested in digital transformation last year was wasted. Budget-conscious medium-sized organisations can't afford to haemorrhage their hard-won IT budgets on efforts that don't pay off in the long run.
For those companies, who they choose to partner with can be a make or break decision. A partner that doesn't understand their goals or their specific business challenges could end up footing them with unnecessary costs or solutions that don't help them get to where they need to be.
Why smaller businesses face bigger data problems
For companies of all sizes, data monetisation issues often start with how they're storing and governing all the data they're generating. Having worked with various businesses over the years, I've seen that even larger companies can struggle to unlock the true value of their data because of organisational problems. Sorting through huge volumes of data to discover what is useful and what isn't – and then ensuring all that data is secure – really is the fundamental first step towards monetising data.
But research shows 55% of data collected by companies today is dark – meaning more than half of the data they're paying to store is going completely unused. Most aren't even aware of what data they have and where it is, which is unsurprising given that businesses are continually collecting data from numerous sources and often storing it in unconnected systems.
But while those may be problems all businesses – regardless of size – are having to grapple with right now, that by no means levels the playing field. Large companies benefit from bigger IT departments and more liberal budgets to implement the infrastructure and strategies that can overcome these challenges. Most smaller organisations aren't so well-equipped.
Many midsized enterprises are desperate for reliable systems that can reduce their storage costs and drive cost efficiencies. But hiring the specialist workers and leadership needed to steer an organisation's data storage strategy doesn't come cheap either – the annual salary of a Chief Data Officer alone can be upwards of $118,000. That's where channel partners can be worth their weight in gold.
Finding solutions that won't break the bank
I've sat on both the vendor and partner side of the table, so I've definitely learnt a thing or two about what makes a good partner versus what makes a great one. And when it comes to midsized enterprises, they really do need a great partner. With a lack of in-house know-how, many of these customers are flying blind, which is where they lean more on their partners for guidance. The opportunity for partners, in turn, is to step up to the plate by providing solutions that will bear fruit without stretching budgets.
Companies can benefit from having an external partner as a voice of reason. That's especially the case for customers who may have scaled-up quickly, leaving their over-stretched IT team in uncharted waters and scrambling to put out fires.
Implementing the right architecture first will alleviate pressure on these teams, enabling greater productivity and dramatically reducing costs to make room for more high-level analytics projects. What the "right" data storage looks like will, of course, vary depending on the business – again, that's where partner's knowledge of what's available on the market and acting as a trusted advisor can help bridge the gaps.
While cloud adoption has skyrocketed over the last few years, many midsized companies remain apprehensive about making the move. Shifting data into the cloud isn't always straight-forward for medium-sized enterprises – especially if they have applications with high-performance requirements. Larger organisations can afford to scale-out or purchase additions that increase fault tolerance and redundancy, but for midsized companies looking for cost-effective, scalable but predictable performance, on-premises or third-party data centre storage solutions could still be a more sensible approach. And with the rise of storage as a service (STaaS) and more flexible consumption models, companies now have greater control over their spending.
Partners have an important role as educators, weighing up these options on a case-by-case basis and helping midsized organisations overcome the challenges I mention above. To address new business opportunities, partners can provide real value by offering new ways of thinking and helping their customers accommodate real-world budgets to scale digital infrastructure and data storage.
Tom Pegrume is vice president EMEA partners and alliances at Hitachi Vantar
Stay up to date with the latest Channel industry news and analysis with our twice-weekly newsletter
Stay up to date with the latest Channel industry news and analysis with our twice-weekly newsletter
Thank you for signing up to Channel Pro. You will receive a verification email shortly.
There was a problem. Please refresh the page and try again.