Compact and bijou: Shrinking IT infrastructures
Should your business reduce its IT infrastructure to remain competitive in a post-coronavirus landscape?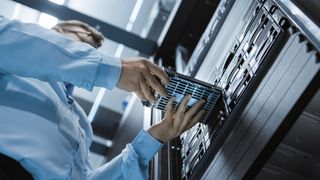 (Image credit: Shutterstock)
To manage the rapid changes taking place across the commercial landscape, adding more IT infrastructure has become the norm. However, in a post-cor world, reverting to a leaner IT infrastructure that's better suited to the new normal of work has moved to the top of the IT agendas of many companies.
Speaking to IT Pro, Tim Pieters, platinion manager at the Boston Consulting Group, explains: "Have no doubt, COVID-19 has accelerated the need for agile processes all across operations, including IT. To do so, the development of continuous improvement and efficiency in the on-premises environments while building out scalable environments in the cloud is a necessity. This requires a very thoughtful approach: IT leaders must switch mind-sets, moving from being an infrastructure service provider to becoming an infrastructure product manager."
To stay competitive, all enterprises need IT systems to deliver integrated communications across their businesses and ensure their customer-facing systems are efficient, reliable, and secure. What Gartner calls infrastructure and operations (I&O) leaders is particularly relevant here, as companies consider their entire IT real estate and how this can be reduced or at least streamlined.
Information technology service management (ITSM) is under pressure to become more adaptable to the current business environment. Making IT infrastructures more compact makes them much easier to manage. And as research and consultancy firm Altimeter discovered for its 2020 State of Digital Transformation report, doing more with fewer IT resources is a crucial driver for all businesses, no matter which sector they are in, as budgets contract.
Curtis Bailey, business development director at TechNET IT Recruitment, comments: "Companies are going to be exploring the most efficient ways to keep remote work forces working at maximum capacity. Companies will be looking for efficient and secure cloud-based services that are easy to manage."
The IT infrastructures needed as businesses move forward must also improve their efficiency. Of course, the cloud plays an immense role here. Networks have to change to support remote mass working, but also, as consumer behaviour changes. Sprawling legacy systems will need to be replaced with compact, agile, and secure infrastructures that can be easily managed.
Compact IT
That IT infrastructure is fundamentally changing is the key conclusion of a study carried out in October by Dods Research on behalf of Appian. Over 100 UK technology decision-makers within central government were surveyed about their digital strategies and challenges during COVID-19. Nearly all (90%) of respondents pointed to improving operational efficiency as a core goal. This has meant scaling up IT, but has also included more automated systems and a drive to ensure these systems are as compact as possible to overcome incompatibility issues with legacy systems.
All IT infrastructures are changing: The next stage of development is what Wipro calls 'hybrid compute fabric.' For IT infrastructures, the company says, this means: "The computing fabric of the future is a distributed computing fabric that seamlessly stitches an enterprise's core, edge, network and security elements into one operational construct." This new approach to IT infrastructure is leaner and certainly more agile. Indeed, Peter Bendor-Samuel, founder and CEO, Everest Group, calls this "invisible infrastructure", where IT is measured against business metrics and not just SLAs.
Simon Wilson, CTO of Aruba UK&I, tells IT Pro: "Businesses shouldn't be shrinking but rather, re-shaping their infrastructure. Lockdown left many scrambling to scale up their remote working capabilities in order to extend it to those in roles where prior to COVID, it wasn't routine practice. To cope with an ever-expanding edge, IT networks need to be policy based rather than config based. By doing so, businesses can ensure anything can be done anywhere without heavy lifting by IT."
With Pete Hanlon, CTO of Moneypenny, also advising: "Shrinking infrastructure needs to be well planned and done thoughtfully. The outcome of the work needs to be well understood, the wider business needs to support the initiative and expect some business impact in the short term. Shrinking IT infrastructure is normally a disruptive process, often legacy systems aren't well understood so the impact of decommissioning old infrastructure can come with some risk."
A lean and agile cloud
Cloud services have transformed how businesses now approach their IT infrastructures. Indeed, according to AllCloud's 2020 infrastructure report, 70% of IT professionals said half their companies' IT workloads are currently in the cloud, 85% expect to have the majority of their workloads on the cloud by the end of 2020, and more than 23% will be cloud-only. Also, over half (56%) of respondents are using containers or microservices. Reducing management workloads using platforms like Kubernetes is a clear trend as businesses streamline their IT infrastructures across cloud services – most notably, AWS.
To take full advantage of technologies such as augmented reality (AR), virtual reality (VR), mixed reality (MR) and the DARQ (distributed ledger, artificial intelligence, extended reality and quantum computing) technologies, IT infrastructures will have to be comprehensive and far-reaching, yet remain manageable over the long term.
Whether old or new, the digital maturity of every company has moved through several phases of development. Digital transformation may have been disrupted thanks to the pandemic, but what COVID-19 has created is a sense of urgency; businesses are accelerating their IT roadmaps, which include how their infrastructures can be simplified. Easier management delivers more agility and the ability to develop IT systems that are robust and secure.
BCG's Tim Pieters concludes: "Infrastructure that is messy, becomes prone to falling over, to outages and failures. If organisations are to address the infrastructure bloat, then they must implement cloud financial management (FinOps) practices that can be applied to cloud or use other modernised infrastructures that can enable them to [reconcile] with self-service models. Only then will businesses have full control of their back-end processes."
And will the IT infrastructure market react to the changing demands of their customers? TechNET IT Recruitment's Curtis Bailey thinks so: "Expect to see more choice in cloud-based systems and a 'try before you buy' attitude as CTOs find the best solutions for each enterprise before making larger commitments. Cost efficiency will be at the forefront of everyone's mind and any tools or services will need to be as efficient as possible – this may mean condensing of tools and cloud systems. Expect competition to have an impact on pricing too. There may also be instances where firms invest in and develop their own tools."
Overhauling what could be complex IT systems with substantial legacy components needs to be approached with care. How the new infrastructure will be constructed and then managed should be the foundation on which the development plan is built. Clear goals should be set to ensure the built infrastructure meets current needs and has a level of future-proofing.
Get the ITPro. daily newsletter
Receive our latest news, industry updates, featured resources and more. Sign up today to receive our FREE report on AI cyber crime & security - newly updated for 2023.
David Howell is a freelance writer, journalist, broadcaster and content creator helping enterprises communicate.
Focussing on business and technology, he has a particular interest in how enterprises are using technology to connect with their customers using AI, VR and mobile innovation.
His work over the past 30 years has appeared in the national press and a diverse range of business and technology publications. You can follow David on LinkedIn.