Flexible vs agile working
Although they have similar meanings, it's important to differentiate between flexible vs agile working and how to implement this in the workplace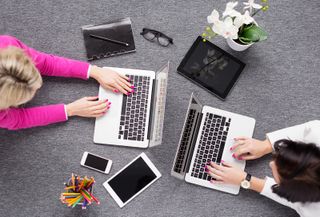 (Image credit: Bigstock)
Agile and flexible working patterns are not new, but they have been redefined by the pandemic and given greater importance, certainly for employees. With all the talk about these phrases over the past few years, it has become increasingly important to understand the difference between flexible vs agile working.
Before COVID, working from home was often reserved for certain employees as a job perk or, in some cases, as a necessity. Only one in ten (9.5%) of UK workers got to do their jobs from home in 1999, according to a Labour Force Survey, issued by the Office for National Statistics (ONS). By 2020, a report from the CIPD Job Quality Index stated that that number jumped to 54%.
With the rollout of the vaccine - and now the booster - offices are welcoming employees back, but remote and flexible working have continued for many. As such, flexible working is now openly discussed in job interviews and listed as a 'perk' in certain job applications. Salary is still the major deal-breaker when it comes to accepting a new job, but there is a growing demand from different demographics that want a better work-life balance. This includes new mothers that want to balance their work around their young families and people that want to have more options for where they live. For many, remote working means no longer needing to live within a commutable distance.
While some may argue that office/workplace culture is at risk with remote and flexible working, many more will suggest it has offered more productivity and inclusion than ever before.
What is flexible working?
Although they have been used more broadly since the mass move to remote work, agile and flexible working are two terms which continue to be confused by many.
When it comes to flexible working, this should be employee-centric, or focused. This is all about trusting workers within your organisation to work and empowering them to complete their job wherever they find it easier to do so.
A few years ago, this would have been a benefit only given to a small number of workers, but flexible working methods have now been opened up to more of the workforce following the COVID-19 pandemic. This was a particularly positive step for organisations, as it empowered them to help parents switch easier between childcare and work as well as enabling companies to hire the best talent without being restrained by their office location. This phenomenon wouldn't exist without the magic of digital transformation, and it will increasingly be expected to be automatically included in job ads going forward in the future.
In 2014, the Flexible Working Regulations gave employees the right to ask for flexible working arrangements. However, a worker must have been employed at the company for at least 26 weeks before making this request. The legislation details what employees are allowed to ask for in terms of different types of working arrangements. This includes, for example, different places of work, job shares, a variation on the hours they work, and more. However, the law does not compell organisations to approve every request, but they do need to give fair consideration to each one.
What is agile working?
Agile working tends to centre on the actual business, in contrast to flexible working, which is viewed to be a construct that is focused on employees.
If you're looking to take on an agile strategy, then you'll have to make the most of technology and deploy it strategically throughout your business to help your workers perform to the best of their abilities. This includes the capacity for staff to work together on the same project at different times, no matter where they are based, as long as the needs of the project are fulfilled.
RELATED RESOURCE
Your key to digital differentiation and competence
Database services fit for app modernisation, cloud-native innovation, and data-driven strategies
Your agile workforce should be able to work from different locations, no matter how far they are from the office. This includes coffee shops, their home, overseas if need be, or even the park, as long as they can carry out their work. However, this strategy can only work if your organisation has adopted the right processes and practices.
A huge part of agile working is ensuring that flexibility is designed directly into your workplace, thanks to the policies you've implemented, and ensuring it isn't driven by the choice of each individual. This boils down to organisations moving away from the old, conventional methods of focusing on inputs, where employees must report to a particular place like an office and work between certain hours. Instead, agile working means moving towards a business process that focuses on outputs, where everything pivots around project and task completion.
Agile vs flexible working
The main difference between agile working and other forms of flexible working is commitment. While flexible working can be easily implemented using today's technology, commitment to agile working is required from management and staff.
Flexible working tends to be employee-centric. It's believed to improve work/life balance and enhance employee happiness, though there are benefits there for productivity, reduced absenteeism, and staff retention.
Agile working practices, however, are designed to benefit both the employee and the company; staff get more freedom to work where and when they want, but the result should be a more performance-focused, responsive and effective organisation, where motivated workers deliver stronger products and better customer service.
Flexible and agile tools
Technologically, flexible and agile working practices use many of the same tools. Hot desking, laptops, convertibles, smartphones, and mobile devices play into both, while wireless connectivity is essential.
Agile working, however, requires a wider change of IT strategy, bringing in services like unified communications, team and collaboration platforms, cloud-based data and business intelligence (BI) services and VPN tech to ensure that every employee has what they need to do their job wherever or whenever they're working. While the flexible office can support agile working, agile working takes things further. It's even more crucial to provide a range of workspaces appropriate for different purposes and to give workers the space they need to operate in different configurations as part of different teams.
IT teams should bear in mind that remote and agile working needs don't only come down to laptops and broadband, but also their security. Working from home or a café blurs the line between private and work devices, even if it's company provisioned. It also brings a whole new set of challenges, whether it's social engineering or cyber attacks. This is why IT departments need to be mindful of what kind of devices are being used by employees, as well as what kind of software is being installed.
Nobody likes restrictive policies – in fact, this is why remote and agile working models exist in the first place. However, having some sort of security guideline in place may be the deciding factor in whether a company falls victim to a data breach, with potential legal and financial consequences. In fact, the rapid shift to remote working has been cited as being one of the main causes behind the rise in data breach costs, with incidents costing on average $4.96 million (£3.57 million) when remote working was a factor versus $3.89 million (£2.8 million) otherwise.
When it comes to mastering endpoint security, a simple antivirus software is far from enough. Businesses should know their weaknesses and consider implementing such vital security tools as firewalls, data encryption, and segregation, as well as a dedicated antimalware, a separate access control or containerisation system, and even a level of artificial intelligence or machine learning which will help detect divergence in normal behaviour.
How to implement an agile working pattern
The balance between what the business needs and what the employee needs is never straightforward, however agile working can produce numerous benefits it implemented carefully.
RELATED RESOURCE
The challenge of securing the remote working employee
The IT Pro Guide to Sase and successful digital transformation
In many organisations, the cultural mindset is the key obstacle to agile working. It isn't enough to have the best technology and build new workstations. It is important that businesses engage with the labour force as well as build up a rapport of accountability and trust.
The shift will also question the command-and-control leadership and culture, particularly in senior and middle management. Execution has to be across the whole business. Departments heads, such as those from IT, human resources, finance and property must push agile working collectively.
There also must be a solid argument for having agile working in a business; key objectives must be defined, and agile working must show how it can help in reaching these targets. The UK government has an agile working code of practice, PAS 3000, created by the British Standards Institute, that can be used as a resource for getting started on the way to agile working.
Going agile isn't for the timorous, but the results can be wide-ranging. BT, for example, has transferred 80% of its workforce to agile practices and seen some workers show a 30% surge in productivity and enhanced staff health and contentment. Stress-related illness has decreased by 35%, the percentage of sick days taken has dropped and total staff retention has increased.
That's good news for its workers and good news for the business.
Get the ITPro. daily newsletter
Receive our latest news, industry updates, featured resources and more. Sign up today to receive our FREE report on AI cyber crime & security - newly updated for 2023.
Maggie has been a journalist since 1999, starting her career as an editorial assistant on then-weekly magazine Computing, before working her way up to senior reporter level. In 2006, just weeks before ITPro was launched, Maggie joined Dennis Publishing as a reporter. Having worked her way up to editor of ITPro, she was appointed group editor of CloudPro and ITPro in April 2012. She became the editorial director and took responsibility for ChannelPro, in 2016.
Her areas of particular interest, aside from cloud, include management and C-level issues, the business value of technology, green and environmental issues and careers to name but a few.