The most significant industry moves of 2021
From Intel to Salesforce, we look back at the mergers, acquisitions and strategical shifts that shaped the last 12 months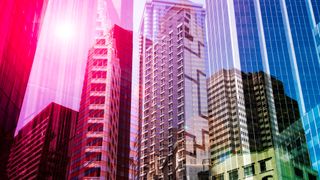 (Image credit: Getty Images)
As another turbulent and unprecedented 12-month period wraps up, we can look back at a busy year for the tech industry. A handful of household names pursued mergers, acquisitions, spin-offs and strategical overhauls, with many striving to become a stronger force on the world stage. Other deals, meanwhile, became mired in regulatory issues.
From Facebook to Intel, and from Microsoft to Salesforce, 2021's most significant industry moves will have repercussions for years to come. We look back at a handful of the loudest to examine why these moves were so important, and what each one means for the future of the industry.
Intel launches $20 billion manufacturing roadmap
When Intel announced in March it was to invest $20 billion into two new Arizona factories, the US chipmaker's CEO, Pat Gelsinger, described it as "setting a course for a new era of innovation and product leadership".
The continued chip shortage has wreaked havoc on the production of everything, from laptops, smartphones and tablets to gaming consoles and even cars. Boosting manufacturing capacity and economies of scale seem a natural response to that, assuming Intel can get hold of enough of the necessary raw materials, given the global supply chain crunch. The sector, of course, has also been hit by an increase in the price of copper.
The launch of Intel Foundry Services (IFS), which aims to make the company a major provider of foundry capacity in the US and Europe, is also a key factor, given its plan to make custom chips for tech firms and national governments.
Where's the strategic value?
The pandemic hugely increased demand for technology that could power the massive remote working shift across the world. Chipmakers will be instrumental to that change and need to be ready and flexible to take advantage. Intel is in a tight race for supremacy with Nvidia, and also needs to compete with the likes of Taiwan Semiconductor Manufacturing Company Limited (TSMC) and Samsung. In light of geopolitical tensions, this move is, in part, a bid to ensure more is made in the US.
According to the Semiconductor Industry Association, US-based fabs account for just 12% of the world's manufacturing, down from 37% in 1990. There are also restrictions and sanctions on China's largest chip manufacturer, Semiconductor Manufacturing International Corporation (SMIC), put in place by the US Department of Commerce. In mid-December, Intel also announced it will invest more than $7 billion to develop a new chip-packaging and testing factory in Malaysia.
Salesforce bets big on collaboration with $27.7 billion Slack acquisition
As we entered 2021, Salesforce announced it would acquire Slack, the popular workplace collaboration platform with more than 10 million active users daily.
Marc Benioff's software giant, whose customer relationship management (CRM) platform is used by 150,000 companies, heralded it as a "match made in heaven" while Slack CEO Stewart Butterfield hailed the "most strategic combination in the history of software".
Where's the strategic value?
The world of work is changing beyond all recognition thanks to remote working and greater flexibility – and that means workplace collaboration software will be critical to productivity and growth.
Joining forces gives both Salesforce and Slack much greater capacity to compete against the likes of Microsoft Teams and Facebook Workplace, offering the sort of software and functionality that would prove complementary to each of its customer bases.
Nvidia and Arm's $40 billion bid to own the age of AI
Combining a company with the artificial intelligence (AI) strength of Nvidia with the semiconductor prowess of Arm seems a no-brainer.
When the deal was announced in September 2020, Jensen Huang, founder and CEO of Nvidia, said: "In the years ahead, trillions of computers running AI will create a new Internet of Things (IoT) that is thousands of times larger than today's internet of people. Our combination will create a company fabulously positioned for the age of AI."
The move hasn't panned out as either company will have hoped, however, and has since been endangered by a thorough regulatory process in the UK.
RELATED RESOURCE
Delivering on demand: Momentum builds toward flexible IT
A modern digital workplace strategy
Where's the strategic value?
As Huang pointed out, the value lies in the future, with technology set to become more connected than ever. In the coming years, smart devices and appliances will become the norm, while sensors will power smarter cities, using AI alongside the wealth of data they gather from the likes of shops, roads, buildings, and factories to drive both government and business decision-making and direction.
Given the size and scope of the deal, however, 2021 has seen it attract a continued amount of regulatory scrutiny. The UK has put Cambridge-based Arm under the spotlight due to fears over competition and national security. Read more about that investigation, by the Competitions and Market Authority (CMA), here. It was also announced in December 2021 how the Federal Trade Commission (FTC) is also seeking to block the takeover.
IBM officially launches Kyndryl spin-off
In November, IT services firm Kyndryl completed its spin-off from IBM. Alastair Edwards, chief analyst for channels analysis at Canalys, told Channel Pro how removing the IBM shackles would allow it to work with a broader range of technology vendors. This would allow Kyndryl to enjoy "the agility to focus on what they're really interested in, which is obviously cloud, AI, and other technology areas that they're doubling down on".
Where's the strategic value?
The true value of the spin-off remains to be seen. Experts suggest, though, Kyndryl will face fierce competition from managed cloud service providers. By focusing on its specialisms, however, it could carve out a newer niche and premium role for itself.
For IBM, it represents a move away from its legacy as it focuses on the three pillars of AI, hybrid cloud and quantum computing.
The $64 billion Dell-VMware question
Following the news that VMware would spin out from Dell to create a standalone company, valued at approximately $64 billion, its CEO Raghu Raghuram explained: "We will continue to bring our multi-cloud strategy to life by providing our customers the power to accelerate their business and control their destiny in this new era."
This is, of course, only the latest chapter in a long saga of the relationship between Dell and VMware, since Dell acquired EMC (which owned VMware) in 2016.
Where's the strategic value?
You could describe this November 2021 separation as a "conscious uncoupling", an amicable breakup with a positive outcome for both. VMware and Dell will continue to provide "differentiated solutions" for their customers ensuring they are still strong apart. The move has benefited Dell as it has meant it received $9.3 billion to use to pay down debt, while VMware now has far more flexibility to partner with a greater number of cloud and on-premises infrastructure companies.
Facebook goes all 'Meta' on us
The Facebook Company has come a long way since the social network site launched to the public in 2006. Alongside the platform we all know, the wider business now owns WhatsApp, Instagram, and Oculus.
To distance itself from the negative word association regarding its legacy name, in light of a string of scandals, data breaches and PR disasters, the umbrella company is now called Meta. It's a similar move to when Google changed its parent company's name to Alphabet.
Meta was chosen as a title because, as we head into the future, Facebook founder Mark Zuckerberg is pinning his hopes on the metaverse – an online world for people to inhabit 24/7 using Virtual Reality (VR) headsets to work and have fun. Zuckerberg said, at the time of the announcement: "Over time, I hope that we are seen as a metaverse company and I want to anchor our work and our identity on what we're building towards."
Where's the strategic value?
The names of Meta's individual brands aren't changing; they're far too well-known and ingrained in the psyche to mess with. Given the size of the business now, though, a new name and logo can help to cement a fresh identity in the future, especially for existing shareholders and future investors. It allows the business, too, to report on two different sides of its operations.
The metaverse is a big strategic gamble and looks set to revolutionise the business world in the same way Facebook has influenced the nearly two billion daily active users it retains worldwide. For many younger people in Generation Z and Generation Alpha, Facebook holds far less relevance to their lives, however, compared to those of their parents.
Differentiating the name means there's no negative attachment to Meta from younger groups who have little or no emotional affiliation to Facebook, while also distancing the brand from a litany of high profile scandals.
AMD's $35 billion gambit on Xilinx
Industry moves this year have definitely been highly influenced by chipmakers as well as the ongoing chip shortage. This deal will see the manufacturer circuit boards, ethernet ports and high-performance processors become part of the AMD family.
"By combining our world-class engineering teams and deep domain expertise, we will create an industry leader with the vision, talent and scale to define the future of high-performance computing," AMD president and CEO Dr Lisa Su said in October.
Where's the strategic value?
As Su explains, Intel is in a close battle with Nvidia for chipmaking supremacy, meaning AMD must also stay in that race. An acquisition such as this provides far more firepower in that fight.
The world's chipmakers are now at the very heart of every technological change we're set to experience over the next decade. Without them, little would be possible and it's why the chip shortage has bitten hard across a variety of industries.
Ramping up production is now key, and everyone involved in the chipmaking process will be looking to gain a greater strategic advantage. It's likely 2022 will see more acquisitions and consolidations across the industry to aid in that effort.
Microsoft shouts loudly with $19.7bn Nuance deal
Acquiring AI voice firm Nuance feels like a natural win for Microsoft. As more people work from home, tools that enable productivity are going to be in real demand.
Microsoft already signalled its intent to underpin itself more deeply into this workplace-related market back in 2016 with its $26.2 billion purchase of LinkedIn. Since the pandemic started, Microsoft Teams has been building itself to become indispensable in office life, enabling remote and flexible working through communication and collaboration.
Where's the strategic value?
Outside of the office setting, one area Microsoft suggests will benefit from the Nuance deal is the Microsoft Cloud for Healthcare. Nuance already has a number of products in this space, helping with dictation and transcription for medical professionals, and these solutions are currently used by more than 55% of physicians and 75% of radiologists in the US, and used in 77% of US hospitals.
The future of healthcare, driven by AI and machine learning, is a huge growth area and opportunity. Across the globe, it's a frontier being explored to improve patient outcomes and journeys, while also delivering innovative and life-saving treatments. Microsoft CEO Satya Nadella previously said healthcare is the most urgent application of AI, with this move paving the way for advanced systems to be put into the hands of professionals everywhere.
Despite receiving regulatory approval in the US and Australia, however, the deal is being scrutinised by the UK's CMA.
Get the ITPro. daily newsletter
Receive our latest news, industry updates, featured resources and more. Sign up today to receive our FREE report on AI cyber crime & security - newly updated for 2023.
Jonathan Weinberg is a freelance journalist and writer who specialises in technology and business, with a particular interest in the social and economic impact on the future of work and wider society. His passion is for telling stories that show how technology and digital improves our lives for the better, while keeping one eye on the emerging security and privacy dangers. A former national newspaper technology, gadgets and gaming editor for a decade, Jonathan has been bylined in national, consumer and trade publications across print and online, in the UK and the US.