Funding for cyber security startups surges by 940%
The cyber security sector saw a 44% increase in the number of startups in the past two years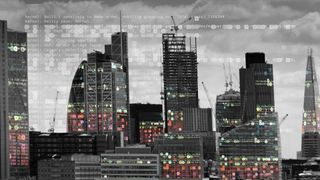 (Image credit: Shutterstock)
Funding for UK cyber security startups has increased by a staggering 940% since the beginning of lockdown, making cyber security the fastest-growing startup sector in the country.
There has been a 44% increase in the number of cyber security startups in the past two years, according to a new report by recruitment agency Robert Walters and data provider VacancySoft. However, the most significant increase in funding could be seen during the pandemic – which saw many sectors struggling due to the financial crisis.
Compared to the same period in 2019, funding increased by 940% since the start of the year, resulting in £496 million being raised by UK cyber security firms in the first half of 2020. The amount raised in six months almost meets the £521 million raised in total throughout 2019.
Commenting on the findings, Darius Goodarzi, principal of Information Security and IT Risk at Robert Walters, said that "the UK has been building its reputation as a beacon of innovation and investment in cyber security" over the last few years.
"This year in particular, cybersecurity startups have risen to become business heroes – from tools that alert users to security vulnerabilities, to those that spot fraudulent activity – these news firms and tools have taken an important role in protecting our 'new world'", he said.
According to the UK government's Cyber Security Sectoral Analysis 2020, there are 1,221 firms active within the UK providing cyber security products and services. Robert Walters estimates that a new cyber security business is registered every week within the UK, making it the fastest-growing sector in the country.
The report also found that a significant majority (90%) of the cyber security sector is made up of fast-growing SMEs.
According to Robert Walters, senior consultant Ajay Hayre, "historically IT security has represented only 5% of a company's IT budget".
RELATED RESOURCE
BIOS security: The next frontier for endpoint protection
Today's threats upend traditional security measures
However, he added that "due to remote working and transition to online or cloud-based solutions, cyber security has been thrust to the centre of business continuity plans – having proved its worth in enabling business objectives during lockdown".
"Not only will every company see the benefit of having this expertise in-house, but they will be looking externally for tools, services and advisors to help guarantee the future-proofing of their business by way of solid and robust cyber security provisions," said Hayre.
The growth has meant that London is no longer considered the hub for the cyber security sector. According to the report, over half (55%) of the UK's cyber security startups are based outside of the capital, with the number of startups more than doubling in the North West of England. In the last two years, the region saw an increase from 39 registered firms to 80.
Robert Walters, director of Technology at Ahsan Iqbal said that, "with part-remote working here to stay for the foreseeable, removal of geographical barriers is allowing companies to make tactical hires outside of London".
"Not only is cost saving an advantage here, but the North has built up a reputation for its highly skilled and experienced pool of tech talent," he added.
A daily dose of IT news, reviews, features and insights, straight to your inbox!
A daily dose of IT news, reviews, features and insights, straight to your inbox!
Thank you for signing up to ITPro. You will receive a verification email shortly.
There was a problem. Please refresh the page and try again.