Starting afresh: Why startups will lead the new normal
Why new businesses have the agility needed to adapt to a post-COVID world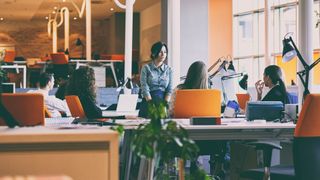 (Image credit: Shutterstock)
This article originally appeared in July's edition of IT Pro 20/20, available here. To sign up to receive each new issue in your inbox, click here.
The COVID-19 pandemic has triggered a mass exodus from traditional office life, and no matter where you're based – be it London, Silicon Valley or beyond – working from home has become the norm. While many companies will be plotting their return to a traditional office environment, some undoubtedly led by the innovation-shy UK government, many are reconsidering the way they work completely – and it's startups that are leading the charge.
UK-based startup network, Founders Forum, surveyed more than 300 small business founders and their teams on how their way of working has changed since the coronavirus crisis began. 84% of those questioned said they had closed their office space during the pandemic and a clear majority (66%) of those respondents said the need to return was not "business critical". A third (33%) of those surveyed said, going forward, they would adopt a remote-first setup, while 10% said they had closed the office for good.
That's because, the majority of these respondents said, they were able to complete their day to day tasks just as efficiently, if not more efficiently, from home, while enjoying a boost in morale due to the lack of time-consuming commutes, often unnecessary face-to-face meetings and endless office distractions.
On the release of the survey, Brent Hoberman, co-founder and executive chairman of Founders Forum said: "The results prove both that early-stage tech founders are adaptable and that entrepreneurship is one of the best-suited professions to remote work. The majority of early-stage founders haven't seen productivity take a hit during this period, but it remains to be seen what happens to creative output, team culture and training over the longer term."
Although the long-term effects of this 'new normal' are yet to be demonstrated, and while it's clear that some startups have struggled during the crisis, it's clear many of these upstart businesses - the majority of which are made up of predominantly tech-savvy 'Millennial' and 'Gen Z' employees - will lead the way when it comes to embracing this new and unfamiliar way of working.
Hybrid theory
Senat, a UK startup pioneering digital twin technology to translate the real world into a version understandable to AI, tells IT Pro that it's now letting its employees choose where they work, and while some will opt to return to an office environment once lockdown measures have been fully lifted, some will predominantly work remotely.
Another startup, QuantSpark, which describes its mission as "pioneering the strategic application of data science and software development", is also planning a major shift in the way it works; the company said it will encourage its employees to work from home for two to three days each week, having seen the benefits doing so can bring.
"In many cases, it has actually increased productivity and boosted employee morale because of the emerging trend that a lot of people have wanted to work at home,' says Adam Hadley, CEO of QuantSpark. "However, it is important to stress here that almost everyone appreciates interaction with team members. So the position we are arriving at is, in the future, team members will likely work from home for the majority of their time however we are going to have set days and times when we would like people to come into the office."
Remote controls
Other startups are less concerned about a return to physical interaction and in-person meetings due to the success of remote technologies; video conferencing platform Zoom, for example, saw use of its services increase 20-fold in the UK during the lockdown, with Microsoft Teams also reporting a major spike in daily users during the peak of the crisis.
ClearPeople, a UK-based startup that provides software and services for the modern digital workplace, is one company reaping the benefits of a cloud-first strategy, which it claims has been so successful that it's ending the lease on its office space.
Katya Linossi, CEO of ClearPeople, tells IT Pro: "Technically speaking, it was not a challenge to expand to full-time remote working. As a company that implements a digital workplace solution, it's important we lead from the front, and already had in place a cloud-first strategy with Office 365 and Azure. By working remotely, we experience potential client challenges and can provide our clients with useful advice and tools.
"Our staff are very comfortable with remote working, especially our developers who require absolute focus and prefer a quiet environment. Some people have flagged that they'll miss some of the in-person interaction but we have a number of ideas planned to bring us together post-lockdown.
RELATED RESOURCE
The IT Pro Podcast: Going from startup to scale-up
How companies can overcome 'second album syndrome' as they grow
"We are ending our lease on our offices, although we'll still be looking for options for client meetings, interviews and for team meet-ups. There will be times when getting together will elicit the best results, so it's important this is available. We are looking into co-sharing spaces for these purposes."
This is a view shared by Flavius Plesu, the founder and CEO of OutThink, the human risk intelligence platform startup that has been through the CyLon, LORCA and TechNation incubators. Although his company secured a new office space a stone's throw from Liverpool Street station just weeks before lockdown measures were implemented, it has since pivoted to become a remote-first company.
"At OutThink we have always allowed and encouraged remote working, although we started as an office-first company," Plesu said. "Having used lockdown as a trial period we are happy to pivot to a remote-first policy.
"I have been really pleased with the work ethic of my colleagues – I have put my trust in them and don't want to be overbearing and constantly checking in on them, but am happy to see that the team is constantly exceeding customer expectations and projects are delivered on time. Having previously worked in banking and financial services, I know that many business leaders were reluctant to allow mass remote working prior to lockdown, but I am confident many will now revisit this."
Of course, this new way of working won't be suitable for every startup. Some will struggle more than others, such as those in the travel and hospitality industries, which are more reliant on physical office space, and some employees – including those who live alone and those don't have a dedicated place to work at home – will be keen to get back into a brick and mortar office, and out for a lunchtime pint with their colleagues.
Startups will doubtlessly lead the 'new normal' revolution, however, and the benefits are clear; not only are some companies reporting an increase in staff productivity and morale, but this flexible way of working could also help business cut-back on real-estate costs and open up startups to a wider pool of talent. Most importantly, though, it could prove to more established businesses across the rest of the country that this way of working can be successful, and that it's valuable to always have a strong backup plan in place.
Get the ITPro. daily newsletter
Receive our latest news, industry updates, featured resources and more. Sign up today to receive our FREE report on AI cyber crime & security - newly updated for 2023.
Carly Page is a freelance technology journalist, editor and copywriter specialising in cyber security, B2B, and consumer technology. She has more than a decade of experience in the industry and has written for a range of publications including Forbes, IT Pro, the Metro, TechRadar, TechCrunch, TES, and WIRED, as well as offering copywriting and consultancy services.
Prior to entering the weird and wonderful world of freelance journalism, Carly served as editor of tech tabloid The INQUIRER from 2012 and 2019. She is also a graduate of the University of Lincoln, where she earned a degree in journalism.
You can check out Carly's ramblings (and her dog) on Twitter, or email her at hello@carlypagewrites.co.uk.