Four tips to slash office running costs
With energy prices set to surge and inflation remaining sky-high, slashing workplace expenditure might be one of the only ways forward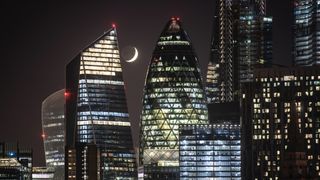 The last couple of years have been tough for businesses in the UK, with COVID-19, Brexit and the energy crisis all conspiring to drive up the cost of doing business.
The average cost of occupying a new build office in the UK rose by 1.2% over the 12 months to June 2021, according to the latest Total Office Cost Survey, to just shy of £80 per sq ft. Since then, however, it's likely surged much further. Meanwhile, the energy costs alone for running a 100-person workplace, roughly 7,500 – 9,500 sq ft, costs on average £34,854 annually, with air-con costing £10,100, according to Finder. These figures are accurate as of December 2021, with the economy and energy market having changed drastically since. The costs of powering the office are likely to be much higher by the time October rolls around. With no energy price cap for businesses, and government support not expected to arrive for some time, the figure may then rise to nightmarish levels.
These are, indeed, desperate times for many, and the cost of living crisis has led to many organisations seeking to slash expenditure from different angles. When it comes to reducing office overheads, however, there are several options at one's disposal, from implementing new technologies to reviewing internal processes.
How many desks do you really need?
Desk occupancy monitoring is critical for efficient resource management, according to Pippa Boothman, VP marketing and communications at Disruptive Technologies. She says discrete sensors can be easily placed under desks without the need for invasive infrastructural changes or taking up valuable space. "They provide real-time data on workspaces while respecting the privacy of your workforce, helping workplace and facilities managers maximise services and resources."
Boothman says these sensors and others were installed in a flexible workspace by her company to engage in this massive data collection exercise. Within just five months, they managed to achieve a reduction in electricity consumption by 31%, labour costs by almost 50%, and carbon dioxide (CO2) emissions by 30.4% because they were able to indicate where desks weren't in use, and didn't require the same resources.
"This was a direct result of the application of Internet of Things (IoT) sensors to create an accurate data map of the business, which enables operational efficiencies to be put in place," she says. Indeed, there are many examples of IoT being deployed to achieve sustainability goals.
Audit energy usage
To see where offices can make savings, it's also a worthwhile endeavour to conduct an energy audit to assess where the business is using the most energy. By doing this, an organisation can spot areas where energy – and money – is being wasted. Then, your organisation will have enough information to make meaningful changes, according to NerdWallet's business finance expert, Connor Campbell.
He adds organisations should also take stock of the workplace at different times throughout the day to get an idea of when and where the business uses the most energy. This can help in spotting any trends or spikes in energy usage.
"For example, if you noticed that your energy bill was still high overnight despite no one being in the office at that time, you could be wasting energy on computers on standby or heating an empty office unnecessarily. By assessing how much energy is used, when it's being used and why, you can make a plan for change," he says.
Cost-cutting on operations
Another way to slash the overall costs of running a building is through using intelligent building management systems (BMS). These enable building owners and managers to save energy costs with minimal effort.
RELATED RESOURCE
The digital workplace roadmap
A leader's guide to strategy and success
According to Kas Mohammed, VP digital energy at Schneider Electric UK&I, a good example is the use of integrated presence detectors. These can detect whether a room is occupied and automatically change temperature, ventilation, and lighting settings to minimise wastage when vacant. "This occupation data also shows what spaces get used most and when, helping to inform longer-term decisions about reducing office space," he adds.
Such systems can be programmed to automatically shut down heating, ventilation, and air conditioning (HVAC) systems an hour before closing, which allows the building temperature to shift slowly, with no disruption to occupants' comfort.
Boothman adds that proper energy management is key to reducing waste and ensuring that resources are used efficiently. Businesses can obtain the data needed for effective energy management using sensors such as temperature, humidity, water, CO2 and motion, providing insights into environmental monitoring, space occupancy and property damage protection.
"By combining this data and integrating it with, for example, IWMS platforms, it is possible to optimise energy use and prevent wasteful practices such as having the heating or air conditioning on when rooms are empty," she says. This is especially important in bigger buildings such as office towers, where small changes can have a bigger effect on overall energy usage, Boothman adds.
Anthony Dann, senior design partner at Trend Control Systems, says that in addition to using presence detectors, it's also possible to link room booking software to a building and energy management system (BEMS) and only consume energy in heating, cooling and lighting – in other words, powering a room – when it's booked and has people inside. "Using techniques such as these can have an impact on saving energy," he adds.
Make your office more eco friendly
There's a tremendous amount of wastage in running offices, and much of this is also damaging to the environment. Toni Galo, software as a service (SaaS) product marketing manager at Alcatel-Lucent Enterprise, says that sponsorships by top management in technology intervention and eco friendly operations are also imperative to employee adoption.
"We run a Go Green programme that's promoted by our CEO and sponsored by a member of our executive management team. Employees identify sustainable projects and, within our programme, we set and deliver projects. For example, we recently signed a contract to agree that, from 1 January 2022, 100% of our energy for French premises will be powered by renewable energy," he says.
Boothman says occupancy monitoring can also reveal the potential for downsizing. If this is possible, downsizing to a smaller space can significantly reduce energy costs, along with rent costs and other expenses, at the same time as making your office eco friendlier.
"Using the actionable insights generated from IoT sensor data also allows organisations to adjust their operations and services, such as cleaning schedules only cleaning when needed. They can save energy and money by adjusting HVAC systems and reducing their CO2 footprint," she says.
Get the ITPro. daily newsletter
Receive our latest news, industry updates, featured resources and more. Sign up today to receive our FREE report on AI cyber crime & security - newly updated for 2023.
Rene Millman is a freelance writer and broadcaster who covers cybersecurity, AI, IoT, and the cloud. He also works as a contributing analyst at GigaOm and has previously worked as an analyst for Gartner covering the infrastructure market. He has made numerous television appearances to give his views and expertise on technology trends and companies that affect and shape our lives. You can follow Rene Millman on Twitter.
Get the ITPro. daily newsletter
Receive our latest news, industry updates, featured resources and more. Sign up today to receive our FREE report on AI cyber crime & security - newly updated for 2023.
Thank you for signing up to ITPro.. You will receive a verification email shortly.
There was a problem. Please refresh the page and try again.