10 learnings to consider when it comes to enterprise mobility
While the past 12 months may have been the opposite of 'mobile', it's enabled businesses to target pain points associated with EM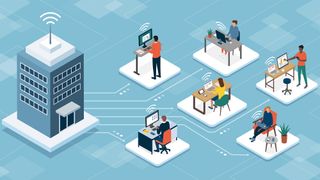 In these last 12 months, CTOs and those working within IT departments have faced a year of trials, errors and rapid change.
From providing every kind of mobile device for remote work to equipping machinery or operations to function via the cloud, it has been non-stop for many.
But a lot has been learned during this unprecedented period, so here are 10 top takeaways for Enterprise Mobility.
Rewrite business processes and control costs
The sudden shift to remote meant companies and organisations had little time to adapt existing Enterprise Mobility policies. Keith Thomas, associate director at Coeus Consulting, says: "Speed has driven a higher tolerance to risk, which organisations must now recognise and address. Many business processes were not written with mobility in mind. Tactical fixes can lead to inefficiency or total inability to meet customer needs."
Thomas also believes rising costs will be another critical issue. "Increased public network usage and device purchases quickly mount up. These must be controlled and managed," he adds.
Tracking devices is critical for better business protection
According to a November 2020 survey by the IEEE of 350 CIOs and CTOs, more than half said they can track between 26% and 75% of devices connected to their business (global average 54%).
While the UK fares well at 64%, it's no wonder more than one third of those questioned globally – and 41% in the UK – said security issues related to a mobile workforce was among their top two cybersecurity concerns. This isn't limited to company-provided devices either, as BYOD was also noted as a security concern by 37% of respondents.
Wearable technology for the workplace will be on the rise
The pandemic's health impacts mean wearable technology could play a greater part in identifying symptoms, stresses and strains on workers, as well as creating operational efficiencies by giving faster access to real-time data in the field.
Shash Anand, VP of product strategy at SOTI, says: "With business-critical mobility becoming more important than ever, wearable devices present exciting opportunities, but also new challenges. The nature of mobile and wireless technologies, and the environments they are used in to support business-critical applications, is not straightforward. However, there is an opportunity for businesses to place mobile technology at the heart of their workforce."
Unsecured Wi-Fi and a lack of authentication will still be major issues
Ivanti's research among CISOs saw 45% of those questioned cite employees using unsecured Wi-Fi to access business resources as a top IT security challenge during the pandemic.The use of personal devices, meanwhile, was a top concern for four in 10 respondents.
With nearly all (92%) admitting they need additional IT security measures in 2021 to better enable remote workers, it might be a red flag that only two thirds planned to invest in mobile threat detection software.
Critically, 57% pointed to improving authentication to remote applications as a top priority this year.
Digital Employee Experience is the next big horizon
Delivering a consistent and seamless digital experience (DEX) out-of-office looks set to be a business critical issue.
Research from Nexthink's latest Pulse report reveals a disparity between the value IT teams place on DEX and the actual quality of experience employees have in a remote or hybrid working environment.
For example, seven in 10 tech leaders reported spikes in their IT ticket and call volume during remote working in the pandemic with VPN issues (77%), poor video calls (65%) and Wi-Fi connections (51%) the top complaints from workers.
Battling burnout among IT incident responders
Among DevOps and IT practitioners across a range of sectors, there was added pressure to resolve incidents in their own time, with 55% asked to do so five or more times a week according to global research from PagerDuty. Four in 10 were 100% focused on firefighting.
Rachel Obstler, VP of product at PagerDuty, says: "Downtime can mean millions in lost revenue. This research candidly points to the human cost of this dramatic change – an immense strain on the practitioners charged with keeping digital services running, which can lead to massive burnout."
Focus on governance and acknowledging IT's importance
Mathivanan Venkatachalam, vice president at ManageEngine, believes the C-Suite must make security issues a top priority, especially when it comes to governance and oversight visibility, if they are to prevent malicious insiders elevating privileges and remotely accessing resources they are not authorised to.
He predicts that IT is going to be taken much more seriously in the coming years than it was before, both in terms of leadership and budgets.
"Last year, we saw the IT staff become frontline workers. Our survey found 83% of respondents think IT will be better viewed and treated after this crisis, although 31% of these expect that greater appreciation will only be short-term."
RELATED RESOURCE
The workers' experience report
How technology can spark motivation, enhance productivity and strengthen security
Employee choice programmes need managing
Companies will now have to cater for greater demand to provide consumer-friendly devices in the workplace. Michel van den Berg, general manager of EMEIA at Jamf, says: "Employees want devices they are familiar with and enjoy using to deliver their best work. We're seeing more businesses offer employee-choice programs to meet their needs while helping them be more productive."
He adds a caveat, however, saying: "A lack of visibility into the device fleet and how they are being used has meant businesses struggle to know when to regularly update and roll out critical apps, software and tools to protect employees. Secondly, the ability to scale up quickly will always be clunky and strenuous if the IT team is having to manually configure devices."
Budgets must keep pace with deployment needs
With many companies and organisations facing tighter financial expenditure, it's no wonder research by Rackspace Technology showed 67% of IT leaders said the pandemic had brought new concerns around budgets.
Helping people to make the right spending decisions may need to be bolstered with four in 10 feeling that while they or their teams are empowered to make IT budget decisions, they lack the skills to do so. This is despite 86% of companies having a dedicated team or individual in-house whose responsibility it is to manage IT budgets and costs.
Demand for DevOps is set to skyrocket
When CodinGame questioned 15,000 developers and HR professionals from around the world, 43% of the latter group admitted they will struggle to find qualified DevOps engineers for their tech teams this year. That role has jumped ahead of Back-End and Full-Stack developers as the hardest position to fill.
But there was some good news for those who are self-taught. Aude Barral, the platform's co-founder, says: "We've also seen more tech recruiters hiring developers who haven't followed the traditional academic route. A computer science degree is no longer a must-have if you want a career as a programmer. With the wealth of online and offline resources available to everyone, coders of all levels of technical competence can improve their programming skills, opening up job opportunities in the booming tech sector."
Get the ITPro. daily newsletter
Receive our latest news, industry updates, featured resources and more. Sign up today to receive our FREE report on AI cyber crime & security - newly updated for 2023.
Jonathan Weinberg is a freelance journalist and writer who specialises in technology and business, with a particular interest in the social and economic impact on the future of work and wider society. His passion is for telling stories that show how technology and digital improves our lives for the better, while keeping one eye on the emerging security and privacy dangers. A former national newspaper technology, gadgets and gaming editor for a decade, Jonathan has been bylined in national, consumer and trade publications across print and online, in the UK and the US.