Flexible salaries for flexible workers?
With Google confirming plans to slash salaries for remote workers, others are looking to follow suit. But is it all above board, necessary, or even fair?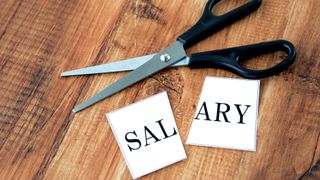 (Image credit: Shutterstock)
This article originally appeared in issue 20 of IT Pro 20/20, available here. To sign up to receive each new issue in your inbox, click here
For many, the pandemic actually created an exciting opportunity. The shift from office-based working to working from home - which the majority of employees say has made them more productive - saw many decide to move away from expensive cities for a quieter, more affordable life in the country. Others embraced the remote working revolution and credited it with helping them reduce the commute (and associated expense) as well as giving them more quality time with family and friends. Some even argue it's helped to temper historic gender imbalances in the workplace.
As a result, many workers are hopeful that being tethered to an office is a thing of the past, and that hybrid working is the way forward. However, some organisations have different ideas about what the future of work looks like.
Google, which was quick to embrace remote working last year, has said that staff who decide to work from home permanently after the pandemic will have their pay determined by their location. This could see some facing as much as a 25% reduction in their salary. Fellow tech giants Facebook and Slack have also said they will adjust people's salaries based on where they live, while reports suggest that civil servants living in London could also see their pay cut if they refuse to return to the office.
These organisations are unlikely to be alone in their approach to remote working post-pandemic. Research by HR software provider CIPHR shows that as many as two-thirds (68%) of British businesses are contemplating pay cuts for staff who opt to work from home, despite many (53%) saying they've saved money by having more remote workers.
Is this legal?
For employees concerned that their dream of working remotely on a permanent basis could lead to a substantial loss of income, there is some good news. Indeed, such a policy will likely be difficult for employers to actually enforce.
Claire Brook, Employment Law Partner at Aaron & Partners, says that while there will be some circumstances whereby a reduction in pay for home or hybrid working may be justified – such as where remuneration previously incorporated an enhancement to cover an expectation of travel which is no longer relevant to the role – organisations that plan more sweeping changes could land themselves in legal hot water.
"Reducing an employee's pay if they want to continue working from home is a controversial suggestion, which without advance agreement would be a breach of contract and could lead to claims for: unlawful deductions from wages, breach of contract and potentially, claims of constructive unfair dismissal where an employee resigns in response to a fundamental breach of contract," she tells IT Pro.
"A unilateral reduction in pay (that is more than minor or trivial) could also give rise to a breach of the implied duty of mutual trust and confidence."
Kate Hindmarch, a partner in employment law at Langleys Solicitors, concurs, adding that such mooted pay cuts could only be actioned through consultation and consent. For example, if an employer wanted to reduce the pay of an employee, they would need to explain their business case and solid rationale for the change.
"An employee may not agree to the deduction, meaning that an employer would have to terminate the existing contract by giving notice and then offer to engage on a lower salary. This decision could be appealed by an employee because it would effectively be a dismissal, but with an option to sign a new contract with less pay," Hindmarch says.
RELATED RESOURCE
The IT Pro Podcast: Will we ever go back to the office?
Offices will soon be open again - but will anyone actually want to return to them?
"Under current law, if an employer wishes to vary terms and conditions of a current employment contract, they must firstly seek to reach agreement to the changes by consulting with the workforce, and any trade unions as appropriate."
Hindmarch continues: "If an agreement cannot be reached, employers must terminate employees' existing contracts by giving notice, and offer to re-engage on the new terms - 'fire and rehire.' The employees are then effectively dismissed, and face the choice of accepting the new, usually less generous terms."
What about morale?
Outside of the financial factor, tussling with employees over contract terms could seriously damage staff morale.
"Employers must be mindful that firing and rehiring can be damaging for employee relations in the long term, particularly if the situation is managed insensitively," Hindmarch adds.
"Employers risk alienating their entire workforce; recent media commentary reports that employees being asked to accept a new contract on worse terms are even threatening employers with company strikes."
This is a viewpoint shared by Claire Williams, director of people and services at CIPHR, who urges companies to tread very carefully if they are planning to remove location allowances or cut wages based on people choosing to work remotely.
"[This is] not only because of the legal and ethical considerations and consequences but [also] the long-term impact on employee loyalty and risk of increased turnover," she says.
"If employers have very clear policies and contractual arrangements in relation to location allowances, then this will be easier to navigate. But that won't necessarily make it more palatable for the employee who is receiving the news that their earnings are going to reduce through no fault of their own."
Research has shown that some employees reaping the benefits of remote working would be willing to accept less money in order to continue working from home. More than a quarter (27%) of workers would accept a pay reduction of between 15-20%, with a similar number (26%) prepared to accept a pay cut of over 20% for the fully remote working benefit, the study by Citrix found.
While some employees may well be more than happy to swap a reduction in pay for the ability to work from home, for those that won't, things could get messy, according to Sarah Edwards, senior employment law adviser at Howarths.
"In an environment where many employees have seen pay reductions because of furlough and increased bills at home, employees may well feel aggrieved at having their pay reduced," she tells IT Pro.
"Further, the Office of National Statistics have indicated that employees that work from home are more likely to work additional overtime, compared to employees that are site based, which may well cause remote working employees to question why a pay reduction is reasonable.
"In addition, businesses where flexibility of working location comes at a price may find themselves struggling to appoint good candidates to roles, especially in a market where candidates are difficult to find in the first place."
RELATED RESOURCE
Maslow's Hierarchy of Needs and the workplace
Sample our exclusive Business Briefing content
Ultimately, it is not advisable for employers to pay staff less for working from home permanently, even on a hybrid basis, if their role will remain the same as when they were fully office-based, according to Alan Price, CEO at BrightHR. Organisations risk creating a two-tier culture whereby employees are paid differently for carrying out the same job, he warns.
"Even if the employee agrees to receive a reduction in pay, employers might end up with an indirect sex discrimination claim if it can be shown that more women work from home than men, so employers should be careful," he says.
"On a similar note, if employers give some contractual perks with a financial value to those working in the office which are then removed because of homeworking, they may need to think about offering some compensation for this."
Get the ITPro. daily newsletter
Receive our latest news, industry updates, featured resources and more. Sign up today to receive our FREE report on AI cyber crime & security - newly updated for 2023.
Carly Page is a freelance technology journalist, editor and copywriter specialising in cyber security, B2B, and consumer technology. She has more than a decade of experience in the industry and has written for a range of publications including Forbes, IT Pro, the Metro, TechRadar, TechCrunch, TES, and WIRED, as well as offering copywriting and consultancy services.
Prior to entering the weird and wonderful world of freelance journalism, Carly served as editor of tech tabloid The INQUIRER from 2012 and 2019. She is also a graduate of the University of Lincoln, where she earned a degree in journalism.
You can check out Carly's ramblings (and her dog) on Twitter, or email her at hello@carlypagewrites.co.uk.