Google Cloud staff asked to share desks in "real estate efficiency" drive
The decision to downsize office space is one being taken across the industry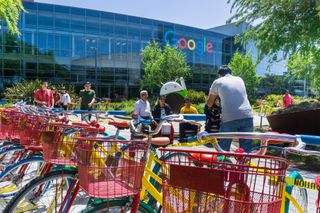 (Image credit: Shutterstock)
Google has reportedly asked employees to begin sharing desks at several sites across the US as part of a "real estate efficiency" drive.
Employees at Google's cloud division will be asked to pair up with colleagues and alternate in-office shift patterns as part of the move, according to reports from CNBC.
Internal documents seen by the publication reveal that the new policy will be enacted at five of Google Cloud's largest US locations, including Kirkland, Washington, New York City, San Francisco, Seattle, and the Sunnyvale office in California.
This "real estate efficiency" drive will enable the company to "continue to invest in [Google] Cloud's growth" and could result in some buildings being vacated as a result, documents show.
"Most Googlers will now share a desk with one other Googler," the documents state. "Through the matching process, they will agree on a basic desk setup and establish norms with their desk partner and teams to ensure a positive experience in the new shared environment."
Leadership at Google Cloud has named the new office policy "Cloud Office Evolution", describing it as a means of "combining the best of pre-pandemic collaboration with the flexibility" of hybrid work patterns.
According to CNBC, the new office policy shift has been met with derision among staff, with employees taking to Memegen - an internal company platform - to make fun of the changes.
"A simple 'we are cutting office space to reduce costs' would make leadership sound more believable," one post read.
A spokesperson for Google Cloud told IT Pro that the decision to introduce this new policy follows a number of pilots and surveys conducted with employees "to explore different hybrid work models and help shape the best experience".
"Our data show Cloud Googlers value guaranteed in-person collaboration when they are in the office, as well as the option to work from home a few days each week," the spokesperson said.
"With this feedback, we've developed our new rotational model, combining the best of pre-pandemic collaboration with the flexibility and focus we've all come to appreciate from remote work, while also allowing us to use our spaces more efficiently."
Cost-cutting measures
Google has been vocal about enacting cost-cutting measures in recent months as the economic downturn hits businesses spanning the global tech industry.
The tech giant has been downsizing its physical footprint at sites globally due to rising real estate costs. In its fourth-quarter earnings report, Google said it will be forced to contend with more than $500 million (£415 million) in office-related costs during the current quarter.
RELATED RESOURCE
ESG: Designing the ideal digital work experience for the next generation of innovators
What users want, why it's critical to give it to them, and how the whole organisation can benefit
Recent reports also showed that the firm is set to terminate leases at a "number of unoccupied spaces" in the San Francisco area.
Google isn't alone in reducing its office footprint, however. Rising costs have prompted several tech companies to re-assess their occupation of physical office spaces, including GitHub.
Earlier this month, the company confirmed it was shifting to a fully remote policy for its global workforce. CEO Thomas Dohmke told staff that the company will close all of its offices once leases expire.
Details on the timeline of this new policy are yet to be revealed by the firm. However, it is expected that sites located in both the US and Netherlands could close.
This downsizing trend is expected to continue throughout 2023, analysis shows, as businesses contend with rising expenditures and a reluctance among workforces to return to a pre-pandemic work model.
Research from Bloomberg Intelligence last week found that London businesses, for example, are drastically shrinking their office footprints and abandoning leases.
In a survey of 500 London businesses, one-quarter of respondents said they are currently in the process of downsizing office holdings while an additional 18% said they are exploring co-working or flexible office options.
Stay up to date with the latest news and analysis from the world of cloud computing with our twice-weekly newsletter
Ross Kelly is a staff writer at IT Pro, Channel Pro, and Cloud Pro, with a keen interest in cyber security, business leadership and emerging technologies.
He graduated from Edinburgh Napier University in 2016 with a BA (Hons) in Journalism, and joined IT Pro in 2022 after four years working in technology conference research.
In his spare time, Ross enjoys cycling, walking and is an avid reader of history and non-fiction.
You can contact Ross at ross.kelly@futurenet.com or on Twitter and LinkedIn.
Thank you for signing up to Cloud Pro. You will receive a verification email shortly.
There was a problem. Please refresh the page and try again.