Cyber security begins at school
Students learning cyber security best practices could be better equipped in the workplace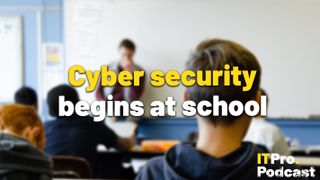 (Image credit: Future)
Cyber attacks can be one of the most damaging things that can happen to an organization. Whether it's a data breach or ransomware, falling victim to an attack can be extremely costly and disruptive, so knowing how to react to an attack is as important as knowing how to prevent one.
RELATED RESOURCE
Enabling secure hybrid learning
Cyber security in Higher Education
Despite this, businesses continue to struggle with keeping employees engaged with cyber security training. With adults apparently not grasping the importance of cyber security skills, there is a growing argument for introducing them while people are still at school, to ensure no one joins the workforce unprepared for the threats they may face.
In this episode, Jane and Rory speak to Matt Lorentzen, principal consultant at information security consultancy Cyberis, to explore how we can effectively instill cyber security best practices through the education sector and why simulated attacks could be an effective method through which common attack vectors can be taught.
Correction: The report cited at the start of this episode was incorrectly attributed to Freshworks, when it was in fact published by Fortinet.
Highlights
"From a student's perspective, I think people are interested in cyber security as a career. And as I said, I've worked in schools so I know that students are very interested in trying to break things. They are interested in the nuts and bolts, and it kind of appeals to that rebellious nature."
"The benefit of being able to compromise a school environment for essentially deploying a ransomware attack is that that data is really important. And the disruption to that is quite an allure for attackers. And so we have seen, certainly in the last three years, this rise in schools becoming compromised and attackers using the data that they have access to as a blackmail tactic, essentially, to try and get schools to pay out."
"You're kind of educating the future workforce by proxy as to the challenges and threats that they face. And as I said, those threats will not change as they emerge out of education and come into the workforce. Because, as I said before, the technologies and the platforms that you see in the workplace are pretty much identical to schools."
Read the full transcript here.
Footnotes
Subscribe
A daily dose of IT news, reviews, features and insights, straight to your inbox!
Rory Bathgate is a staff writer at ITPro covering the latest news on UK networking and data protection, privacy and compliance. He can sometimes be found on the ITPro Podcast, swapping a keyboard for a microphone to discuss the latest in tech trends.
In his free time, Rory enjoys photography, video editing and graphic design alongside good science fiction. After graduating from the University of Kent with BA in English and American Literature, Rory took an MA in Eighteenth-Century Studies at King's College London. He joined ITPro in 2022 as a graduate, after four years in student journalism. You can contact Rory at rory.bathgate@futurenet.com or on LinkedIn.
A daily dose of IT news, reviews, features and insights, straight to your inbox!
Thank you for signing up to ITPro. You will receive a verification email shortly.
There was a problem. Please refresh the page and try again.