Why people management skills are key to being a CIO
Technology is important, but explaining technology and managing change is even more essential to the role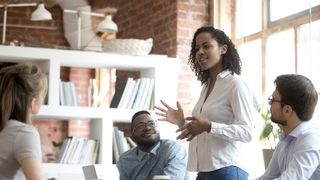 (Image credit: Getty Images)
It's time to rethink the role of CIO. While some people still think of IT chiefs as technologists first and everything else second, successful CIOs today have a new role. Today's most successful CIOs are engaged people managers who ensure everyone everywhere makes the most of digital and data.
Effective CIOs focus on articulating the business benefits of transformation, explains Andy Pocock, IT director at vehicle dealership group TrustFord. Yes, it's still important for IT leaders to know how technology works, but being able to explain the positive impact of new systems and services is even more important.
"It's the ability to interpret trends, give advice, but – most of all – to understand the business," he says. "A successful IT director is someone who really has that business focus. I can translate things for my colleagues and our customers."
Pocock's description encapsulates a shift in the focus of the IT department that started with the introduction of the cloud a decade ago. As more businesses provisioned technology resources on demand, the role of the IT department changed. Rather than just buying technology, IT teams began overseeing the procurement decisions of others.
Today, modern CIOs ensure the services their business colleagues use are part of an integrated technology stack. Constant engagement is critical to their work. CIOs guarantee governance is in place and they maintain strict security and data standards. They work closely with their business peers to find and develop innovative solutions to intractable challenges.
Managing people to deliver great results
Lisa Heneghan, global chief digital officer at consultancy firm KPMG, is one technology leader who recognizes the radical shift in both the role of the CIO and the IT departments they manage. Most importantly of all, great IT chiefs are now collaborators and enablers.
RELATED RESOURCE
Everest Group PEAK Matrix® for finance and accounting outsourcing (FAO) service providers 2022
"I think that's critical," she says. "It's very easy to become internally focused. There's so much responsibility in running technology. But we're a digital business now. You need to have an outside-in view. Success is about grounding everything we do in the difference it will make for our clients or our people, because if it doesn't truly make a positive difference for either, why are we doing it?"
Just as CIOs have become squarely focused on the requirements of the business and its customers, so have the teams they manage. While there's still room for in-house developers and data scientists, everyone – whatever their role within the IT department – must ensure the work they do is helping the wider organization to meet its strategic objectives.
Jeff Singman, executive vice president of technology at US healthcare specialist Arkos Health, says the key to success is a recognition that technology is now just one very important component of a well-managed IT organization. Rather than worrying about the finer details of hardware and software, the very best CIOs spend more of their engaging with their staff and empowering them to make important decisions.
"As a head of technology, you've got to put the right people in the right positions," he says, "They need to have a passion for what they're doing and the right capabilities. We can always take a technology decision and change it later. But your people are what really makes the difference in a technology organization."
Singman has clear ideas of what makes a great IT professional. While technological aptitude can be important, especially if the work involves coding or specific types of IT services, he looks for people who have a specific set of capabilities. And often, those skills center on the ability to work as a team player who is eager to achieve great results.
"It's less about your deep coding skills and more about how you look at a business problem," he says. "If you're creative and know how to guide technologies, then you're really going to thrive. The ability to apply technical acumen, strong communication skills, and business-need identification skills – you put those three together, and you've got a successful employee."
Creating effective solutions to business challenges
What's clear is the days of IT teams working in isolation are long gone. CIOs who don't keep an open ear to the issues of their business peers are likely to fail. What's more, they must ensure the people they manage to understand their priority is engaging with the rest of the organization to find technological answers to business problems.
In conversation with Clare Lansley
The Aston Martin Cognizant Formula One CIO is at the front seat of change in a male-dominated industry
"You've got to be a good listener, you really do," says Clare Lansley, CIO at Aston Martin Cognizant Formula One. "If you don't understand what your business client is telling you or what they're trying to achieve, you won't know the outcome that you're trying to reach. You've got to understand what the person you're engaging with is asking for."
CIOs, therefore, must be able to manage a team of attentive technologists who look way beyond the confines of the traditional IT department. Rob Mills, CTO at US retailer Tractor Supply, says effective digital leadership in the modern age encompasses three key strands: business engagement, technological acumen, and long-term vision.
Mills says effective business engagement is centered on working with the business to help end users solve their most significant concerns. "That's a mind-shift change," he says. "It's all about focusing on the problems that people face, and thinking about capabilities, change management, and how technology will create a solution."
Second, despite the ever-growing emphasis on business engagement, CIOs still need people in their teams with technological acumen. Mills adds: "I'm a firm believer that you need good tech people, such as engineers and architects, who take business requirements, articulate those back to the end users, and create a solution that's scalable and highly secure."
Finally, digital leaders must ensure the solutions that their well-managed teams deliver continue to meet the demands of their business users. Mills recognizes CIOs have worked hard to build credibility and earn a voice at the boardroom table. Now, they must continue to show the underlying value of technology in everything the organization wants to achieve.
"You need to speak as a business leader," he says. "You must think about how technology enables the business and then let your teams, who also understand the business' requirements, drive what that the solution needs to look like. IT is no longer siloed, it's integrated, because everyone in the business is accountable for technology."
Get the ITPro. daily newsletter
Receive our latest news, industry updates, featured resources and more. Sign up today to receive our FREE report on AI cyber crime & security - newly updated for 2023.
Get the ITPro. daily newsletter
Receive our latest news, industry updates, featured resources and more. Sign up today to receive our FREE report on AI cyber crime & security - newly updated for 2023.
Thank you for signing up to ITPro.. You will receive a verification email shortly.
There was a problem. Please refresh the page and try again.