How CIOs can convince risk-averse stakeholders to buy into digital transformation
While digital transformation isn't without its risks, CIOs must make boards aware of its long-term value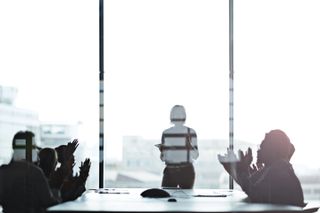 (Image credit: Getty Images)
A successful digital transformation can be the spark a company needs to unlock healthy growth and new markets, but before this can happen the c-suite needs to be aligned on the long-term benefits of digital transformation. The chief information officer (CIO) is ultimately responsible for making this case.
Although many companies have reduced IT spending of late, 81% of enterprise technology decision-makers anticipate their company's investment increasing again in the next year, according to Forrester. Around half, too, expect to see their AI budgets grow by at least 5%.
Yet some companies are just as wary about throwing money at generative AI and other technologies that can help scale digital transformation efforts. Research from IDC published in 2022 found it isn't hesitancy among CEOs and board sponsorship per se that's the problem. Rather, a general lack of awareness about the return on investment (ROI) can create a lack of confidence among IT teams, which in turn impacts buy-in. This is where the CIO comes in.
The CIO should lead the way
The role of the CIO is to act as a bridge between the IT department and the rest of the business. They can use their knowledge to identify areas within a business' operations that would benefit from being transformed. They'll also know how to do this to improve efficiencies and reduce costs across their company without impacting on reliability and performance.
The problem is there can be a reluctance among the c-suite to break away from legacy systems and what's familiar to them, and this in turn can cause technical debt. This is the leading obstacle to innovation for 70% of tech executives, according to Protiviti, with the consultancy finding, on average, technical debt eats up about 31% of IT budgets and requires 21% of resources to manage.
Digital transformation isn't without its risks, but the risk of not transforming can be even greater. CIOs need to be able to demonstrate this to reluctant stakeholders.
Test the waters by starting small
For companies that want to transform, but are skeptical about how it'll be received across the businesses, starting off small can be a great way to dip their toes in the water without a full financial commitment.
Six digital transformation quick wins your business can try today
"Far too often, I see CIOs wanting to implement the whole caboodle from the off and then wonder why they face reticence," says James Welch, chief innovation officer at digital marketing agency Embryo.
Welch advises running test projects. It may even be possible to do this behind the scenes without informing employees. If a test project doesn't produce the desired results, then it could be quietly scrapped. On the flip side, if it's a success then it could be scaled up and adopted more widely within the business.
Hone your vision with the c-suite
While a test project can demonstrate the potential commercial value of digital transformation, it won't necessarily help to convince risk-averse stakeholders to invest in an expensive piece of technology that could take several quarters – or even a few years – to deliver results.
CIOs must "craft a compelling vision supported by financial details that speak convincingly to the program's ROI," argues Rich Murr, CIO at industry ERP provider Epicor.
"It's imperative for CIOs to craft and deliver this vision in partnership with the CFO, COO, along with any other leaders who will be required to commit resources and who are ultimately going to benefit from a system refresh."
Prioritize the CIO-CFO partnership
Of all the boardroom-level relationships, that between the CIO and the CFO is arguably the most important
RELATED RESOURCE
Discover how ZTNA can provide you with a well-defined framework to zero trust

DOWNLOAD NOW
"When it comes to planning digital transformation, the most successful investments are ones where CIOs and CFOs are supportive, effective partners," says Linh Lam, CIO at Jamf, an Apple device management firm.

"CFOs bring the financial literacy and expertise to quantify the value of investments, while CIOs have the technological expertise to enable and deliver digital transformation projects.".

The CIO-CFO partnership can be the key to improved spending. Companies with a strong CIO-CFO partnership were 51% more likely to find the funding required to support digital initiatives and 18% more likely to achieve business outcomes, according to a Gartner report published last year.
Demonstrate a technology's value
For CIOs and CFOs to make their relationship a success, they need to be aligned. The CFO needs to understand the CIO's vision for digital transformation and the CIO needs to understand what the CFO is hoping to achieve with their financial decision-making.
The two must collaborate to show the value of any investment. Costs can be documented using ledgers, but determining value requires an awareness of the intended business outcomes of a given technology and what ROI can be achieved.
"The CFO ultimately owns validating any ROI calculations, and the CIO owns validating that the underlying technology can in fact deliver the desired functionality and efficiencies," says Murr, adding the two must also engage other stakeholders to "ensure they aren't passive observers, but committed participants".
Be transparent about the risks
Although conversations around ROI can help to create buy-in, it's arguably just as important – if not more so – to have a transparent plan in place. This way, stakeholders are aware of the risks involved.
"Transparency is critical," advises Steven Salaets, CIO at enterprise software support, products, and services provider Rimini Street.
"The CIO must demonstrate a plan that progressively builds towards long-term goals, rather than attempting a 'big bang' of ripping out a legacy platform and replacing it with a new piece of technology."
By taking this approach, CIOs can reassure stakeholders who may be resistant to change there are clear milestones in place, and the cost of an investment can be spread across a more manageable time period.
Get the ITPro. daily newsletter
Receive our latest news, industry updates, featured resources and more. Sign up today to receive our FREE report on AI cyber crime & security - newly updated for 2023.
Rich is a freelance journalist writing about business and technology for national, B2B and trade publications. While his specialist areas are digital transformation and leadership and workplace issues, he's also covered everything from how AI can be used to manage inventory levels during stock shortages to how digital twins can transform healthcare. You can follow Rich on LinkedIn.