Trump administration considering banning more Chinese apps
White House chief of staff Mark Meadows claims administration is setting sights on Chinese apps that could pose a national security threat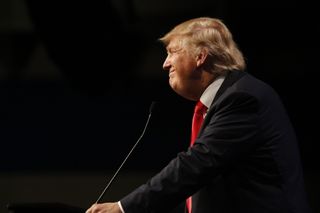 (Image credit: Shutterstock)
The Trump Administration is considering banning more Chinese apps that could pose a national security threat, said White House chief of staff Mark Meadows. Meadows didn't specify which apps could be blocked.
Meadows' comments should come as no surprise, though. Last month, Meadows said the administration was looking at banning apps "that might collect personal information and have potential national security risk," Reuters reported.
The Trump administration has campaigned against Chinese technology giants, ranging from Huawei to TikTok. The Trump administration has alleged that Huawei and other China-based tech companies could collect American user data and share it with Bejing, but several organizations have denied this would occur.
While the U.S. hit Huawei with many sanctions to limit its business, the Trump administration most recently set its sights on WeChat owner, Tencent, and TikTok owner, ByteDance. On Aug. 6, Trump signed executive orders banning transactions with ByteDance and Tencent. Then, on Aug. 14, Trump signed a separate order giving ByteDance 90 days to divest TikTok's U.S. operations.
Oracle has since stepped up and submitted a bid to purchase TikTok's U.S. operations. Microsoft and Walmart have also teamed up to bid on the popular video app. A deal was expected to close this week but is now up in the air after China updated its export restrictions to include technologies for "recommendation of personalized information services based on data analysis."
This restriction may prevent any buyer from also getting TikTok's valuable algorithm, which recommends content by ranking videos based on users' interactions with the content they view.
While China's Ministry of Commerce said this week it doesn't intend to target specific firms with the export restrictions, ByteDance said it would "strictly abide" by the laws.
Reuters reported there are now four sale options under consideration, including bidders moving forward with an acquisition that wouldn't include TikTok's core algorithm.
A daily dose of IT news, reviews, features and insights, straight to your inbox!
A daily dose of IT news, reviews, features and insights, straight to your inbox!
Thank you for signing up to ITPro. You will receive a verification email shortly.
There was a problem. Please refresh the page and try again.