Dell commits to multi-cloud by design with "largest-ever" Apex expansion
The hardware and cloud giant seeks to connect public cloud and on-premise IT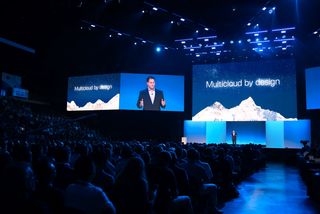 (Image credit: Future)
Dell has unveiled a wide-reaching expansion of its Apex offerings, including multiple public cloud storage solutions and a cloud platform portfolio to provide multi-cloud by design architecture.
With Apex Cloud Platforms, Dell aims to provide customers with infrastructure, software, and cloud in collaboration with Microsoft, Red Hat, and VMware.
Apex Cloud Platform for Microsoft Azure and for VMware expand the choice of public cloud customers when it comes to stack software deployment, with the former highlighted for its centralized data management and governance through Azure Arc integration.
Also announced was Apex Cloud Platform for Red Hat OpenShift, through which Dell will provide multi-cloud container orchestration.
Chuck Whitten, co-COO at Dell emphasized that Dell has sought to provide customers with choice and flexibility when it comes to their cloud setup, in particular for those that have already invested in a multi-cloud environment across these various vendors.
"I'm excited about this," said Matt Hicks, CEO at Red Hat.
"When we look at something like OpenShift, we have to create this marriage between the application platform that OpenShift provides built on Kubernetes and extending it with the actual infrastructure.
"I think that combination with Apex Cloud Platform, and the deep integration with OpenShift consoles management lets you use the skills that you have, and offers more of that choice of being able to run that on-premise in the way that you want to with simplicity there."
Multi-cloud by design, not by default
Dell CEO Michael Dell promised the company would release the "largest expansion ever" to Apex as part of its commitment to multi-cloud by design.
RELATED RESOURCE
Unified consoles create a seamless multi-cloud management experience
Supporting a more flexible, scalable approach to cloud management
"Multi-cloud by design isn't just a tagline; we're making it real," Dell said.
Rola Dagher, global head of channel at Dell, told ITPro that the firm is committed to using Apex to provide customers with what they need, where they need it.
"How do we go in and enhance the existing product with the innovation that is needed for our partners, to go out there and show how to optimize and enhance,"
"More than ever right now, it's stability that our partners are looking for. How do we continue to enhance and help them understand how to run their business every day, and enhance and change the business by embedding new technologies in pre-existing portfolios."
Dell also announced two new solutions for AWS: Apex Block Storage and Apex File Storage.
With these in place, customers can bring Dell's flagship block and file storage to their AWS environments, especially helpful for firms seeking scalability and cost management.
Dell claimed that Apex Block Storage can offer up to 300% greater performance per dollar, and gave the example of AI and machine learning as performance-heavy workloads that Apex File Storage can support.
To oversee data, storage, and containers across multi-cloud Dell also announced a new pair of software as a service (SaaS) offerings, Dell APEX Navigator for Multicloud Storage and Dell APEX Navigator for Kubernetes.
Customers can use Navigator to bring consolidated deployment, monitoring, and mobility for Apex Block and File storage across a number of public clouds, as well as their Kubernetes storage management.
Whitten called it a "game changer" for letting businesses put the right workloads in the right place, at the right time.
John Roese, global chief technology officer at Dell, told ITPro that there are 'two schools' of customers: the more advanced ones who have approached Dell for support with multiple clouds, and those that have failed to act on changing landscapes and are now stuck in one cloud.
While both can benefit from Apex Navigator, he said the latter could use it best to seize insight.
"I think the ones that will need it first are that don't know what's going on in their environment, and Navigator gives you those observability and mobility capabilities."
The Cloud Platforms portfolio will be available in the second half of 2023, while Apex Block and File Storage for AWS is available now.
All the announcements were made in the day-one keynote at Dell Technologies World 2023 in Las Vegas this week.
Stay up to date with the latest news and analysis from the world of cloud computing with our twice-weekly newsletter
Rory Bathgate is a staff writer at ITPro covering the latest news on UK networking and data protection, privacy and compliance. He can sometimes be found on the ITPro Podcast, swapping a keyboard for a microphone to discuss the latest in tech trends.
In his free time, Rory enjoys photography, video editing and graphic design alongside good science fiction. After graduating from the University of Kent with BA in English and American Literature, Rory took an MA in Eighteenth-Century Studies at King's College London. He joined ITPro in 2022 as a graduate, after four years in student journalism. You can contact Rory at rory.bathgate@futurenet.com or on LinkedIn.
Thank you for signing up to Cloud Pro. You will receive a verification email shortly.
There was a problem. Please refresh the page and try again.