How defense contractor Leonardo UK embraced the secure cloud in just 13 months
The UK defense contractor partners with Microsoft to lay down the blueprint for a secure cloud migration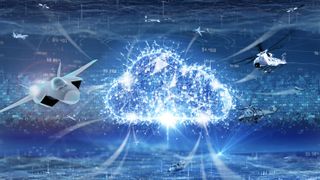 (Image credit: Leonardo UK)
Cloud has come a long way since the early days when valid concerns over data security deterred many businesses from tapping into its potential. Organizations working in sensitive areas, such as the defense sector, have been particularly reluctant to embrace the cloud.
In recent years, however, the need for more efficient collaboration with both partners and customers, as well as a desire to improve productivity and innovation, and the potential for cost savings, has made the cloud more attractive to even the most cautious.
The increasing prevalence of cloud technology has made it more attractive for companies like Leonardo UK. The company recently became the first major UK defense corporation to transition to secure cloud infrastructure – in partnership with Microsoft Azure – as part of its £100 million digital transformation strategy.
Big data at your fingertips
Leonardo deployed an Azure platform across its UK business, giving scientists and engineers the capacity to securely access data and applications from anywhere by tapping into a remotely accessible 'digital backbone'. This backbone provides the support structure for the company's systems, apps, networks, and employees and, over time, will speed up product research and slash development costs.
It's part of the £100 million strategy that involves rolling out digital factories across the UK, all tapping into the cloud-enabled common data environment. Big data is within reach of engineers, while customers and partners can securiely access the information and apps they need at any one time.
The 13-month project started in January 2022 with the task of creating a data platform for Leonardo's electronics division. "Rather than a 'build it and they will come', this was very much a minimum viable prodcut (MVP) approach, get the capability into the hands of the users as quickly as possible," says Gareth Hetheridge, director for digital and IT at Leonardo. "That landed very, very well."
Hetheridge is a senior leader with experience in the defence sector across land, sea, air and cyber. He joined Leonardo in 2021 to drive digital transformation and join up strategy with emerging technologies.
Hetheridge's team established a functional MVP within four months. The project's success led to three more iterations throughout the year and, in the second half of 2022, they built a secure cloud platform in parallel. They migrated the data platform, originally built on-premise, to Microsoft Azure in March 2023, after it received accreditation from the MoD.
A security-first cloud migration
Although implementing the platform was a quick process, security was a major concern throughout, as it would be for any defense company. Leonardo had to make sure its data would be secure in the cloud, and it meeted the relevant regulations, for instance. The company worked closely with the provider to guarantee the security of the data, while also investing in its own security measures to keep potential threats at bay.
Leonardo was also concerned with data sovereignty, says Hetheridge. The firm had to ensure data would remain within the UK, so only sought a provider with domestic data centres. This came alongside deploying additional security layers, like encryption and data segregation, and applying the MoD Secure by Design principles and the NCSC cloud security principles.
Hetheridge says there are always challenges in moving to the cloud, but he's pleased with the progress the company made, especially in learning how to work with different partners – one of the more interesting challenges, as far as he's concerned. "How do we drive and get the best from collaborating across multiple technology partners to drive this forward? This is a new domain for Leonardo."
Reaping the benefits of a secure cloud platform
Leonardo is still in the early stages of its cloud migration project, but it's already migrated some production workloads, and plans to move more this year.
Already, though, implementing a cloud-based platform has led to cost savings, Hetheridge tells ITPro, as the platform provides access to cloud-based services that are more efficient than previous on-premises systems. This has led to quicker task-completion.
RELATED RESOURCE
Prioritize zero trust for better cloud security
Working together to enable a zero trust approach
The platform has also improved collaboration among staff, who can collaborate much easier between departments and across locations. The digital backbone, meanwhile, has given the company the capacity to automate tasks, with staff freed up to innovate and solve problems.
Adopting the digital backbone also feeds into fulfilling the MoD's Digital Strategy for Defence, which aims to unleash the make the most of defence data. Leonardo uses the cloud to access data analytics capabilities difficult to develop on-premises, while Azure's cloud-native tooling gives Leonardo that valuable high-security posture. It's also provided a more secure environment for data storage and management. With strict access controls and encryption, the platform ensures data is secure and protected from potential cyber threats.
Finally, the platform offers scalability, allowing Leonardo to expand or contract as needed without having to invest in additional hardware or infrastructure. It's resulted in greater flexibility, enabling Leonardo to respond quickly to changing market conditions.
Leonardo has also tapped into its cloud platform to suport collaborative modern defence projects, such as the Global Combat Air Programme (GCAP). This requires partners to work closely together in an agile fashion, which is supported by secure cloud technology.
The challenge now is how to operate across multiple classifications, specifically developing software at a lower classification and then pushing it to a higher level on deployment. This feature will be important, as it'll allow the firm to develop new ideas quickly, without worrying any more than necessary about security.
Stay up to date with the latest news and analysis from the world of cloud computing with our twice-weekly newsletter
Rene Millman is a freelance writer and broadcaster who covers cybersecurity, AI, IoT, and the cloud. He also works as a contributing analyst at GigaOm and has previously worked as an analyst for Gartner covering the infrastructure market. He has made numerous television appearances to give his views and expertise on technology trends and companies that affect and shape our lives. You can follow Rene Millman on Twitter.
Thank you for signing up to Cloud Pro. You will receive a verification email shortly.
There was a problem. Please refresh the page and try again.