Workday adds conversational UI with Slack
Slack users will soon be able to talk to HR, complete peer reviews and request annual leave on the platform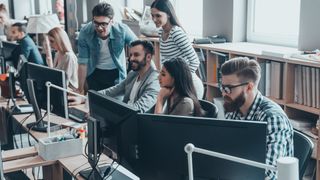 Workday and Slack have joined forces to offer users the ability to access Workday insights from within Slack.
With more integrations planned for the future, they will initially offer the ability to view contextual and actionable data to complete tasks from the collaboration platform.
Employees will now be able to engage with HR through Slack, asking questions about their benefits, reviews or annual leave, requesting time off, notifications of which will be sent to both managers and the employee. Workers can find out information about their co-workers, such as name, job title and department, as well as completing peer reviews from inside Slack. The changes are expected to be introduced in the first half of the year.
Future integrations will include the ability for IT staff to assign team members to the correct Slack channels according to department, so employees don't have to ask to be set up across the right channels and these can be tweaked from an admin level.
Slack users will also be able to set up personalised notifications and Workday alerts, so they will know when anything changes in the channels they're part of or if HR need them to address something in Workday.
"Innovation has always been one of our core values here at Workday, and embracing an open mindset and collaboration wherever it makes sense for the good of customers," Joe Korngiebel, chief technology officer at Workday, said.
"We believe that the future belongs to the companies that focus on 'we' - and our partners like Slack are incredibly important in helping our customers maximise the value of their Workday investments."
Korngiebel added that Slack is just the start of Workday's push for integrations and the company will be working with other businesses, such as Microsoft Teams, Workplace by Facebook and Google Cloud to make the platform work for everyone.
"By opening up our platform, our goal is to trigger a new era of enterprise innovation and experiences, and to make it possible for customers to leverage Workday's context and insight for any of their applications. We are incredibly excited as we forge ahead with our customers and partners," he added.
A daily dose of IT news, reviews, features and insights, straight to your inbox!
A daily dose of IT news, reviews, features and insights, straight to your inbox!
Thank you for signing up to ITPro. You will receive a verification email shortly.
There was a problem. Please refresh the page and try again.