IBM unveils its 'most powerful' processor yet
The Power10 data centre chip will handle three times the workload of its predecessor, IBM claims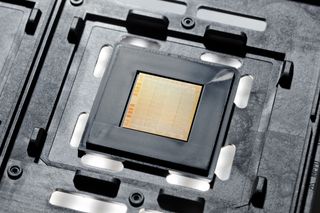 IBM has announced the launch of its "most powerful and energy-efficient processor" yet, which will be used in data centres by businesses relying on hybrid cloud computing.
The IBM Power10 is the tech giant's first commercialised 7nm processor. Manufactured by Samsung Electronics, the new data centre chip is said to be capable of handling three times the workload of its predecessor, the IBM Power9, which was launched in 2017.
The Power10 took five years to develop and has been designed to be up to 20 times faster at artificial intelligence (AI) computing tasks than the Power9 chip, significantly improving the efficiency of data centres.
It is set to compete with Intel's 7nm processors, which last month were confirmed to be 12 months behind the company's internal targets, moving the release date to 2022 or 2023 at the earliest.
The Power10 is expected to be released sooner, with IBM estimating that the chip will start shipping in second half of 2021.
Along with improved efficiency, the Power10 is also said to provide new enhancements to container security, such as transparent memory encryption aimed to support end-to-end security.
It will also feature IBM's new Memory Inception technology, which aims to facilitate integrations across clusters of IBM Power10 processor-based systems, allowing them to "access and share each other's memory, creating multi-Petabyte sized memory clusters".
Commenting on the announcement, Stephen Leonard, GM of IBM Cognitive Systems, said that "enterprise-grade hybrid clouds require a robust on-premises and off-site architecture inclusive of hardware and co-optimized software".
"With IBM Power10 we've designed the premier processor for enterprise hybrid cloud, delivering the performance and security that clients expect from IBM. With our stated goal of making Red Hat OpenShift the default choice for hybrid cloud, IBM Power10 brings hardware-based capacity and security enhancements for containers to the IT infrastructure level," he added.
The announcement comes a week after IBM signed a multi-year partnership with Coca-Cola European Partners (CCEP) to accelerate the company's hybrid cloud transformation, aiming to reduce its operational expenses and increase IT resiliency.
A daily dose of IT news, reviews, features and insights, straight to your inbox!
A daily dose of IT news, reviews, features and insights, straight to your inbox!
Thank you for signing up to ITPro. You will receive a verification email shortly.
There was a problem. Please refresh the page and try again.