Intel's Optane aims to give hard drives the speed of SSDs
Intel Optane Memory module 'can increase PC performance by up to 30%'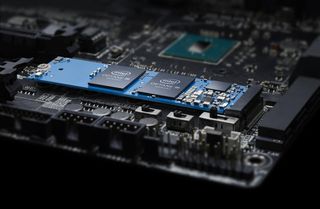 Intel has been working on a technology that it claims will boost older hard drives to the speeds of ultra-fast solid-state-drives (SSDs), a claim that could revitalise the aging hardware.
The technology, known as Intel Optane Memory, is a specialised chip storage chip that sits in the M.2 storage slot on a motherboard, and comes as standard on boards designed for Intel's latest generation of Kaby Lake processors.
It is currently available in 16GB or 32GB variants, providing a blisteringly fast cache that is able to increase the speed of older spinning hard drives.
The memory module is capable of enhancing multiple aspects of a machine's performance, but most interestingly it promises to make hard drive access speeds up to 14 times faster. That means a traditional 1TB 7200RPM hard drive would be twice as responsive during daily tasks.
Overall system performance would also increase by up to 30%, and actions like opening a clean browser would happen up to five times faster.
Typically, processors can only access data as fast as the storage device will allow, which is often dependent on recall speeds and the transfer rate over the motherboard's connectors. By placing the memory module between the processor and SATA-based storage devices, such as hard drives or SSDs, it is able to store data and commonly-used programs in close proximity to the processor.
The technology then chains together memory and storage into a single virtual drive that is accessible to the OS, which then uses Intel's Rapid Storage Technology to accelerate the rate at which actions can be performed, and prioritise the services you use most often. This has the effect of increasing start and boot times, file searching, multitasking, and the launching of applications.
RAM has traditionally filled the role of storing frequently-used data for the processor to quickly access, but that technology is expensive to create at high capacities.
Despite its name, Intel Optane Memory does not replace current RAM modules found on PC motherboards, nor does it act in the same way to power applications. Instead, the module is an optional performance enhancer that helps you squeeze the most out of current technology.
While Intel has confirmed Optane Memory will boost the speeds of SSD storage, the biggest benefits will come from its effect on older hard drives that are generally much slower.
Intel Optane Memory is set to launch on 24 April, priced at $44 and $77 for 16GB and 32GB respectively, although Intel has yet to reveal pricing and availability for the UK market.
The technology is only compatible with Intel's 7th generation Core i3, i5 and i7 processors, or Intel 200 series chipsets on desktop PC configurations, although laptop and notebook support will be available later.
Picture courtesy of Intel
A daily dose of IT news, reviews, features and insights, straight to your inbox!
A daily dose of IT news, reviews, features and insights, straight to your inbox!
Thank you for signing up to ITPro. You will receive a verification email shortly.
There was a problem. Please refresh the page and try again.