Finding malware on the Play Store is less likely than "an asteroid hitting the earth", says Google
The company removed almost 40 million malicious apps last year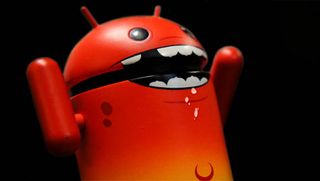 The chances of downloading a malicious app from the Google Play Store are "less likely than the odds of an asteroid hitting the earth", Google has claimed, following a series of security advancements to the Android platform.
The tech giant has released its fourth annual Android Security 2017 Year In Review report, detailing the improvements it has made to Android's various security protections and safeguards over the last 12 months.
The new measures it has put in place have had a big impact on the overall integrity of the platform, the company said.
"Our team's goal is simple," said Dave Kleidermacher, vice president of security for Android, Play and ChromeOS, "secure more than two billion Android devices. It's our entire focus, and we're constantly working to improve our protections to keep users safe."
"We're pleased to see the positive momentum behind Android security, and we'll continue our work to improve our protections this year, and beyond. We will never stop our work to ensure the security of Android users."
One of the biggest security features launched by the company in the past year was Google Play Protect, a suite of services that uses advanced tactics, including machine learning, to keep Android users safe from potentially harmful apps (PHAs).
One of the reasons Google has employed machine learning is to cope with the sheer volume of content it needs to moderate. Google Play Protect defends two billion devices, according to the report, making it "the most widely deployed mobile threat protection service in the world". The company removed almost 40 million PHAs over the course of 2017 and assessed around 23 million new apps for threats.
"The impact of machine learning is already quite significant," Kleidermacher said. "60.3% of all Potentially Harmful Apps were detected via machine learning, and we expect this to increase in the future."
According to the company's report, devices that download apps exclusively from the Google Play Store, rather than third-party sources, are nine times less likely to pick up a malicious app. "In 2017, downloading a PHA from Google Play was less likely than the odds of an asteroid hitting the earth," the report said.
Although Android has something of a bad reputation regarding security, Google has been working to improve it and a study by Skycure last year found that iOS malware was growing at a faster rate than Android malware, although it noted that Apple is ruthlessly efficient at stamping it out on the App Store.
A daily dose of IT news, reviews, features and insights, straight to your inbox!
Adam Shepherd has been a technology journalist since 2015, covering everything from cloud storage and security, to smartphones and servers. Over the course of his career, he's seen the spread of 5G, the growing ubiquity of wireless devices, and the start of the connected revolution. He's also been to more trade shows and technology conferences than he cares to count.
As reviews and community editor, he's responsible for leading IT Pro's wide-ranging product coverage, and is an avid follower of the latest hardware innovations. He's never happier than when tinkering with complex network configurations, or exploring a new Linux distro.
In addition to managing the IT Pro Panel and working with the community of IT leaders that make it up, he co-hosts the IT Pro Podcast, where you can hear him ranting about his love of strange gadgets, his disdain for Windows Mobile, and everything in between.
You can find Adam tweeting about enterprise technology (or more often bad jokes) @AdamShepherUK, or you can email him at adam.shepherd@futurenet.com.
A daily dose of IT news, reviews, features and insights, straight to your inbox!
Thank you for signing up to ITPro. You will receive a verification email shortly.
There was a problem. Please refresh the page and try again.