Net Neutrality: President Obama's proposal explained
White House calls for an end to blocking and throttling of traffic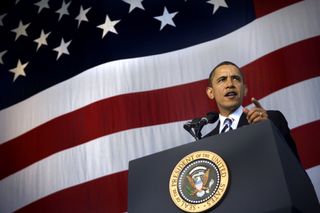 The debate over Net Neutrality has kicked into high-gear after President Obama issued guidance for the FFC over how the internet should be regulated.
The President is a proponent of Net Neutrality, which suggests internet traffic should be treated equally and companies should not charge a premium based on factors such as content, location or the user in question.
Broadband and phone companies should not have the power to act as gatekeepers to websites and online services, according to the President.
"[The FFC] should make it clear that whether you use a computer, phone or tablet, internet providers have a legal obligation not to block or limit your access to a website. Cable companies can't decide which online stores you shop at or which streaming services you can use. And they can't let any company pay for priority over its competitors," he said in a video explanation.
"In plain English, I'm asking them [FCC] to recognise that for most Americans the internet has become an essential part of communication and everyday life."
What does Obama suggest?
President Obama believes the FCC should reclassify the internet from an "information service" to a "public service" to help ensure everybody a level playing field in terms of access. Such a reclassification would increase regulation of ISPs like AT&T, Comcast and Verizon, and is a move they are strictly opposed to.
The President outlined four recommendations including the need to prevent blocking, throttling and paid prioritisation. He also called for increased transparency.
Throttling has already taken place in the US, with the most high-profile case relating to Netflix. Last year, Comcast was accused of allegedly deliberately slowing down traffic from the popular video streaming site and demanding payment before increasing speeds. Netflix felt it had no choice but to stump up the cash but also had to increase its prices $1 (1 in UK) for new customers to help absorb some of the costs. It's scenarios like this which advocates of Net Neutrality are looking to prevent.
Broadband providers cry foul
Major US broadband providers have responded to the proposals laid out by the White House with distain. They claim the recommendations are outdated and overregulation would harm competition as regulators would be able to set pricing.
AT&T
"For a generation, the internet has been an American success story. Light-touch regulation has encouraged levels of investment unprecedented by any industry and spawned incredible innovation. Today's action puts all of that at risk and puts it at risk not to remedy any specific harm that has occurred." AT&AT claimed.
"If the FCC puts such rules in place, we would expect to participate in a legal challenge to such action."
Comcast
"To attempt to impose a full-blown Title II regime now, when the classification of cable broadband has always been as an information service, would reverse nearly a decade of precedent, including findings by the Supreme Court that this classification was proper," Comcast argued.
"This would be a radical reversal that would harm investment and innovation, as today's immediate stock market reaction demonstrates.
Verizon
"Reclassification under Title II, which for the first time would apply 1930s-era utility regulation to the Internet, would be a radical reversal of course that would in and of itself threaten great harm to an open Internet, competition and innovation," the firm said.
What happens next?
Tom Wheeler, chairman of the FCC, welcomed the President's input and suggested that the recommendations will be taken on board.
"We both oppose internet fast lanes. The internet must not advantage some to the detriment of others. We cannot allow broadband networks to cut special deals to prioritise Internet traffic and harm consumers, competition and innovation," he explained.
"As an independent regulatory agency we will incorporate the President's submission into the record of the Open Internet proceeding."
Having already lost two court cases to broadband providers, and with the threat of further litigation on the horizon, Wheeler added that the FCC will take its time to draft what it deems is a watertight proposal.
"The reclassification and hybrid approaches before us raise substantive legal questions. We found we would need more time to examine these to ensure that whatever approach is taken, it can withstand any legal challenges it may face," Wheeler continued.
No time frame has been given as to when the FCC will announce its latest set of proposals, but with more litigation likely, this is just the latest battle in a long war.
A daily dose of IT news, reviews, features and insights, straight to your inbox!
Khidr Suleman is the Technical Editor at IT Pro, a role he has fulfilled since March 2012. He is responsible for the reviews section on the site - so get in touch if you have a product you think might be of interest to the business world. He also covers the hardware and operating systems beats. Prior to joining IT Pro, Khidr worked as a reporter at Incisive Media. He studied law at the University of Reading and completed a Postgraduate Diploma in Magazine Journalism and Online Writing at PMA Training.
A daily dose of IT news, reviews, features and insights, straight to your inbox!
Thank you for signing up to ITPro. You will receive a verification email shortly.
There was a problem. Please refresh the page and try again.