Gov urged to establish 'Office of Data Responsibility'
Individuals should also have virtual vaults, says head of think tank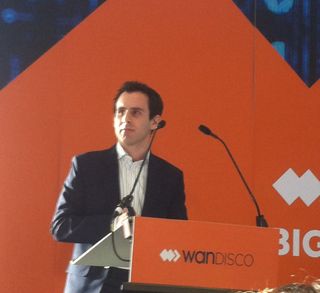 The UK needs an Office of Data Responsibility to help solve the "data schizophrenia" problem plaguing the population, a think tank claimed today.
Policy Exchange wants the government to establish its proposed body because the topic of Big Data is too vast to leave solely to the Information Commissioner's Office (ICO).
Without such a measure citizens will not trust Whitehall with their own personal data, warned Policy Exchange's head of technology, Eddie Copeland.
He said there is a huge difference in citizens' attitudes to firms using their data and public bodies using their data.
"Think of the way Amazon nudges you to get that extra product in your cart when you didn't think you were going to buy it at all," told attendees at Wandisco's Big Data Breakfast event in London.
"As consumers we say this is wonderful, more of this please, what great convenience'. When the public sector does it however, [our reaction is] whoa whoa whoa, stop, this is outrageous."
He pointed to the uproar over the NHS's care.data scheme, which is seeking to share patient data between GP surgeries and hospitals, as well as the failure of the national ID cards scheme under Prime Minister Gordon Brown.
He attributed this in part to the fact that we get immediate benefits from sharing personal data with companies, such as better targeted discount offers from shops, but little from public sector bodies.
Meanwhile, government and the wider public sector have been slow to react to technology.
"Technology has just raced ahead of society's ability to develop the social norms to respond," Copeland said.
To remedy the problem, the government must establish an office dedicated to big data issues, and should draw up a code of ethics for analytics, he argued.
"We need an Office of Data Responsibility like we have an Office of Budget Responsibility. I don't think the ICO alone is enough for what we're trying to do with Big Data now.
"And we need a code of responsible data analytics for the public sector," he said.
Copeland added that citizens should have individual data stores - virtual vaults in which individuals can securely keep personal information.
Policy Exchange is due to publish a paper on the issue later this month that goes into more details around the proposals.
A daily dose of IT news, reviews, features and insights, straight to your inbox!
A daily dose of IT news, reviews, features and insights, straight to your inbox!
Thank you for signing up to ITPro. You will receive a verification email shortly.
There was a problem. Please refresh the page and try again.