Nvidia reveals Turing GPUs, the chip at the heart of its series 11 cards
Nvidia's latest GPU technology is six times more powerful than Pascal and utilises AI technologies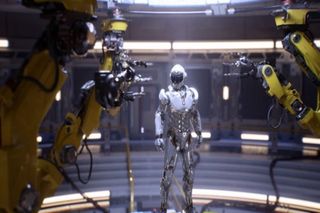 Nvidia's Turing GPUs have been revealed at Siggraph 2018 and are easily the most powerful GPUs to ever come to market. Like the leap from Nvidia's Maxwell chips to its Pascal successor, the jump from Pascal/Volta to Turing is unlike anything that's come before.
Nvidia's Turing GPU combines the company's expertise in AI chip development, 3D rendering technology and fluid model development. In simple terms, this means Turing-based GPUs can tap into AI-based processing techniques to accelerate rendering beyond what's been seen before.
"Turing is NVIDIA's most important innovation since we launched modern computer graphics nearly two decades ago," said Nvidia CEO and founder Jensen Huang. "Turing will reset the industry, opening up amazing creative possibilities that until recently were assumed to be years away."
It's hard to really believe that Turing can make such a huge impact on the world in the way Huang states, but going from the examples Nvidia revealed at Siggraph it's clear these new GPUs can deliver. According to Nvidia, a Turing-based GPU is capable of a mighty 16 teraflops. For comparison, a Pascal-based GTX 1080ti card can push out just over 11 teraflops and Nvidia says that Turing is six times faster than Pascal's capabilities and even outstretching what can be done by Volta.
In an example of what Turing can do, Huang re-demoed the Reflection's Star Wars Unreal Engine real-time ray tracing demo first shown in March. Back then it was believed to be running on four Volta GPUs but, as it turns out, it was actually on a single Turing GPU that was still in development.
This translates to Nvidia's Turing architecture being the first GPU in the world that's capable of real-time ray tracing a feat no other architecture has been able to come close to before. Ray tracing, a technique that generates images by reconstructing the path of light onto an object, is memory heavy but Nvidia states that its Turing technology can accelerate the technique by up to 25 times more than "previous generations" like Volta and Pascal. It's also 30 times faster than ray tracing techniques used on CPUs, such as how many blockbuster films generate their CGI scenes and images.
Turing's AI-based tools also mean developers can tap into Nvidia's expertise in artificial intelligence to improve their own products. Using Nvidia's Tensor Core processors, developers can integrate AI-enhanced graphics, photo imaging and video processing into their applications.
Those of you hoping that new Turing architecture means new consumer cards are going to be somewhat disappointed. For now, Nvidia is only talking about its professional-level Turing cards.
Announced at Siggraph 2018, Nvidia announced the Quadro RTX 8000, RTX 6000 and RTX 5000 cards. As nice as it is to see some incredibly powerful cards come to market, with 48GB, 24GB and 16GB of memory respectively, they're certainly not priced for consumers but for small to enterprise-level operations.
Despite pricing starting at a cool $3,000 (2,342), Turing's tech opens up the virtual effects industry to small businesses instead of multi-million-pound creative agencies. It's a market that's estimated to be worth around $250 billion (195 billion), so Nvidia's advancement isn't to be sniffed at.
Nvidia's 10-series of consumer cards aren't in particular need of a refresh just yet, but it has been over two years since they came to market. With Nvidia's announcement of Turing, it's more than likely we could see one of the greatest leaps in consumer-grade graphics between generations. Now to hold out hope for that announcement next.
Get the ITPro. daily newsletter
Receive our latest news, industry updates, featured resources and more. Sign up today to receive our FREE report on AI cyber crime & security - newly updated for 2023.
Vaughn Highfield is a seasoned freelance writer with more than 10 years experience in content strategy and technology journalism.
Vaughn is a self-described 'wordsmith and UX wizard', covering topics spanning cyber security, cryptocurrency, financial technology, and skills development.
From 2015 to 2018, he served as a senior staff writer at Alphr before assuming the role of associate editor. In his role as associate editor, Vaughn was responsible for a range of duties, including the publication's long-term content strategy, events coverage, editorial commissions, and curation of the Alphr newsletter.
Prior to this, Vaughn held in-house roles at PCPro and Terrapinn Digital in addition to freelance marketing and content strategy activities with The Gamers Hub and Magdala Media.