Intel begins construction of two new chip factories in Arizona
The company is aiming to serve customers around the world and help stabilise the global semiconductor supply chain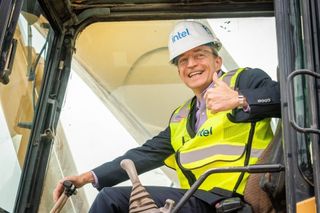 (Image credit: Intel)
Intel has begun constructing two new chip factories at its Ocotillo campus in Chandler, Arizona as it bids to serve foundry customers around the globe.
The $20 billion expansion of the two new factories, to be named Fab 52 and Fab 62, will mean Intel's Ocotillo campus will house a total of six factories. The new fabs, when operational in 2024, will manufacture the company's most advanced process technologies, including Intel 20A featuring the RibbonFET and PowerVia innovations.
Through this initiative, the company said that it's doing its part to help rebuild US leadership and bring more balance to the global supply chain. It also said that the two new fabs will also provide committed capacity for Intel Foundry Services (IFS), through which the company aims to serve the needs of foundry customers around the globe.
Intel said that the US has lost ground in semiconductor manufacturing and is at risk of falling further behind, underlining that advanced domestic chipmaking capacity and capabilities are critical for the sake of both economic and national security.
"Today's celebration marks an important milestone as we work to boost capacity and meet the incredible demand for semiconductors: the foundational technology for the digitization of everything," said Pat Gelsinger, Intel CEO.
RELATED RESOURCE
Manufacturing modernisation: How to get there
Get your free guide to modernising your factories with mobile technology
"We are ushering in a new era of innovation – for Intel, for Arizona and for the world. This $20 billion expansion will bring our total investment in Arizona to more than $50 billion since opening the site over 40 years ago. As the only U.S.-based leading-edge chipmaker, we are committed to building on this long-term investment and helping the United States regain semiconductor leadership."
The company said the new investment will create over 3,000 high-tech, high-wage jobs, 3,000 construction jobs, and support an estimated 15,000 additional indirect jobs in the local community.
TSMC is also thinking of adding five additional chip factories in Arizona, Intel's rival to which it lost its lead in making the fastest chips, according to Reuters. Intel is set to use TSMC to produce subcomponents of chips which it will put together in its own factories, and TSMC will also make Intel's 'Alchemist' graphics chips using the Taiwanese company's N6 chipmaking technology.
In March, Intel unveiled a new strategy to reinvigorate its business following a troublesome 2020. At the time, the company launched Intel Foundry Services (IFS) which the company hopes will become a major provider of foundry capacity in the US and Europe.
A daily dose of IT news, reviews, features and insights, straight to your inbox!
Zach Marzouk is a staff writer for IT Pro, Cloud Pro, and Channel Pro where he writes news articles and in-depth feature pieces primarily focused on Asia Pacific and the US. Aside from covering topics like security, privacy, worker rights, and startups, he also contributes to the IT Pro podcast and IT Pro 20/20.
After studying an undergraduate degree in Arabic and Spanish at the University of Leeds, Zach completed a journalism internship at The Argentina Independent in Buenos Aires where he wrote about the country's history, politics, and technology.
He then joined IT Pro in 2017 where he was introduced to the world of B2B technology as a junior staff writer, before he returned to Argentina in 2018, working in communications and as a copywriter. In 2021, he made his way back to IT Pro as a staff writer during the pandemic.
Contact him at zach.marzouk@futurenet.com or find Zach's thoughts (and more) on Twitter @ZachMarzouk
A daily dose of IT news, reviews, features and insights, straight to your inbox!
Thank you for signing up to ITPro. You will receive a verification email shortly.
There was a problem. Please refresh the page and try again.