What every IT reseller needs to know about UPS
The uninterrupted power supply market is often overlooked, but it rakes in billions every year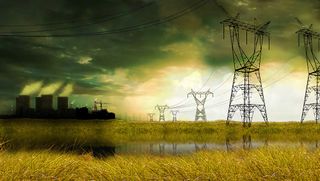 The channel's perception is that, in the pantheon of sexy IT, UPS (uninterruptible power supply) comes last behind keyboards and cabling. But what too many IT resellers overlook is that UPS is a strategic solution, not a peripheral one.
Resellers will typically focus on a small set of core IT specialisms to avoid the risk of diluting their skills and value. But when salespeople come across a customer need for something adjacent to those specialisms, this can create a catch-22 situation. Invest time and effort serving that need and dilution will inevitably occur. Pass it over and someone else will take advantage of your revenue and margin opportunity.
Hence the "is it strategic or not?" question. If the customer wants 20 new monitors, then probably not. If they need a new UPS, it could represent a significant shift in IT transformation.
Here are five pointers for any IT reseller looking to profit from a greater UPS understanding:
UPS has never been more relevant
The global UPS market is growing at 7.7% every year and will be worth £4.54bn by 2022, according to recent Global Market Insights research. The reason is uptime, and the essential requirement to safeguard private and hybrid cloud instances with 24/7 protection from power failure. As much as 43% of all 'IT disasters' come from power failures, and just 4% from malicious insiders or outsiders, according to Forrester.
That should put sales efforts into some perspective. Rather than AI-powered malware and Russian cyber gangsters, the real threat is mundane and ever-present.
Don't be afraid of the facilities sign-off
A major misconception is that UPS is 'industrial' rather than 'informational' technology and that the IT department gets looped out of UPS decisions in favour of some toolbelt-toting facilities manager. This picture is 20 years out of date. Yes, 'facilities' may occupy some stakeholder position in the decision-making process but organisations have long since learned to trust server rooms and data centres to the IT team. This infrastructure demands strategic long-term planning, creating opportunities for trusted IT advisors.
Gain visibility of the strategic IT estate
A UPS system will provide emergency backup power to a given electrical load. The bigger the power need, the bigger the UPS required. A bad 'order-taking' salesperson will faithfully note the load required and quote the appropriately corresponding UPS unit. However, a good salesperson will open up the opportunity for a discussion about the trajectory of future power needs, so as to specify the most sustainable UPS approach, right-sized and scalable to requirements.
This is important because it provides the context for sticking your nose into what the customer is doing from a strategic IT perspective i.e. are they building out more infrastructure, migrating more apps to the cloud, relocating or consolidating, changing their hardware architecture to denser equipment, etc.? Any of these could play to the reseller's core strengths.
Even at the physical level of being onsite, supplying or installing a UPS system, engineers see the customer's entire IT setup with their own eyes, enabling them to add more value with advice and other solutions.
Plug in renewals
A customer's power requirements will rise over time in step with their increased reliance on digital technology and the consumption and production of data. This provides opportunities to upgrade and replace UPS systems over time, adding modular elements to meet growing capacity needs. Even without this growth, UPS systems have a natural lifespan and refresh cycle. All milestones are opportunities to proactively revisit requirements, not just the routine "is it still big enough for what you need?" questions, but more strategic conversations about future IT direction.
The other touchpoint is battery replacement. UPS systems need batteries, but these degrade over time and with repeated use. Customers frequently need to be reminded when batteries should be replaced, and while aspects of this renewals cycle are very perfunctory, the opportunity is still there for decent salespeople to proactively create a strategic discussion about wider IT considerations.
Replace FUD with ROI
Selling uptime isn't quite as effective as selling the antidote to downtime. In many parts of the IT channel, fear, uncertainty, and doubt (FUD) aren't so much dirty secrets as brazen badges of honour. But it's exhausting for poor, browbeaten IT decision makers to put up with, and it's not great for fostering a healthy, consultative relationship either.
UPS unlocks a wider set of specialist IT power and cooling technologies that provide enormous financial and environmental benefits through greater energy efficiency. Even a mid-sized organisation can save hundreds of thousands of pounds a year off their utility bills by taking their PUE (Power Usage Effectiveness) rating down a peg or two. Better PUE can be achieved through various means - for example by ensuring that the UPS system in place isn't too large for current requirements.
It pays to get a good working knowledge of spotting, maximising and converting UPS opportunities, and encouraging salespeople to understand that these uninspiring devices can inspire some long-lasting results. This not only supplements core revenues, but makes you significantly more relevant to customers' strategic IT objectives.
Nick Claxson is managing director of Comtec Enterprises
Stay up to date with the latest Channel industry news and analysis with our twice-weekly newsletter
Stay up to date with the latest Channel industry news and analysis with our twice-weekly newsletter
Thank you for signing up to Channel Pro. You will receive a verification email shortly.
There was a problem. Please refresh the page and try again.