Windows laptops or MacBooks: Which is better for business?
Comparing two of the most popular computing platforms on the market and how they shape up when it comes to apps, security, connectivity, and variety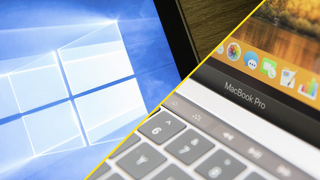 When looking to invest in new laptops for your business, there are a slew of options out there on the market.
Whether you're looking for machines that will suit a large organisation, or a device for a small business, selecting the appropriate technology and features is paramount to maximise productivity.
With Windows laptops and Apple's MacBook range, we have two of the most popular device pools on the market, with both promising an array of capabilities for the modern workforce. It can be a difficult choice to make, and both could make sense depending on your priorities.
So, if you're undecided on whether to opt for a Windows laptop or a MacBook, we run through some key factors below to help you on your way.
Operating system and security
Apple famously likes to keep things on-brand and in a uniform order, so it'll come as no surprise that its MacOS underpins everything a MacBook has to offer. A robust and speedy operating system, MacOS provides a platform that is intuitive to navigate for beginners and seasoned business users alike.
It's particularly popular among the creative industries but its strength against malicious software such as viruses and malware also make the platform a solid option for other sectors too.
By contrast, Microsoft's offering perhaps offers a system that is more familiar, thanks to how ubiquitous Windows machines have been over the years – but the platform is generally considered to be more susceptible to security breaches and malicious software. That's largely due to the greater number of Windows machines in use, with hackers often targeting the biggest pool of devices.
Of course, responsible business users will want a robust cyber protection software installed regardless, with such large amounts of data being processed on the device or across the wider network.
Windows and MacBook applications
When it comes to applications and software, MacBooks really shine and it's easy to understand why they're so popular for creative tasks. From video editing tools such as Final Cut Pro, to photography processing platform Aperture, there's a slew of dynamic options for creative businesses, large and small.
With that said, there are an untold number of apps out there that will run on both MacBooks and Windows laptops – so that shouldn't be too much of a stumbling block if Windows favours other needs across the business.
One of the stalwarts of the workplace, for example, is the Microsoft Office suite of productivity apps, which is available and optimised for both types of devices. That covers your typical word processing, spreadsheets, database management tools, and a whole load more.
Elsewhere, popular software such as Adobe Photoshop and InDesign – tools often used for marketing purposes – are available regardless of the device(s) you opt for.
Networking and connectivity
With the shift to the cloud accelerating in recent years, both Windows laptops and MacBooks offer very similar functionality in terms of networking, connectivity, and file sharing. As long as there are suitable connections available, access to cloud-based software and storage systems is a breeze for both types of machines. It also means that file-sharing between the two platforms is easier than ever – so organisations can even implement a mix of the two to maximise functionality across the workforce.
For businesses, Apple provides a Business Manager tool to enable centralised management of connected devices across an organisation. Windows also offers easy network management of connected Windows 10 devices.
When it comes to physical connections with other tech, Windows laptops generally offer far more flexibility, at least out of the box. Depending on the model and price point, Windows machines can ship with a far greater number of USB and USB-C ports, as well as HDMI, SD Card, and Ethernet ports, all built into the device. This makes Windows machines somewhat easier to use initially.
Apple typically opts for a streamlined approach to ports, resulting in a far sleeker looking design. Users are instead encouraged to use USB docks to access additional ports. Modern Macbooks ship with multiple USB-C ports, including at least one that's Thunderbolt compatible for quick charging.
If you're looking to switch to the latest MacBooks, it's important to note that you will likely need to source these additional adapters and docks, especially if staff already use USB-A, HDMI, DisplayPort, or older Thunderbolt 1 and 2 connections, as Apple does not provide these out of the box.
Comparing battery life across laptops and MacBooks
Like most Apple products, MacBooks are well known for having excellent battery life, making them an attractive proposition for the modern hybrid workforce. Apple's 14- and 16-inch variants promise 17 and 21 hours of video playback, respectively, while both feature a fast-charging capability that provides 50% charge in just 30 minutes.
It's tricky to compare that with Windows laptops due to the sheer number of options out there on the market, which creates added flexibility, but also plenty of complexity for businesses. Battery life will vary significantly across brands and models, but there are a number of solid options that can provide lengthy power on the go.
If battery life is one of your key factors in deciding which type of device to opt for, it's essential to compare the MacBook alongside a range of Windows devices to see how they stack up.
Models and pricing
As software differences have evened out, the deciding factor for many is the cost. And there's no getting around it: Macs are a pricey option. The 13-inch MacBook Pro starts at £1,299, while the 14-inch offering begins at £1,899.
The MacBook Pro 16-inch laptop starts at £2,399 and goes up to a whopping £3,299, depending on the device specifications. Obviously, the costs of the latter would soon pile up if you're kitting out a larger workforce. The slimline MacBook Air can also be found starting from £949.
That's not to say there aren't expensive Windows laptops out there too – the Dell Precision 7760 Data Science Workstation will set you back a cool £4,655, for example - but the difference lies in the number of options on the market at various price points.
Brands such as HP, Dell, Acer, Lenovo and Asus all offer a range of devices and specifications suited to different budgets and use cases. You can buy a capable Windows laptop for as little as £299, which will comfortably tackle everyday business use. Many of these companies also offer models comparable in spec to the MacBook Pro for around £800-£900.
Windows laptops vs MacBooks
There was once a time when the differences between Macs and Windows laptops would be noticeable enough to make this decision tougher. However, with the widespread migration to the cloud, the truth is that both avenues serve up options that will tick most boxes.
The rise of cloud-based applications and tools has ramped up the convenience factor for end-users, taking some of the weight out of the software side of the decision. These days, the consideration revolves more around security, hardware, cost, and even style.
If you're after a stylish and secure device that can add some power to creative tasks, then a MacBook has you covered. If you're looking for a more affordable, customisable platform that the user base will need little familiarising with, a Windows laptop may be the best option.
Many businesses find themselves implementing a hybrid mix of the two across their organisation, allowing them to get the best of both worlds. Ultimately, that decision would largely come down to budget, size of the workforce, existing skill sets of staff, and the business' existing device management system – but, whatever route you go down, there are some fantastic options on the market.
Get the ITPro. daily newsletter
Receive our latest news, industry updates, featured resources and more. Sign up today to receive our FREE report on AI cyber crime & security - newly updated for 2023.
Dan is a freelance writer and regular contributor to ChannelPro, covering the latest news stories across the IT, technology, and channel landscapes. Topics regularly cover cloud technologies, cyber security, software and operating system guides, and the latest mergers and acquisitions.
A journalism graduate from Leeds Beckett University, he combines a passion for the written word with a keen interest in the latest technology and its influence in an increasingly connected world.
He started writing for ChannelPro back in 2016, focusing on a mixture of news and technology guides, before becoming a regular contributor to ITPro. Elsewhere, he has previously written news and features across a range of other topics, including sport, music, and general news.
Get the ITPro. daily newsletter
Receive our latest news, industry updates, featured resources and more. Sign up today to receive our FREE report on AI cyber crime & security - newly updated for 2023.
Thank you for signing up to ITPro.. You will receive a verification email shortly.
There was a problem. Please refresh the page and try again.