The ultimate guide to deleting yourself from social media
Worried about oversharing – or just want to kick the social media habit? We've outlined concrete steps you can take to delete your identity from the most popular sites and services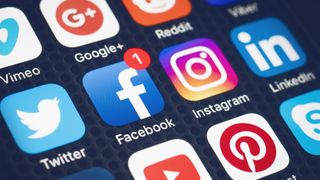 (Image credit: Shutterstock)
Personal information has never been more accessible. Your social media profile and posts can give away all sorts of details to people you know, and people you don't – from potential dates to employers and identity thieves.
RELATED RESOURCE
Data governance and privacy for data leaders
Create your ideal governance and privacy solution
There are all sorts of steps you can take to reduce your exposure, but policies and privacy settings change over time, and data breaches can't be ruled out. The surest way to protect yourself and maintain your privacy is to shut down your social media accounts completely. It may also be good for your mental wellbeing to cut ties with any platforms that you feel are no longer enriching your life.
Unfortunately, there isn't a single, straightforward way to close every account. The process is different for each service. It isn't always instant, and it doesn't necessarily mean that your information will vanish from the internet. The site operator may keep some content for their own continued functioning (your old posts may be preserved in threaded conversations, for example), or data may be retained to comply with legal requirements. Search engines may continue to show locations where your data was previously visible, even if the pages at the ends of those links have expired. Until they next crawl those URLs, snippets of your data may be exposed in previews and cached copies.
Here's how to remove yourself from the biggest social networks – while keeping copies of the data you've previously shared – and minimise the chance of your data being found.
Delete yourself from LinkedIn
If you're happy in your career you might decide you no longer have a use for LinkedIn. Be warned, though: deleting your account doesn't just remove your profile from the site. It also deletes your stored messages and connections, plus any recommendations you've given or received. Contacts will lose the benefit of any endorsements you've given them, and if you decide to rejoin the site at a later date you'll have to rebuild your own professional profile from scratch. Consider the option to "hibernate" your account rather than deleting it.
Deleting your LinkedIn account using a web browser
If you're sure you want to leave LinkedIn, first download any data you want to keep by logging in to LinkedIn through your web browser of choice and clicking your avatar at the top of the screen.
Click "Settings & Privacy", followed by "Data Privacy".
Click "Get a copy of your data", in the "How LinkedIn uses your data" section. Select the categories of data you want to download and click "Request archive".
LinkedIn will send you an email from which you can download your information; this may take a few minutes to arrive, depending on how much data you've requested, and remains active for 72 hours.
Once you've received your data, it's time to actually close your account. Click "Settings & Privacy" again, then, under "Account management", click the "Change" link beside "Close account".
You'll be prompted to provide a reason for closing your account – be as honest as you like, or just select "Other" – then click Next, enter your password and click "Close account".
Deleting your LinkedIn account using the smartphone app
It's also possible to close your account from the LinkedIn smartphone app, but it works slightly differently.
Tap your profile picture, followed by "Settings", then select "Account preferences".
Scroll down to "Account management" and tap "Close account", followed by "Continue".
Again, provide a reason for the closure and tap "Next", then enter your password and tap "Done".
What happens once you've shut down your LinkedIn account?
Once you've told LinkedIn to close your account it can take up to three days for your public profile to disappear from the site. If you have a change of heart you can restore your account within 14 days by simply logging in through the regular LinkedIn homepage, or by clicking the link in the email you'll receive when you close the account.
After logging in, click "Reactivate", then check your email for a message containing a further link to reinstate the account. Reactivating won't bring back your endorsements and recommendations, however, nor any invitations you haven't yet acted upon or group memberships, so consider carefully before you close the account in the first place.
Delete yourself from Twitter
If you want to get off Twitter, you'll need to be a little patient: it takes a month to fully close your account, although your profile will stop being publicly visible as soon as you confirm that you want to leave the service.
Before you pull the trigger, you can download your data by logging in to your account, using a regular browser, and clicking "More" on the sidebar.
Click "Settings and privacy", then "Your account", followed by "Download an archive of your data".
Your data includes not only your public tweets but private information such as direct messages, so Twitter uses two-factor authentication (2FA). First, enter your password when prompted and click "Confirm"; then keep an eye out for a confirmation code sent to either your email or phone, and enter it as prompted.
Once you've provided the code, you can click "Request data" and Twitter will start compiling your records. When the archive is ready, you'll receive an email containing a link to the archive of your information.
The next thing to do is to disconnect any third-party apps connected to your Twitter account. This is because your account will be automatically reactivated if you log back in within 30 days of closing it – so you need to be sure that no apps are signing in on your behalf.
To do this, go into your Twitter account through a browser and click "More", followed by "Settings and privacy".
Click "Security and account access", then "Apps and sessions" and, finally, "Connected apps".
Click on each of the apps shown in this section, followed by the red "Revoke app permissions" link.
Once you've revoked permission for every app registered to your account, click "Your account" in the Settings column, followed by "Deactivate your account".
Click Deactivate, then enter your password and click "Deactivate account".
Assuming you don't cave in and log back in then after 30 days all your information will be deleted. At this point your username will be released for reuse – so if you think you might ever want to return to the platform under your old name, you may wish to come back to open a new account and grab the name before someone else does.
Delete yourself from Facebook
Facebook is probably the most controversial social media site, and there are plenty of reasons why you might want to leave it. The catch is that if you close your account on the main social networking service you also lose access to Facebook Messenger, which many of us use for talking to friends and family.
There is a way around this: rather than wiping your Facebook account, you can deactivate it. This hides your public Facebook profile but doesn't delete the content, so you can continue to use Messenger, and keep the option of reactivating your account at a later date.
Deactivating your Facebook account
To deactivate your account, log in through a browser and click the downward arrow at the top right of any Facebook page.
Click "Settings & privacy" followed by "Settings"; click "Your Facebook information" in the sidebar, then click "Deactivation and deletion" in the main part of the page.
Make sure the radio button beside "Deactivate account" is selected, then click "Continue to Account Deactivation".
Enter your password and click "Continue".
Facebook requires you to give a reason for leaving, but as with LinkedIn you can click "Other" and enter anything you like.
The last step is to review whether you're the sole administrator for any pages. If you are, you'll need to nominate a new administrator to look after them once your own account is deactivated.
Click the "Edit Admins" button below any applicable page, then optionally opt out of emails and delete any applications for which you're the only developer.
Finally, click "Deactivate".
Deleting your Facebook account
If you do want to delete your account entirely, you'll have to be a little more patient. We suggest you start by downloading a copy of all the information associated with your Facebook account.
To do this, log in through a browser and click the downward arrow at the top of the page, followed by "Settings & privacy", then "Settings".
Click "Your Facebook information", followed by "Download your information".
Choose what format you want your data in – the default is HTML, which can be conveniently opened by a web browser, but you can choose JSON if you prefer – and pick the High, Medium or Low quality setting for your media, depending on how bothered you are about quality versus storage size.
Then select a date range, or select "All time" to download everything, and untick any media types you don't want to download.
Finally, scroll down to the bottom of the page and click "Request a download". You'll shortly receive a link in your email from which you can download your data.
Once you've received your data, you can move on to actually deleting your account.
Click through Settings to "Deactivation and deletion", as described above, but this time select the radio button beside "Delete Account" and click "Continue to account deletion".
Once again, any pages where you're the sole administrator will need to be assigned to another user; click "Edit Admin" below the pages in question and hand them off to someone else.
You may also want to assign a new owner for any apps where you're the registered developer – click "Manage Apps" to do so. You don't have to do this, but if you don't then your apps will be deleted when your account is erased.
Finally, click "Delete Account", enter your password and click Continue.
Like Twitter, Facebook operates a 30-day grace period, within which you can log back in and click "Cancel Deletion" to rescue your account. After this point, Facebook will start deleting your data – although it warns that "it may take up to 90 days from the beginning of the deletion process to delete all the things you've posted. While we're deleting this information, it's not accessible to other people using Facebook." Copies of your data may still reside in Facebook's backups too.
Delete yourself from search engines
It hardly needs spelling out that search engines are one of the easiest ways for people to stumble across information that you might not have intended to share. Anything publicly posted by you, or about you, is liable to be picked up by web-crawling bots; professional, personal and even private content is revealed to anyone who searches for your name.
That doesn't necessarily mean that the information is out there for all eternity. Search engines periodically revisit indexed sites to check for changes, so once you've closed a social media account, your profile and posts should disappear from Google and others. However, if there's something in the search database you can't delete, or you want urgently removed, there are ways to directly request that content be removed from a search engine.
Deleting yourself from Google
Google offers two tools that can help here. If removed data is still showing up in the search results, you can report it as outdated and request an update using this request form. If your problem is with content that you can't remove from the web (because it's on someone else's site, for example), you can ask Google to remove it to protect your privacy or for other legal reasons by submitting a legal request.
There are limits to your right to have information removed from the web. Record holders may refuse a request if they need to retain the data for legal compliance, or if the data is still in use for the original purpose for which it was justifiably and legally collected. This is where the 'right to be forgotten' comes in. If you want to make a claim for removal under these terms, fill out Google's EU Privacy Removal form.
If you aren't sure where you should head, a good starting point is Google's guide to removing content. This will point you in the right direction for each of its products from which you might want to see your information removed.
Deleting yourself from Bing
RELATED RESOURCE
Multi-cloud data integration for data leaders
A holistic data-fabric approach to multi-cloud integration
Microsoft's Bing search engine works in much the same way. When you remove your own information from the web, it will be automatically expunged from Bing's database the next time the index is updated. If you want data hosted by someone else to be removed from Bing search results, you can fill in a form.
Bing also offers a quick way to block specific pages from its results – though it isn't necessarily a permanent solution. To use it you'll need to follow these steps:
Set up a Webmaster Tools account.
Once you're logged in as a webmaster, expand the "SERP Configuration" section in the sidebar, and click the "Block URLs link".
Click "Add URL to block", then enter the address to be blocked in the "Enter URL" box and select either "Page" or "Directory" under "URL type". Selecting "Directory" will block every page in a domain or folder, while – as you would imagine – "Page" only blocks specific pages.
Under "Block type", clicking "URL & Cache" will tell Bing not to direct visitors to the current page, nor to offer its own cached version of your page. If you only want to disable the Bing cache so that people are always directed to the live site (ensuring they don't see outdated content), select "Cache only".
Click "Submit" and within 24 hours the page or directory should disappear from the Bing search results. However, if the blocked content is still online after 90 days, Bing will start relisting it.
To keep the block in place you'll need to manually extend it: to do this, click the drop-down menu to the right of its name in the list and select "Extend" to block it for a further 90 days.
Get the ITPro. daily newsletter
Receive our latest news, industry updates, featured resources and more. Sign up today to receive our FREE report on AI cyber crime & security - newly updated for 2023.
Nik Rawlinson is a journalist with over 20 years of experience writing for and editing some of the UK's biggest technology magazines. He spent seven years as editor of MacUser magazine and has written for titles as diverse as Good Housekeeping, Men's Fitness, and PC Pro.
Over the years Nik has written numerous reviews and guides for ITPro, particularly on Linux distros, Windows, and other operating systems. His expertise also includes best practices for cloud apps, communications systems, and migrating between software and services.