Apple iWatch could predict heart attacks
Rumoured device may be more health-focused than Galaxy Gear.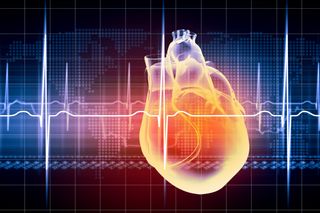 The iWatch, Apple's rumoured first foray into the wearable computing market, could feature sensors that monitor the sounds made by blood vessels to predict heart attacks, according to reports.
Research into the technology is allegedly being led by Tomlinson Holman, the audio engineer who invented the THX audio system and 10.2 surround sound. He joined the Cupertino giant in 2011.
Citing an anonymous source, the San Francisco Chronicle reports Apple is exploring noise "turbulence" with regard to blood flow. Specifically, it is looking to develop technology that can identify the sound blood makes as it tries to pass through a plaque-constricted artery.
Adding credence to this theory, Apple was awarded a patent at the end of 2013 for an embedded heart rate monitor.
Originally filed in 2009, the technology can detect both the user's cardiac activity and their cardiac electrical signals and could be used to "identify or authenticate the user and perform an operation based on the identity of the user. In some embodiments, the electronic device can determine the user's mood from the cardiac signals and provide data related to the user's mood."
This is not the first time the iWatch has been put forward as a health monitoring device.
In January, 9to5mac reported iOS 8 will include an application currently codenamed "Healthbook" that will monitor and store fitness statistics such as steps taken, calories burned and miles walked, as well as tracking weight loss.
It has also been noted Apple has been recruiting a number of doctors and lawyers with experience in lobbying the US Food and Drug Administration to the firm.
The iWatch had been expected to be a direct challenger to Samsung's Galaxy Gear Smartwatch.
However, if the health-monitoring rumours turn out to be true, the new technology will take Apple head-on into competition with companies like Fitbit, Nike and Jawbone, whose wrist-mounted Flex, FuelBand and Up devices fulfil many of the same functions.
Apple's expected foray into wearable computing also pits it against rival Google, whose Android operating system powers the Galaxy Gear and Google Glass. The company also recently announced a health-focused offering of its own - a contact lens that can help diabetics monitor their blood sugar levels.
A daily dose of IT news, reviews, features and insights, straight to your inbox!
Jane McCallion is ITPro's Deputy Editor, primarily covering security, storage and networking for ITPro, CloudPro and ChannelPro.
Jane joined ITPro and CloudPro in July 2012, having previously written freelance for a number of business and finance magazines. She has also covered current affairs, including the student, public sector workers and TUC protests and strikes in central London while studying a Masters in Journalism at Goldsmiths, University of London.
Prior to becoming a journalist, Jane studied Applied Languages at the University of Portsmouth.
A daily dose of IT news, reviews, features and insights, straight to your inbox!
Thank you for signing up to ITPro. You will receive a verification email shortly.
There was a problem. Please refresh the page and try again.