EE comes out top of mobile networks at Gatwick and Heathrow
RootMetrics tested mobile network data speeds around the UK, but they have never been measured at airports before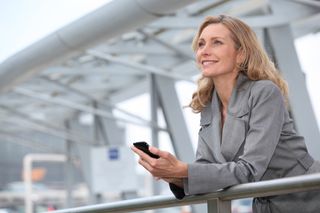 EE has topped mobile network data speeds at both Gatwick and Heathrow airports, also appearing in the number one spot for reliability, according to tests by RootMetrics.
At Gatwick, the network obtained an all-round score of 97.2 with an upload speed of 17.85Mbps and downloads at 20.40Mbps.
Vodafone came second with an overall score of 86.5, although its speeds were considerably slower - 0.94Mbps for upload and 5.68Mbps for download. Both Three and O2 achieved 1.57Mbps upload speeds, while downloads were measured as 3.2Mbps and 2.4Mbps respectively. However, Three's overall score was higher - 80.5 versus O2's 74.
At Heathrow, scores were more similar. EE's score was pretty consistent and far ahead of rivals, at 96.7 thanks to its 18.06Mbps upload and 31.22Mbps download speeds, but Vodafone's dropped to 84.6 with uploads at 2.05Mbps and download speeds of 3.30Mbps, while Three and O2's both increased to a just over 84 because they achieved faster upload and download speeds compared to the Gatwick Airport location.
The report said: "The core components are reliability and speed. These two factors have the greatest impact on your mobile experience. At each airport, we measure how reliably and quickly each network is able to download and upload data, perform email tasks, and handle files that represent elements of a webpage or app, among others."
RootMetrics' mobile performance tests have been carried out in 56 metropolitan areas in the US, seven metros in the UK, and 20 airports in the US this year already. By the second half of this year, it plans to have tested mobile networks at 125 US metros and 16 UK stations, 50 US airports and three UK airports, 50 US states and the whole of England, Northern Ireland, Scotland and Wales.
A daily dose of IT news, reviews, features and insights, straight to your inbox!
A daily dose of IT news, reviews, features and insights, straight to your inbox!
Thank you for signing up to ITPro. You will receive a verification email shortly.
There was a problem. Please refresh the page and try again.