EE introduces Wi-Fi calling for mobile dead zones
To combat mobile not-spots, EE will give customers the ability to switch between 3G/4G and Wi-Fi for calls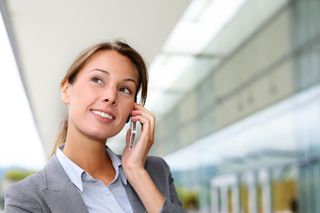 Some EE customers will be given the ability to make calls even when there is no 3G/4G signal in their location as the operator has rolled out Wi-Fi calling for some of its UK users.
Designed to help the millions of people who struggle with maintaining a good connection at home or at work, the service will switch between the two automatically when needed without the user having to do anything.
Olaf Swantee, EE's chief executive, said to the BBC: "We have worked more than a year to make sure that everything works like a normal phone connection. So, the ringtone, the voicemail, the quality of the conversation all of that is exactly the same with our solution.
"I think that's essential as customers don't have the time to figure out whether they should be using an app. They want to simply know the network will switch from one technology to the other without customer intervention."
The service will initially be available to monthly subscribers with Lumia 640 device and Samsung S6 and S6 Edge users from April 10th. The BBC reported EE will subsequently roll out the service to users with the iPhone 5s and later devices. EE stated that by summer of this year, some five million customers will have access to Wi-Fi calling.
To join, these customers simply need to send a text message to EE.
Older models will not be supported due to the absence of some built-in components, but EE will reportedly release a budget smartphone to compensate for this.
The announcement comes in the face of similar services being introduced by EE's rivals such as Vodafone, O2 (Tu Go) and Three (Three inTouch), indicating that a demand definitely exists.
"One of the complained about factors with mobile phones is just making a voice call, and perhaps an approach of getting the fundamental of connectivity right can act as a differentiator for the firm," added CCS Insight's Kester Mann. "Vodafone will also be launching a similar Wi-Fi calling service in the summer."
EE was an early entrant into the 4G market, and has benefitted for this foresight. In January 2015, it hit 7.7 million 4G users, beating the 12-month target of 6 million. This week, the operator topped mobile network data speeds at Gatwick and Heathrow airports.
A daily dose of IT news, reviews, features and insights, straight to your inbox!
Caroline has been writing about technology for more than a decade, switching between consumer smart home news and reviews and in-depth B2B industry coverage. In addition to her work for IT Pro and Cloud Pro, she has contributed to a number of titles including Expert Reviews, TechRadar, The Week and many more. She is currently the smart home editor across Future Publishing's homes titles.
You can get in touch with Caroline via email at caroline.preece@futurenet.com.
A daily dose of IT news, reviews, features and insights, straight to your inbox!
Thank you for signing up to ITPro. You will receive a verification email shortly.
There was a problem. Please refresh the page and try again.