TfL 'will introduce 4G to London's tube'
BT, Huawei, BAI Communications and Arqiva could all bid for the work - report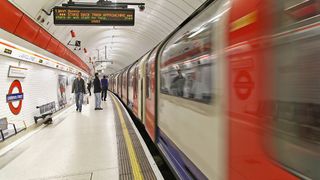 Mayor of London Sadiq Khan will invite mobile operators to submit their proposals for bringing mobile signal to the tube after next week's general election, it is reported.
Three people told the Financial Times about the plans, suggesting BAI Communications, Wireless Infrastructure Group, Arqiva, BT, Huawei and Airvana, part of CommScope, could all bid to win the job.
BT-owned EE already has strong connections with London Underground, with its equipment and service implemented to help emergency services communicate underground. However, it's likely to be a much bigger job than just running a low-level use network, with thousands of tube users wanting to make calls and send texts underground.
"We are keen to offer full mobile phone coverage for our customers," a TfL spokesperson said. "The introduction of this would need to be commercially viable and would follow engagement with staff and customers."
The FT's sources declined to reveal how TfL would expect the network to operate, although the obvious choices seem to be striking up a revenue deal with a telecoms company or subsidise the network to make it more attractive to customers. However, if it's to stump up the cash, TfL would have to gain approval from the public.
"While a number of stations along the TfL network already offer users Wi-Fi services, full mobile phone coverage will enable users to fully make the most of their time on the tube whether that's checking Facebook or replying to emails," William Newton, EMEA director at WiredScore said.
"And with such vast lengths of time on the underground begrudgingly spent by commuters across the city every day, there's no question that this will be a very welcome improvement to TfL's service."
Other cities around the world already have a mobile phone network operating underground including New York, Tokyo, Berlin, Paris and Seoul.
A daily dose of IT news, reviews, features and insights, straight to your inbox!
A daily dose of IT news, reviews, features and insights, straight to your inbox!
Thank you for signing up to ITPro. You will receive a verification email shortly.
There was a problem. Please refresh the page and try again.