7 mistakes to avoid when buying a tablet
It's all too easy to rush in and buy the wrong type of device, especially if you want something for work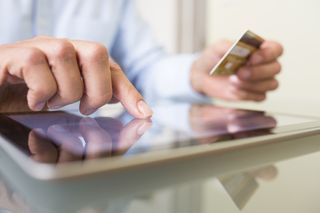 It's tempting to rush the tablet buying decision. Many people blithely think that iPads are best, without considering whether they actually meet their needs. Instead, you should ask why you want a tablet and draw up a shortlist of criteria.
For example, are you simply looking for a device with which to browse the web and catch up with social media? Do you travel a lot and want to watch movies on the go, or in your bedroom? Are you looking for a travelling companion for business use that can handle productivity tasks, or even heavier workloads, such as video editing?
By analysing your needs and making a checklist, you'll be ideally placed to look through the various options on the market and compare them against your list. To help, we've covered the important features of modern tablets below.
1) Buy the right OS for you
The two main tablet operating systems are Apple's iOS and Google's Android, and if you've already bought into either software environment with your mobile phone, that's a major factor to consider.
For example, if you have an iPhone, choosing an iPad will make it easier to share apps and data between the two different devices. The same is true for Android sign in to your Google account and it's a simple task to update your apps and sync your cloud services so that switching between your phone and tablet becomes seamless.
Amazon's Fire OS is another option. This is a customised version of Android that surfaces Amazon's various services, such as Kindle ebooks, as well as Amazon Prime Music and Video, making them easy to access. If you subscribe to Amazon Prime, are a frequent user of Amazon Music and Video and perhaps have a few Echo devices around the home, Fire OS could make more sense than a standard Android tablet.
Need to get work done on your daily commute? The Microsoft Surface Go might be the answer
However, Fire OS has limitations, such as forcing you to use Amazon's own app store rather than Google Play. As a result, Google's own apps, such as Gmail and Maps, are missing, and you're restricted to using Amazon's Silk browser too. If you really need the Google apps then it is possible to install the APK files, but this route is for more advanced users only.
Last year, these would have been your only choices, but there are now two more options. Google's Chrome OS is, at the time of writing, only found in the education-focused Chromebook Tab 10, and still needs work to make it truly tablet-friendly. But support for Android apps and the desktop-class OS mean it's worth a look.
Finally, there's Windows 10 in the form of the Surface Go, which we recently gave four stars.
2) Don't skimp on the display
When it comes to choosing a screen, again consider why you're buying the tablet in the first place. If it's more for productivity work or simple web browsing, a 4:3 screen, such as that found on the Apple iPad devices, may be better. But, if your primary intention is to play movies, consider a 16:9 or 16:10 aspect ratio instead.
Screen size is also important. The 10in or larger tablets look more cinematic, but are trickier to hold and weigh more. If being able to slip your tablet into a pocket or small bag is important, look at the 8in or smaller devices.
Conversely, if you're a digital artist looking for a sketching tool then a bigger screen is better, and you need to ensure that the device supports (or includes) a stylus or pen. Resolution matters for all tablet screens, but especially for the larger devices. The key feature to look at is the screen's pixel density, which is measured in pixels per inch (ppi). Anything below about 200ppi and small text will start to look fuzzy, though you need to drop below 150ppi for this to seriously affect readability. Apple settled on 264ppi as the optimal pixel density for super-sharp text, and we agree: more than this is fine, but it's difficult to see the difference.
Numbers don't tell you everything, however: the difference in screen quality between the premium and budget tablets is like night and day. Apple's colour-accurate 120Hz screens on the iPad Pro devices are perfect for content creation work, while Samsung's HDR-capable Super AMOLED display on the Galaxy Tab S4 is unmatched for watching or streaming videos. Again, decide what you actually need the tablet for and choose accordingly.
3) Follow due processors
Don't worry if you haven't boned up on the various processors inside these tablets.
What matters is ensuring you buy a tablet that offers the performance to meet your needs. Most tablets on the market can handle basics such as web browsing, email and streaming video, but if you need to create your own videos then the basic chips in the budget tablets will run out of steam.
4) Avoid storage blues
Storage is an area where Android tablets have the Apple iPads licked, for one reason: almost all Android devices include a microSD or SD card slot. Insert one of these tiny memory cards and you can boost even a budget 8GB tablet with an additional 64GB or 128GB or storage for very little money. And, for those who need even more, stepping up to 512GB is possible (but not all tablets support larger cards).
The downside is that some SD cards are considerably slower than the tablet's onboard flash memory. That said, 50MB/sec read and write is fairly common for UHS (Ultra High Speed) cards, and the higher-capacity SD cards, designed for professional use, can even reach 300MB/sec.
While you don't need the top-speed cards, it's important to make sure the card you buy won't drag down the performance of your tablet. A Class 10 card would be the sensible minimum, but a UHS Class 1 card is a safer bet for high-res video playback; even a brand-name, 64GB UHS 1 card only costs between 20 and 30, if you shop around.
Apple, on the other hand, limits you to the storage embedded in the device, which means that if you run out of space, your only option is to delete apps or data. As such, only choose the base 32GB model iPads if you're sure you won't need more, bearing in mind that iOS already eats a sizable chunk of this space, even before you install any apps.
5) Consider the extras
If you're buying a tablet for email and social media use around the house, you needn't be overly concerned with what accessories are available, but if you want the device to double up as a mobile productivity tool then cases and accessories become important.
The standardisation of Apple devices means that a huge range of accessories are available for the iPads, from protective cases to headphones and more. The 2018 iPad and all iPad Pros support the Apple Pencil (89) and for those looking to work on the move, Smart Keyboard accessories for the 10.5in and 12.9in iPad Pros are near-essential (if expensive).
It's worth picking up an Apple Pencil to make the most of the latest iPads but it will set you back 89
The situation for Android tablets is more complicated. On one hand, the variety of Android-based tablets is great for customer choice, but it makes it harder for third-party manufacturers to provide a comprehensive range of accessories. Also, the manufacturer's own accessories can often be hard to find.
We found only one seller stocking the official Huawei keyboard for the MediaPad M10 Pro, for example, and couldn't find a single seller of Lenovo's Home Assistant dock. That said, since all Android devices support Bluetooth, adding on a Bluetooth keyboard can be done cheaply.
6) Don't miss your connections
A standard feature on most tablets is the 3.5mm headphone jack, which means that your pair of stereo headphones will work fine, even with the iPads.
Beyond this, the data connection ports vary according to price and whether you're Apple or Android. Apple's Lightning connector will be familiar to anyone with an iPhone, and it's versatile enough to support a wide range of devices, in addition to carrying power and even video and audio data, if needed.
Cheaper or older Android tablets use the micro-USB socket for both charging and data/PC connections. This can also support USB flash drives and other peripherals, via a USB OTG (on-the-go) cable. You can pick these up from Amazon or eBay for less than a fiver. Newer Android tablets use the USB-C connector, which is considerably faster and supports Fast Charging.
7) Roam when in Rome?
If you anticipate spending a lot of time away from the home or office, check to see if your preferred tablet is also offered in a 4G (also known as LTE) variant. These are identical to the regular Wi-Fi-only models, but support cellular data connections, much the same as a smartphone. The SD card tray usually doubles as a SIM-card slot for the 4G-enabled models, so note you may not be able to have both.
You may think that 4G is an unnecessary feature, given the wide availability of Wi-Fi hotspots, but these public services are often atrocious. Plus, connecting into business services is more secure using a private 4G connection.
It's important to be clear on your need for 4G connectivity, as adding this can increase the cost of tablets. Apple, for example, asks a whopping 130 more for the 4G-enabled models. Instead, we'd be tempted to tether a phone and suck up some additional data charges.
Get the ITPro. daily newsletter
Receive our latest news, industry updates, featured resources and more. Sign up today to receive our FREE report on AI cyber crime & security - newly updated for 2023.