HPE says the future of 5G is enterprise services
Edge Orchestrator will help telcos unlock the value of edge computing as a service and low latency networks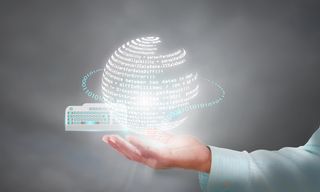 (Image credit: Shutterstock)
HPE has launched a new product to help communications services providers (CSPs) get more value from 5G by offering edge services to enterprises.
Edge Orchestrator is a SaaS-based offering that focuses on situations where low latency is key.
During a press conference, Phil Mottram, vice president and general manager of the HPE's Communications and Media Solutions business, told reporters that the company believes "the value proposition for 5G will all be firmly rooted in the enterprise space".
"We believe that consumer customers won't be paying any more for [telcos'] services just to get a faster download of a video – there's only so fast you can watch a video," Mottram said. "But all of the revenue opportunities and upside opportunities for carriers will firmly come in the enterprise new services space."
This is far from a unique position – indeed, even before 5G standards were set, many future-gazers predicted it would be more useful in Internet of Things (IoT) scenarios in particular where low latency is key, such as in fully-autonomous cars.
While we wait for such futuristic technology to arrive, however, HPE has decided to make use of existing and emerging technology and needs. Edge Orchestrator, the company says, allows telcos to deliver new services in the form of apps at the edge of the network to enterprise customers and in doing so effectively monetise apps.
Specifically, Edge Orchestrator brings together edge compute, edge communications and edge applications and allows carriers to offer them as a single, self-service proposition to enterprise customers and other service providers that might want to deploy them.
"HPE Edge Orchestrator will be the functionality which actually takes all these components, wraps it up together and makes it available to the enterprises," said Rolf Eberhardt, head of orchestration at HPE.
"We want to make the CSP able to efficiently allow enterprises to deploy their own applications at their own locations and connect them over connectivity services provided by the CSP back to their … data centres and to deploy these applications close to the end customers," he continued.
RELATED RESOURCE
3 reasons why now is the time to rethink your network
Changing requirements call for new solutions
"We believe there are two benefits to this. First of all, the CSPs have the trust of the customers [and] they provide also the connectivity at the location, and second for the enterprise customers, they are able to, on the one hand, deploy quickly and efficiently in the edge space without having to do a major investment on their own and they can being all the functionality together into a one-stop."
As it stands, Edge Orchestrator, which will be available from 31 July, is only being sold to telcos and only as a service – there are no plans to sell through the channel or direct to customers. And while it may be 5G-focused on the surface, for now HPE proposes telcos offer these additional services through more established network technologies like 4G, LTE and Wi-Fi, then introducing 5G later as part of its portfolio.
The announcement, which comes just before the start of the company's virtual HPE Discover 2020 conference, builds on an earlier announcement, made in March, where the company added "5G as a service" to its GreenLake portfolio.
It also follows an announcement from the company's networking business, Aruba, that it's pivoting towards a more edge-focused approach to business.
IT Pro will be attending HPE Discover, starting next week, so be sure to come back for coverage of the biggest announcements and plus analysis from the event.
A daily dose of IT news, reviews, features and insights, straight to your inbox!
Jane McCallion is ITPro's Deputy Editor, primarily covering security, storage and networking for ITPro, CloudPro and ChannelPro.
Jane joined ITPro and CloudPro in July 2012, having previously written freelance for a number of business and finance magazines. She has also covered current affairs, including the student, public sector workers and TUC protests and strikes in central London while studying a Masters in Journalism at Goldsmiths, University of London.
Prior to becoming a journalist, Jane studied Applied Languages at the University of Portsmouth.
A daily dose of IT news, reviews, features and insights, straight to your inbox!
Thank you for signing up to ITPro. You will receive a verification email shortly.
There was a problem. Please refresh the page and try again.