A look at AMD's Carrizo
We explore the latest processor offering from AMD, Carrizo.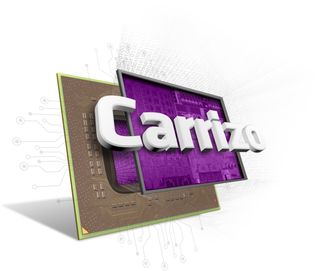 Launched in June 2015, Carrizo is AMD's 6th-generation APU, succeeding Kaveri. It has three separate offerings, the A8, A10 and FX Series. It is the final processor to be built using the 28nm processor microarchitecture codenamed Bulldozer.
The processor is designed for notebooks and low-power desktops and is latest in a long line of attempts by AMD to break Intel's grip on most important segment of the PC market, the $400-$700 notebook. This coveted segment of the market represents nearly 25 percent of all PC sales in 2015.
Offering significant improvements on its predecessor, has Carrizo done what AMD hope it will? Let's take a closer look and find out.
What does Carrizo bring to the table?
Carrizo is an odd proposition for consumers. While it marks the pinnacle of what's achievable on the 28nm processor build, attention is uncontrollably drawn towards the next generation 14nm build, codenamed Zen, which is rumoured to debut in October 2016.
That being said, the processor incorporates technical innovations which make it an interesting proposition. The basic architecture of the processor comprises of up to four Excavator CPU cores and eight new GCN (Graphics Core Next) cores. Claimed to be roughly the equivalent to Radeon R6 and R7 discrete graphics.
Carrizo also offers built-in HEVC hardware decoding, a first for AMD, allowing users to stream 4k content and access low-power video playback. We also see the debut of Adaptive Voltage and Frequency Scaling technologies implemented on what is AMD's first "big-core" SoC.
Going head-to-head, all these enhancements offer significant gains in CPU, graphics, and multimedia performance over predecessor, Kaveri.
How does Carrizo stack up against the 'real' competition?
It's all well and good outperforming the old model, but the true test for Carrizo is how it stacks up when compared to the real competition, Intel's Skylake processor. If AMD is to break Intel's grip on the $400-$700 market then consumers need to see real value above and beyond. Unfortunately for AMD, an in-depth analysis by Ananadtech found that Intel came out on top across the range of processors.
Most telling is the head-to-head comparison between two Lenovo Y700 models at the same price, one with AMD FX-8800P and the other with equivalent rival, the Intel Core i5-6300HQ . There was a clear performance deficit per watt between AMD's best and Intel's best, due to both the architecture and the process node.
While the price/performance ratio is a little bit trickier to digest, there is a strong feeling that AMD still loses out. While AMD processors is renowned for being cheaper, offering apparent value for money, the cost difference is increasingly not being passed on to consumers by OEMs.
The verdict
There's no sugar coating the outcome, while Carrizo offers impressive gains over Kaveri, when pitted against Intel Skylake processors, it falls far short. By failing to compete with Intel, Carrizo could be the latest in a string of financial setbacks for AMD.
But all is not lost; rumours on AMD's 14nm Zen architecture are positive – giving AMD another (final) chance to take on Intel.
Stay up to date with the latest Channel industry news and analysis with our twice-weekly newsletter
Stay up to date with the latest Channel industry news and analysis with our twice-weekly newsletter
Thank you for signing up to Channel Pro. You will receive a verification email shortly.
There was a problem. Please refresh the page and try again.