Top 10 Best Android Apps
Discover the best apps for Android smartphones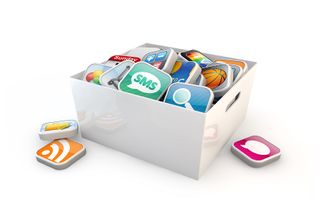 UPDATED!
With more than 700,000 applications available for Android based smart phones, tablets and hybrid devices, it can be a major task to track down useful apps from the horde of buggy, overpriced, scamware filled alternatives.
The main criteria for our top 10 selection is to know our audience, so let's make some assumptions. Let's assume that you, the reader, are a working professional in the UK technology sector. Your goal: To make your smartphone or tablet more useful for both work and social activities without breaking the bank!
1. Skype - free IM & video calls by Skype
VoIP calling with more reliability
When Microsoft paid just over $8bn for Skype back in 2011, many industry watchers were surprised. However, the company also bought 600m regular subscribers and the planet's most popular smartphone voice communication application. The current incarnation of Skype on Android is similar in many ways but the reliability has improved across a wide range of handsets. Although making VoIP calls across mobile carrier 3G/4G networks is still problematic – with a decent Wi-Fi network, Skype for Android is great application.
2. Swype by Nuance
Keep up with teenage speed freaks
Is evolution speeding up due to the modern smartphone? It may explain why teenagers seem to be more adept at sending SMS messages than older and less-evolved beings. However, if you can adapt to Swype, then typing a word a second is easily achievable. The application turns swipes of a virtual keyboard into words based on which letters you have moved across. The software has been licensed by several handset manufacturers including Samsung so check under settings/input devices to see if you already have it. If not you can visit http://beta.swype.com/ to get typing at super speeds.
3. Google Maps (Navigation) by Google
Say goodbye to the standalone satnav
I imagine the boardroom of TomTom, maker of the world's most popular satnav, was filled with profanity the day Google added turn-by-turn voice navigation to its Google Map application. The system is not as swift or as easy to use as either TomTom or Garmin equivalents, but it is free and in a pinch, can provide route calculation even if your GPS signal occasionally drops. If you add in all the local information that Google can supplement to the map layer such as restaurants, petrol stations and ATM machines, the days for the traditional satnav are clearly numbered.
4. Dropbox by Dropbox, Inc.
It's still not perfect but it is the most popular file sharer on the planet
Dropbox is an annoyingly useful service for synchronising and sharing files. Annoying because it still lacks a lot of the full function enterprise features compared to rivals such as Accellion and TeamDrive, but as it's free and works. The current version for Android is easy to use and makes it simple to synchronise files between users on the move,
5. Timeriffic by RDRR Labs
Reclaim your time from your mobile taskmaster
The smartphone and tablet for many people is an always-on device that is constantly delivering emails, SMS, tweets, Facebook updates, IM and the occasional phone call. In fact, some people shockingly turn off their devices just to get some peace and quiet. However, one of the best apps for Android is Timeriffic, an app that allows you to mute your phones bells, whistles and calls based on a schedule you select. For example, this could be at night or at weekends. However, the phone can still alert you if a special person such a significant other (or boss) is calling at 3am.
6. Lookout for Android / avast! Mobile Security
Keep your beloved smartphone safe and sound
At some point, everybody loses or misplaces their android device. It might be a few minutes, days, or in the worst case, permanently. The modern smartphone is a treasure drove of sensitive personal, business and potentially embarrassing information so keeping it safe is vital. Both Lookout and avast! Mobile Security do an excellent job at protecting smartphones. avast is slightly better on the anti-malware front while Lookout offers better lost phone tracking options, but both great apps that every user should have installed on all portable Android devices.
7. PocketCloud Remote RDP / VNC by Wyse Technology
Access your real computer from your pocket pal
It seems every week, another vendor launches an even more powerful Android-based smartphone, tablet or hybrid. Even with hundreds of thousands of applications for these devices, the majority of 'real work' still revolves around the traditional desktop PC or Mac – Microsoft Office is an order of magnitude better than any cut down office productivity applet! However with Pocketcloud, users can simply connect remotely to a desktop over any IP network and access these desktop applications. There are a number of RDP (Remote Desktop Protocol) alternatives but PocketCloud is one of the slickest and most reliable and has a range of free and paid for version for the more technically demanding.
8. Smart Data by MasterCard
Make expense claims less of painful
Whether you're self-employed or part of a borg-like multinational, sorting and claiming legitimate business-related expenses from personal items can be a chore. Even with a detailed credit card statement, the requirement for receipts and matching up to client billing is time-consuming and difficult to perform during "downtime". MasterCard has launched a free app and corresponding service that allows you to upload photos of receipts, annotate it with date, time and description and then file it away in a secure online vault. The process is still it a bit manual but the first iteration is a good way to streamline the monthly hassle, especially while sitting in economy on that long-haul flight.
9. History Eraser Pro by NFOLIFE LLC / APP Lock by DoMobile Lab
Privacy and application security from this top 10 duo
Many people closely guard their internet browsing history both from colleagues and spouses. The mobile phone is an even more sensitive record of a person's personal activity as it can record phone, SMS, email, internet and even physical location information. This is where history eraser comes in as a simply tool to delete all the digital evidence from your Android smart device. As a complementary product, App Lock from DoMobile allows you to individually lock applications on your smart device. So even if your kids want to play Angry Birds, this app stops them from accidentally wandering into your email or Salesforce.com account.
10. Smart Tools
Like a Swiss army knife for your Android device
You know those moments when you're trying to measure something or estimate a distance or even find a simple compass direction? What you want is a little Swiss Army-esque gadget that you can just whip out and use. This applet turns your £300, 4bn transistor, gorilla glass encased technological marvel into bag of gadgets. Amongst its 15 functions you will find a tool for measuring distance, height and width as well as a neat spirit level that is IKEA-compatible.
Stay up to date with the latest Channel industry news and analysis with our twice-weekly newsletter