EE says 300Mbps 4G is coming in early 2015
Wembley Stadium will also host trials for 400Mbps next year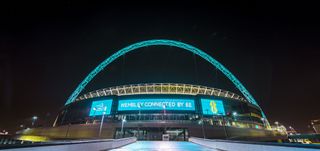 EE is prepping to ramp up 4G speeds to 300Mbps, with a rollout pencilled in for early 2015.
Theoretical download speeds of up to 300Mbps and upload speeds of 50Mbps will be achieved by adding another 20MHz of 2.6GHz spectrum, Mansoor Hanif, director of radio networks at EE, told journalists during a briefing at Wembley Stadium.
EE originally trialled speeds of up to 300Mbps in Tech City, but the official launch will take place at Wembley Stadium at a later date. Hanif confirmed "business areas in central London" will be prioritised along with areas of high usage patterns.
EE/Wembley partnership
EE is seven months into a six-year partnership Wembley, with the mission to make it the world's most connected stadium.
So far EE has:- Doubled the 4G capacity- Successfully connected 99 per cent of calls in the stadium- Facilitated 1.7TB worth of downloads & 900GB of uploads- The Wembley app will also be upgraded, giving fans the chance to send messages to the big screen and win free seat upgrades.
"Wembley for us is the mothership of the network. It's where we expect our customers or anyone else [to] experience and interact with it," he said.
"We're [the UK] on the cutting edge of the global race with Asia. We're ahead of AmericaOur goal is to get this country to the number one spot."
Devices certified with the Category 6 LTE rating will be able to make full use of the high-speed service - and the first is expected to be the Galaxy Note 4. Both the iPhone 6 and 6 Plus are certified as Category 4, meaning they can support maximum download speeds of up to 150Mbps.
400Mbps trials in 2015
The network plans to run a 400Mbps trial at Wembley during 2015, but hasn't committed to a rollout date. Device manufacturers need to overcome heating and battery life issues before any further speed bumps are initiated, according to EE.
Contactless payments
Wembley also plans to expand the use of mobile devices within the stadium so - theoretically - visitors can buy tickets, access the stadium and pay for items using their mobiles. The venue is rolling out the largest point-of-sale installation in Europe, and this is expected to be completed by Q4 of 2015.
By 2017, half of the payments at Wembley are expected to be contactless.
A daily dose of IT news, reviews, features and insights, straight to your inbox!
Khidr Suleman is the Technical Editor at IT Pro, a role he has fulfilled since March 2012. He is responsible for the reviews section on the site - so get in touch if you have a product you think might be of interest to the business world. He also covers the hardware and operating systems beats. Prior to joining IT Pro, Khidr worked as a reporter at Incisive Media. He studied law at the University of Reading and completed a Postgraduate Diploma in Magazine Journalism and Online Writing at PMA Training.
A daily dose of IT news, reviews, features and insights, straight to your inbox!
Thank you for signing up to ITPro. You will receive a verification email shortly.
There was a problem. Please refresh the page and try again.