Windows 10 vs Windows 8.1: Which was the best operating system?
We rate Windows 10 vs Windows 8.1 in a number of key categories for professional use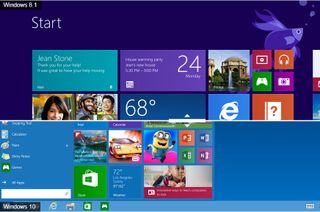 Despite its age, Windows 10 remains Microsoft's most popular operating system, and by extension the most-installed operating system on the market today. Just a few years ago, Windows 10 vs Windows 8.1 would be a valid comparison for businesses and personal users, but that's no longer the case.
With the general release of Windows 11 in October 2021, Windows 10 fell into the legacy OS category alongside Windows 8.1 and the no-longer supported Windows 7. With that, the discussion moved away from Windows 8.1 as a viable platform.
As of January 10th 2023, Windows 8.1 reached its end-of-life state, meaning it will no longer receive any technical support, software changes, or security updates. In other words, Windows 8.1 is no longer a viable business tool.
Although it's no longer credible to compare the two systems in a business context, you can find our initial findings below on how the two operating systems fare when put side by side. We have also included a comparison between some of the features once offered as part of Windows 8.1, and how these were then tweaked for Windows 10.
Windows 10 vs Windows 8.1
Boot times
There doesn't seem to be any real difference in the boot times between these two operating systems. This is at least true for the two devices we conducted tests with; the Lenovo ThinkPad X1 Carbon and Microsoft Surface Pro. Both devices loaded the login screen in exactly eight seconds with both Windows 10 and Windows 8.1, with only milliseconds between boot times on either machine.
Windows 10's facial recognition tool, however, served as a means to shave a few seconds booting into the desktop. This biometric layer of security allowed a user to quickly hop into their system by just sitting in front of their PC, given there's no need to enter a secure password, as required under Windows 8.1.
We should note that this feature isn't available on all Windows 10 devices, as the device in question will need a special Intel RealSense 3D camera preinstalled. These cameras, alongside fingerprint scanners, are fairly common in business-oriented notebooks, though, giving Windows 10 an advantage over its older counterpart.
Winner: Windows 10, by a whisker, but only if you count the small potential time saving of facial recognition.
Interface
Without doubt, Windows 8's initial insistence on imposing the tiled Start screen on devices that didn't even have a touchscreen ruined any chance of the operating system ever getting widespread business adoption.
Although the error was partially corrected by Windows 8.1, when desktop PC and laptop users could boot straight to the desktop and pretend the Start screen didn't exist, it was still needed for many core functions from launching apps to changing settings.
Windows 10 put that right, albeit with an imperfect hybrid of the Windows 7 Start menu and Windows 8 Start screen. On desktops and laptops, the Start menu emerges from the bottom-left corner of the screen, with most-used programs listed down the left-hand side, along with a link to an A-Z listing of all installed apps, while the right-hand side shows the Live Tiles of the Windows 8 era. On tablets, it works very similarly to the way it did under Windows 8.1, with the Live Tiles expanding to dominate the entire screen.
That said, the tiled section of the Start menu on Windows 10 is far from perfect. With four different tile sizes and an awkward drag-and-drop system, it's too easy to end up with an untidy, gap-strewn mish-mash of tiles.
And once you've got more than a few live tiles activated, your screen can start to look like a Las Vegas casino, with a wall of rotating, scrolling squares each trying to catch your eye. Yet, it's undoubtedly an improvement on what went before for non-touchscreen devices.
Other notable new additions are the Cortana search bar in the bottom left of the Taskbar. We'll talk more about Cortana later, but the search bar lets you enter voice or typed searches for apps or files stored on your PC. You can click the My Stuff button in search results to perform more advanced searches of your own files, which certainly makes it easier to hunt down specific files than with Windows 8.1. However, we still find it easier to instigate advanced searches from within Files Explorer (called Windows Explorer in 8.1). Windows 10 did eventually add the option to search emails through this box, which is a great addition.
Talking of Files Explorer, that's had a refresh too. Aside from a stark new set of icons, Explorer now has a Quick Access view which shows your most frequently opened folders at the top of the window, with a list of recently accessed files just below, making it easier to quickly pick up where you left off on files that are nested deep in folders.
You can still pin your favourite folders to the left-hand pane of Files Explorer, but this does create some duplication with the frequent folders pane just next to it, whilst the Libraries first introduced in Windows 7 are now almost hidden from view. The new Explorer is a modest improvement on Windows 8.1's, but again needs refinement.
One significant new interface element for businesses is virtual desktops. An idea brazenly lifted from the Linux world, Windows 10's virtual desktops let you keep different sets of apps open in different desktops. You might, for example, have one desktop dedicated to communications (with, say, Outlook, Slack and Skype running) and another for work on a particular project (Excel and a web browser). It allows you to compartmentalise your work, and avoid having desktops cluttered with several open windows, but it's frustrating that many apps designed to run full-screen on a touchscreen can only occupy a single desktop.
Winner: Windows 10 corrects most of Windows 8's ills with the Start screen, whilst revamped file management and virtual desktops are potential productivity boosters. An outright victory for desktop and laptop users.
Stability
Even though it was the biggest overhaul of the OS since Windows 95, Windows 8 was remarkably stable and bug-free from the get-go. Indeed, we had it running on everyday work systems six months before launch.
Unfortunately, there are plenty of commonly-encountered problems on Windows 10. Microsoft is regularly issuing updates for the software, but these updates often cause problems. It seems like every few months there are new reports of accidental file deletions, glitches, crashes and other assorted errors. General stability is certainly better than it was, but the fact that these errors persist is frustrating.
There haven't been any bugs that we'd consider serious enough to warrant downgrading to an earlier version of Windows, but it has to be said that reliability isn't Windows 10's strong suit - and it doesn't look like it ever will be. On the other hand, Windows 10 Enterprise users can cut out a lot of this headache - which we'll talk about more in a minute - meaning it's not quite so much of an issue.
Winner: Windows 8.1 (prior to its end-of-life). Businesses could opt to skip many of the issues introduced by Windows 10's rolling updates, but the fact that they had to do this in the first place is hardly encouraging.
Enterprise features
Windows 8.1 actually did a fair amount of spadework for business users. Features such as Secure Boot, Windows To Go (giving you a bootable desktop from a USB stick), and Hyper-V virtualisation of guest OSes were features that were overshadowed by the focus on touchscreen devices.
All of those features remain in Windows 10, and there are others that could have a hugely significant impact on business rollouts. In-place upgrades have been made much smoother, meaning IT managers won't have to wipe and reimage as they may have done before. On our ThinkPad loaded with business-oriented desktop apps (Office 2013, Slack, Creative Suite amongst others), we performed an in-place upgrade to Windows 10 Pro in less than 40 minutes, with all documents, applications and settings perfectly retained.
Microsoft is also making it much easier for IT managers to bring off-the-shelf hardware into businesses, with new runtime configuration tools that can implement VPN settings, e-mail profiles, app installations and security policies without wiping the hardware and starting afresh.
Microsoft has also been commendably wary of forcing businesses to install the same rolling updates to Windows 10 that are now mandatory for consumers, who can no longer opt out of Windows Updates. Enterprise users can opt for a Long Term Servicing Branch of the OS another idea pinched from Linux which allows them to install a stable version of Windows 10 on mission-critical machines, which will only receive essential security updates and not the new features that will be periodically rolled out to regular Windows 10 users. Windows 10 Pro users, meanwhile, can defer updates, giving new features a few months to bed down on consumer systems before they're applied to a business machine.
Winner: Windows 10. Windows 8 didn't get the credit it deserved for enterprise features, but Windows 10 expands them even further and makes rollouts less of a headache for IT departments.
Security
Controversial though it was, because of the way it shut out some Linux distros, Windows 8's Secure Boot eliminated the threat of some of the most harmful types of malware. It was also the first version of Windows to ship with built-in antivirus protection, even if Windows Defender does routinely perform poorly in Dennis Technology Labs' independent tests.
With Windows 10, Microsoft is turning the screw even tighter with Secure Boot, giving PC manufacturers the option to prevent users disabling the feature. That might upset consumers who want to dual-boot OSes, but the vast majority of business machines will only ever boot into the OS the device is shipped with, and this prevents almost any chance of malicious rootkits or other low-level malware infecting the boot process.
The addition of face and iris recognition to the list of user authentication options already within Windows 8 potentially adds extra convenience for both users and IT departments alike (unlike passwords or smartcards, nobody forgets their face). However, both require specialised hardware, and neither is common enough to be a universal standard yet.
Winner: Windows 10 edges ahead of its predecessor, but the new authentication options still haven't fully caught on.
Mobility features
Windows 8.1 was already a pretty decent tablet OS, hampered largely by a poor selection of high-quality apps in the Windows Store. At this stage, it's hard to tell if Microsoft's new Windows 10 plan for Universal Apps apps that run across PC, tablet and eventually phones will bear fruit, but Windows 10 is already a better tablet OS than its predecessor.
One reason for this is Continuum, which automatically adapts the Windows 10 interface to suit the mode it's being used in on hybrid devices. Detach a device such as the Surface from its keyboard, and Windows 10 prompts you to enter Tablet Mode, where the Start menu spans the full screen, the Taskbar disappears, apps run in full screen instead of windows, and you effectively get no access to the desktop.
Reattach the keyboard, and the Start menu shrinks back into its corner, the Taskbar springs back, and apps can be run in whatever size of window you choose, even touchscreen-focussed apps from the Windows Store. It's a brilliant feature, possibly the best Windows 10 has to offer, and a real boon for hybrid devices, making the shifting between modes feel much smoother and making them feel like two distinct devices. Our only gripe is that Windows 10 doesn't always recognise a change of mode if you've, say, detached a keyboard while the device was switched off. However, you can easily activate and deactivate Tablet Mode manually via the new Action Center.
Windows 10 also introduces a Battery Saver mode, dimming the screen and cutting down on needless notifications to preserve battery life. It automatically kicks in when the battery dips below 20%, but you can apply the mode manually, too. It's not going to add hours to your laptop's/tablet's run time, but every little helps.
Winner: An emphatic victory for Windows 10, which finally makes sense of hybrid devices, and adds limited battery-saving benefits.
Windows 10 vs Windows 8.1: Which was the better operating system?
It's not perfect and it's now a permanent work in progress, but Windows 10 showed that Microsoft could pull off what many thought impossible: an operating system that sat comfortably on desktops, laptops and tablets.
It's the reason that the vast majority of Windows installs are still using Windows 10 today. Windows 8 and 8.1 were seen by many as prototype operating systems, which was perhaps necessary given that the company was starting to experiment with harmonising user experiences across multiple devices - it's just a shame the end-user had to be the guinea pig.
Users never really quite took to Windows 8, and today's market shares reflect that. Windows 7, now having reached end of life, retains quite a healthy chunk of the market, naturally only beaten by Windows 10 and Windows 11. In fact, as of Q1 2023, Windows 7 still holds almost 4% of the market share, almost four times that of Windows 8.1.
Windows 8 was arguably a failure, particularly given the huge leap that Windows 10 provided. The start menu on Windows 10 is far less jarring, providing modern tools and layouts sprinkled with enough familiarity that users won't feel alienated. There's a host of new security and productivity features, with more being added all the time, and the migration to Windows 10 is far smoother than anything experienced in the past.
Get the ITPro. daily newsletter
Receive our latest news, industry updates, featured resources and more. Sign up today to receive our FREE report on AI cyber crime & security - newly updated for 2023.
Barry Collins is an experienced IT journalist who specialises in Windows, Mac, broadband and more. He's a former editor of PC Pro magazine, and has contributed to many national newspapers, magazines and websites in a career that has spanned over 20 years. You may have seen Barry as a tech pundit on television and radio, including BBC Newsnight, the Chris Evans Show and ITN News at Ten.